Scores of investors are bracing themselves for a "hard landing" in China. Soft, medium, hard — the infatuation resembles a hapless consumer trying to determine the right box of tofu at the grocery store.
Let's get real for a moment. Bloomberg's poll of economists expects 9.5% GDP growth for China in 2011. The slightly more pessimistic poll known as "The Economist Intelligence Unit" sees 9.0%. Even the king of doom-and-gloom, Nouriel Roubini, expects 9.1%.
So an economy that grows at least 3x the rate of the U.S. is in danger of a "hard landing," whereby China goes directly from expansion to recession. Really? The Chinese economy is going to contract?
Roubini believes there is a "meaningful probability" that this will happen after 2013, due to economic over-stimulation in late 2008 and ongoing under-stimulation today due to ongoing fiscal/monetary policy. Then again, the definition of a hard landing in China may actually be GDP growth of a paltry 5%.
Well, the "boo bears" have certainly succeeded in haunting would-be buyers of Chinese mainland equities. Even with 14,000 analysts expecting 32% profits for the Shanghai Index over the next 12 months, the hard-to-access China A Shares have been in a fairly ugly downtrend. The closed-end exchange-traded vehicle, Morgan Stanley China A Share (NYSE:CAF), has made precious little progress since April of 2009.
[Click to enlarge]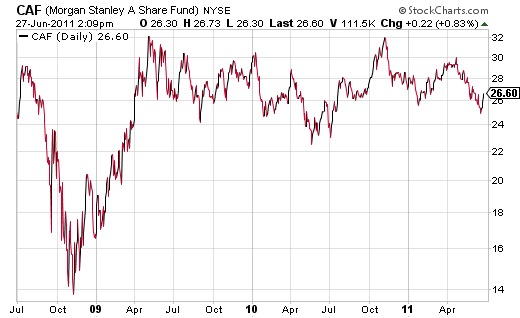 Since share prices have essentially been flat for two years while corporate earnings have continued to rocket higher, the "valuations" have become even more attractive. In fact, the forward price-to-earnings ratio of 11.1 hasn't been this low on the Shanghai big board since the height of emerging market disdain in November of 2008. (See the chart above for the bottoming out that occurred in November of 2008.)
In essence, then, the hard landing scenario is priced in, and "cheap valuations" should provide a floor. No matter how bad the problems are – from labor strife to empty commercial buildings to inflation — expect CAF to rally in the second half of 2011.
Market Vectors China ETF (NYSEARCA:PEK) also endeavors to track China A Shares. Unfortunately, the volume is so sparse, you may not find any solace in PEK.
If you're willing to accept a proxy like SPDR S&P China (NYSEARCA:GXC) or MSCI China Index (NYSEARCA:MCHI), a strong second half to 2011 should exist in this deck of cards as well. Granted, the valuations may not be as remarkable -- but they are still cheap. GXC has a forward P/E of 11.7. What's more, both of these ETFs have expense ratios that are roughly 100 basis points lower than the expense ratio for CAF.
Scared of a hard landing for China? Fair enough. Just remember to buy a "bit" when you're fearful … sell a "skohsh" when you're feeling greedy.
Disclosure: Gary Gordon, MS, CFP is the president of Pacific Park Financial, Inc., a Registered Investment Adviser with the SEC. Gary Gordon, Pacific Park Financial, Inc, and/or its clients may hold positions in the ETFs, mutual funds, and/or any investment asset mentioned above. The commentary does not constitute individualized investment advice. The opinions offered herein are not personalized recommendations to buy, sell or hold securities. At times, issuers of exchange-traded products compensate Pacific Park Financial, Inc. or its subsidiaries for advertising at the ETF Expert web site. ETF Expert content is created independently of any advertising relationships.