This is a big week. We've got the end of the quarter, the end of the half-year and the end of the month all coming in this week. This is when we see strategies get scrutinized. Be cognizant of that trade-plus-three (T+3), the delayed delivery date for stock and bond transactions as fund and portfolio managers settle up for the EOM. We'll also probably see some EOQ window dressing being put up by these same people; they'll get rid of the dogs and buy the high-flyers to improve the appearance of their holdings. All this will create volatility throughout the week.
Meanwhile, we've got news that the Greek parliament will be voting on austerity measures on Wednesday. Hopefully they'll do the right thing and make a sensible deal, which will likely lead to more stability coming out of Europe.
And then there's this oil situation. I don't usually like to pat myself on the back, but I predicted that the cracks in OPEC after that last meeting would lead to the Saudis flexing their muscle and increasing production, causing a substantial drop in prices. I did not predict that my fellow Chicagoan would tap into the Strategic Petroleum Reserves, but these two key events have brought crude off a high of about 115 to around 90 this morning.
Keep in mind that right now, oil is a specific story. We're seeing the price come down substantially with the added benefit that other commodities aren't falling apart. The more I think about it, I believe that Obama's decision to go into the SPR was really nothing more than a tax cut in disguise. Think about it: When oil goes down, we all get a break. Do I agree with his decision? No. But do I like the after effect? Of course — who wouldn't?
Meanwhile, the market correction remains in that 5-7% sweet spot, and the longer things move sideways, the more bullish I get about the second half of the year. I've talked about the inverse relationship between the 10-year and the stock market before, but take a look at this chart showing the two next to each other. For this example, I used the S&P 500:
[Click to enlarge]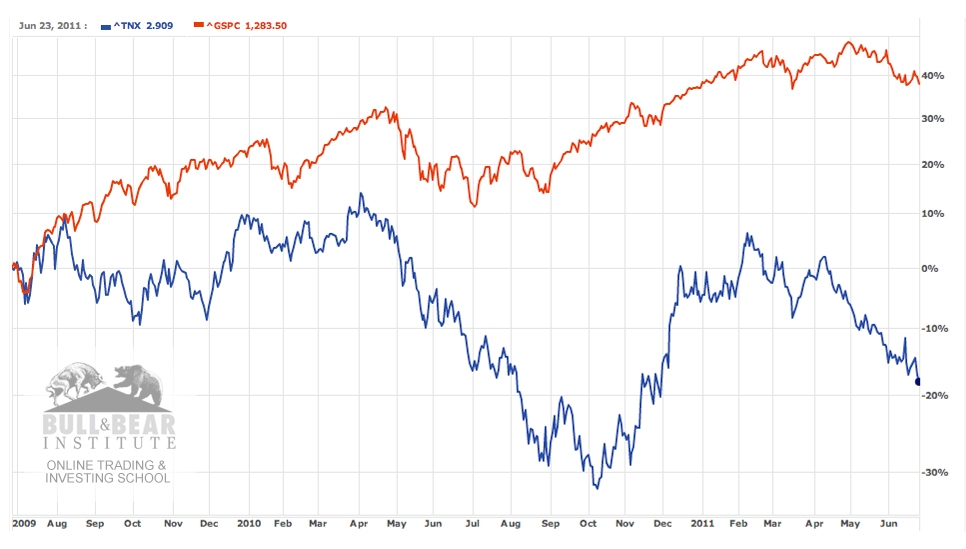 We haven't seen a spread between the S&P and the 10-year bond this big in years. And as you can see, the bond market has been wrong a lot of the time. With yields this low — 2.87% as I write this — that loaded spring is getting ready to do its thing. I expect that stocks will rally as more of that money comes out of the government-sponsored mattress and goes back into equities, where there is still a tremendous amount of value. Remember: It's easy to get out, but getting back in can be very difficult. We'll see how all this shakes out, but if I'm doing anything right now, it's buying with both hands (or holding) and putting on downside protection just in case.