The Netherlands exchange traded fund has been down lately as the euro zone financial saga continues and investors await a key austerity vote this week in Greece. However, Dutch government institutes are cautiously hopeful about future growth prospects.
iShares MSCI Netherlands (NYSEARCA:EWN) is down about 3% so far this year.
Statistics Netherlands reported that first-quarter year-over-year GDP growth was a lower-than-expected 2.8%, as compared to the previous 3.2% estimates, according to RTTNews. GDP expanded 0.9% over the fourth quarter of 2010.
According to NIS News, the Central Planning Bureau calculates that the Dutch economy may grow 2% this year and 1.75% in 2012. Unemployment is forecast to drop to an average of 4% and the government deficit will drop from 5.4% of GDP in 2010 to 2.2% of GDP by 2012.
"The Dutch economy showed favourable growth figures in the first quarter of this year, partly due to the relatively mild weather conditions, from which the construction sector benefited," stated the CPB. "Because the international outlook has also improved in recent months, the GDP growth estimate for both the projected years is 0.25 percentage point higher.
"Economic growth in 2011 and 2012 will be primarily driven by exports. Consumer spending and investments will also make a (minor) contribution to growth this year and next. Overall, public spending will not contribute," the CPB added.
The International Monetary Fund projects the Dutch Economy will expand 1.9% this year, reports Tim Ahmann for Reuters. Consumer prices is expected to increase 2.3% this year.
However, the IMF remarked that potential external risks may impeded economic growth and advised the government to continue with reforms to tax and pension systems, based on the impact of an aging population.
"Notwithstanding encouraging near-term prospects," commented the fund, "[IMF] directors considered that the risks to the economic outlook remain skewed to the downside."
The Dutch Central Bank believes the economy will grow 2.2% in 2011, higher than its previous 1.6% prediction, says RNW. The Central Bank projects GDP will expand 1.7% in 2012 and 2.1% in 2013. The DNB, though, cautions that growth will likely slow in the second half of the year due to reduced global spending.
iShares MSCI Netherlands
[Click to enlarge]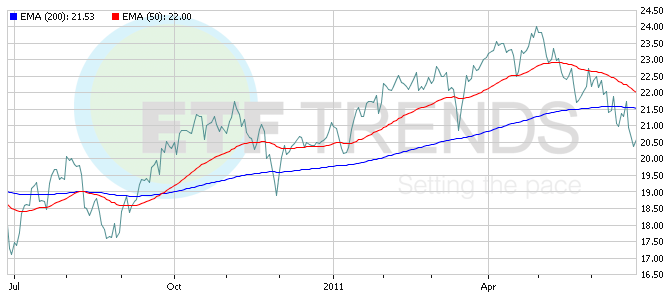 Max Chen contributed to this article.