Russian banks are reportedly looking into buying out Austria lenders that hold a hefty percentage of banking assets in emerging European economies. The aid could provide some welcome relief to Austria's financial sector and related country-specific exchange traded fund.
iShares MSCI Austria (NYSEArca: EWO) holds about 40% of its assets in Austria's financial sector. The fund is down about 5% year to date.
Two of the largest stated-owned Russian lending banks, VTB and Sberbank, are considering acquiring or injecting capital into major Austrian banks, according to Business Insider. Russian banks are seeking opportunities to profit by recapitalizing Western European banks.
Austria has placed itself as a focal point in the banking industry for emerging Central and Eastern European economies. However, the financial crisis left the Austrian banking system vulnerable to the massive movements of foreign credit and foreign currency-denominated loans.
Currently, the Czech Republic, Romania, Hungary and Croatia amount to more than half of the $300 billion that Austrian banks are exposed to in the emerging Europe region.
VTB is looking into Austria's Volksbank, which holds a 7% share of Romania's banking system. Sberbank is trying to broker a deal with Raiffeisen Bank, which holds 15% of Slovakia's banking assets and 14% of Serbia's.
iShares MSCI Austria - (click chart to expand)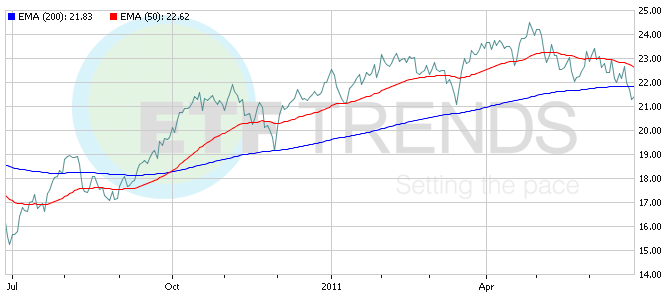 Max Chen contributed to this article.