For a country that has been without a government for over a year, Belgium is actually faring quite well. However, an exchange traded fund tracking Belgium has trended lower in recent months as Europe's debt problems may be spreading from the periphery to the central regions.
iShares MSCI Belgium (NYSEARCA:EWK) is in positive territory for 2011 but has traded lower since the end of April.
European market pessimists have braced themselves for the worst-case scenario where the financial problems from periphery member states finally reach "core" states, like Belgium, reports Eva Szalay for The Wall Street Journal.
Fitch recently warned it may downgrade Belgian government bonds.
"Investors are still of the view that Ireland, Portugal and Greece are different from say Italy or Belgium," according to analysts at Société Générale. "The mindset is still that contagion is contained to these three economies, which are considered to be the weakest."
Nevertheless, Belgium needs to come up with $28.35 billion over the next four years to shore up its structural deficit. As compared to the bailouts planned for Portugal, Greece, or Ireland, the sum seems rather paltry.
The Belgian caretaker government recently celebrated its one year anniversary after the Francophone parties and rival Flemish separatists failed to reach an accord, according to RTTNews. The Guinness World Record group has also honored Belgium for being a country without a government for the longest period during times of peace. The failure to break the political stalemate has prevented the government from passing major budget decisions.
[Click to enlarge]
iShares MSCI Belgium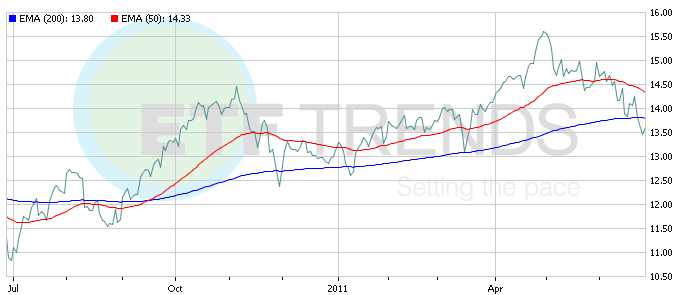 Max Chen contributed to this article.