What is wrong with Oracle (NASDAQ:ORCL)?
This is the question many investors are asking these days and rightfully so. The database giant disappointed investors last week when it reported its Q4 earnings results. The focus was on the company's less than inspiring hardware revenue. The stock has taken somewhat of a beating since the report but I can't help but to consider this an overreaction. It seems investors are punishing the software giant because of its under-performing sales in hardware. Let that marinate for a moment.
On Thursday, Oracle (as expected) reported record numbers in revenue, to the tune of $10.8 billion for the quarter; which was an increase of 12% from the previous year. I would be hard pressed to find a "non-growth" company who consistently produces such stellar top line results. Not only did the company report operating income of $5.2 billion, which was an increase of 19% from last year, but this was while they grew their operating margin by 48%. So I ask the question again, what is wrong with Oracle? BMO Capital Markets' Karl Keirstead answered this question the best when he said, "We do not want to over-react to trends in a business representing 10% of Oracle's revenue mix; the other 90% of Oracle is performing well."
It seems Oracle has developed the Apple (NASDAQ:AAPL) "investor performance syndrome"; crushing estimates is not enough, numbers need to be pulverized across the board just to "meet expectations". Charles Dickens has told us about the effects of "Great Expectations", but it seems in the investment community this notion reaches an entirely different level or even a life of its own.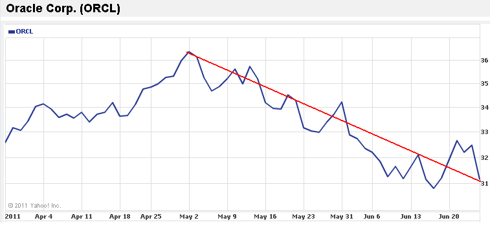 Click to enlarge
The chart above paints the perfect picture about expectations; and it's one that I can't quite comprehend. Since reaching its 52 week high of $36.50 on May 3rd, Oracle's stock is down a mind boggling 15%. By contrast, one of its main competitors Salesforce.com (NYSE:CRM) is up a almost 10% during that same period. So I have to ask again, what is wrong with Oracle?
We discussed previously about the competition that Oracle stands to face from the likes of IBM, Cisco (NASDAQ:CSCO), SAP, Microsoft (NASDAQ:MSFT), and Hewlett-Packard (HPQ). But with their leading business applications and leading database software solutions, they will continue to face much stronger demand for their products, particularly with its increasing integration in business software, hardware, platforms and use. As I noted previously, they have specifically targeted both Hewlett-Packard and IBM, both among the company's biggest rivals.
As a way of demonstrating their keen sense of the competition, Oracle had previously announced that they would stop developing software for Intel's (INTC) Itanium chips. While some had speculated that this is due to HP's Integrity servers having titanium processors, it appears there were some truth to the suspicion. On Wednesday of last week, we learned that HP has filed a lawsuit against Oracle, claiming that they have illegally decided that future versions of its database software won't support a particular line of HP servers.
Those servers use a chip called Itanium that Oracle insists is being phased out, a claim that the chip's maker, Intel, has denied. In the lawsuit, HP accuses Oracle of anti-competitive behavior, breaking a promise to continue supporting Itanium machines and of the use of "strong-arm tactics to coerce customers into replacing their HP servers with Sun servers they do not want." Oracle's foray into the computer hardware market - an HP stronghold - began with its $7.3 billion acquisition of struggling Sun Microsystems last year.
There has always been an accepted exchange when it comes to investing in certain companies such as Oracle; one that has attained a certain size or status. Particularly in technology, the bigger the company, the less enthusiastic investors should be about their growth prospect. I have learned and highlighted such a lesson recently in Cisco. Typically, bigger companies tend to be less volatile. They offer investors more security, and more often than not, they apply more conventional philosophies towards spending, thus all but eliminating their ability for speedier growth (if at all).
Summary
To date, after their recent report, Oracle has shown that they continue to be the exception and not the rule to what I have just highlighted above. "Maturity" by many standards is what Oracle has, but they continue to show that being a "mature company" is not the enemy of "growth". Unfortunately, this is not the case for tech giants such as Cisco and Microsoft who have shown that once your operation has matured, signs of "growth" often vanish. But in this case, I think investors would be better served to look at the latter two companies when assessing if there is anything really wrong with Oracle. They would be pleased to find that there isn't.
Being a dominant tech player is at the top of every Oracle mission. So far this year they have not disappointed. At $31 per share, the stock remains incredibly cheap. Though the 10% drop since April has been a slight disappointment, I continue to have confidence that the stock will reach $40 by the end of the year.
Disclosure: I am long ORCL, CSCO, AAPL, MSFT.