Food stocks should have a place in any dividend portfolio for obvious reasons. Consumers cannot go without eating, but different types of foods prosper in different economic environments.
Over the last two months the price of sugar has risen quite significantly (as seen in the graph below, click to enlarge) and the volatility of the market has been extremely high. Generally, food stocks are relatively safe plays with generous dividends that may offer growth opportunities if purchased at the right time, and stability in times of disarray.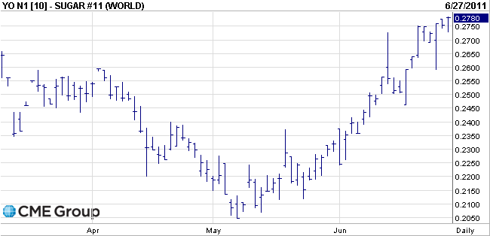 I recently introduced a list of 12 Dividends Stocks You Must Own Regardless of Age and included on this list was both Coca-Cola (NYSE:KO) and Kraft Foods (KFT). Each is quite susceptible to changes in the cost of sugar, but as described below, they are still the best plays when analyzing food stocks reliant on sugar.
Below is a list of 8 companies in the sweet food sector, ranked from worst to best. The ranking was a subjective measure that took the following into account: attractiveness of dividend yield, growth prospects, size, and product offering; and these rankings are based on the price of the stock right now.
8. Tootsie Roll Industries (NYSE:TR) – I should begin by stating that the Cherry Tootsie Roll Pop is by far my favorite non-chocolate candy, ever. Anyway, Tootsie Roll Industries offers much more than Tootsie Rolls. Their catalogue includes Andes, Dubble Bubble, Junior Mints, Charleston Chew, and Sugar Babies. They are currently priced at $28.79 and are yielding only 1.1%. They have the highest price-to-earnings on the list at 31.46 and are also the smallest at $1.67 billion. I would never advise taking a short position, but this company worries me. Their products are not as popular as others, and they are all-in on candy products which could be risky in the long run. Perhaps their price will drop dramatically in the near future, improving their yield.
7. J.M. Smucker Company (NYSE:SJM) – Speaking of companies that may be a bit overpriced right now, Smucker has risen over 25% in the last year. They are probably best known for marmalade and jellies, but the company owns brands like Pillsbury, Hungry Jack, Folgers, Dunkin Donuts Coffee, and JIF peanut butter. They are currently yielding 2.3% at a price of $75.48. Their P/E is relatively normal for the list and even though they only have a market cap of $8.7 billion, their brand strength makes them very formidable in the long run.
6. Hershey Co. (NYSE:HSY) – I've written about Hershey a few times in the past and though I am no longer long, they are still a strong company. The article linked above discusses the company's improved guidance last February and their dividend increase. They are currently yielding 2.5% at $56.21, but they are a bit overpriced at a P/E of 24.7. In lieu of discussing all of the products Hershey offers, below is a graph (click to enlarge) with some technicals. As you can see, in mid-May they fell through a trend-line and then through their 50 day moving average. The lower green bar represents a tentative new bottom trend and I would hope to see a jump to the high $57s-$59 range. (As a sidenote, I am not sure if Hershey actively engages in product placement, but one can be found here.)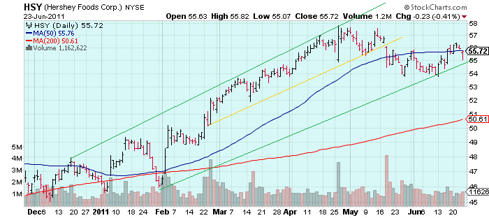 5. Kellogg Co (NYSE:K) – Cereal represents a much more stable industry than candy and chocolates. Kellogg owns a number of breakfast options and also owns brands like Keebler, Cheez-It, and Famous Amos. They are the first stock so far to break the 3% yield threshold with an average p/e of 17.13. They are also larger than the previously mentioned stocks at $19.89 billion.
4. Pepsico (NYSE:PEP) – A detailed look into everything that Pepsi owns can be found here. It's actually quite surprising because they cover most of the grocery store. Outside of that, everyone knows what Pepsi is and is well aware of the Pepsi v. Coke war. They are both huge companies with marginal differences in price and yield, PEP's is 3%. Pepsi's P/E is higher at 18.47. Many investors have decided that owning both can't hurt and I tend to agree.
3. Sara Lee Corp (SLE) – This pick may come as more of a surprise since Sara Lee is a relatively small company at $11 billion. And yes, their yield is not any more impressive than other companies on the list at 2.5%. They made the list because of their bakery products, but they also own Hillshire Farms (the best alternative to fresh deli meat), Ball Park hot dogs, and Jimmy Dean. This company was bumped up to number 3 because of their low P/E, at 8.89. I understand that their price is near a 52 week high and perhaps investors have lost faith in this company, but I feel that there is definite room for capital appreciation here, with a decent yield.
2. Coca-Cola Co (KO) – Coke is the largest company on this list at $149.3 billion. They are of course listed on the Dow, and are included on any list of companies to hold forever. They offer a superior product that people continue to consume in mass quantity despite the health risks. Coke also owns a number of healthier beverages and unlike Pepsi, they are essentially contained to only beverages, but again they do it really well. They are currently yielding 2.9% at a low P/E of 12.57.
And that leaves us with…
1. Kraft Foods Inc (KFT) – Kraft is the other Dow stock on the list. Their Mac n' Cheese is the best on the market, and they also own Philadelphia cream cheese, Maxwell House coffee, Trident, Oreo, and countless other brand name foods. Basically, if you're at a grocery store then there is a good chance that there is a Kraft product in your basket. Their acquisition of Cadbury makes their spot on the list appropriate. They were chosen over Coke for a few reasons. First, they are yielding 3.4%, the highest on the list. They are a large company and smaller than only Coke and Pepsi. Most importantly, Coke is seen as the epitome of safety, and for that reason I would not see their P/E blowing up too much. Kraft is at 20, but there is definitely room for growth in this regard as Kraft's product line continues to dominate and the cost of commodities settles down.
It should be noted again that some subjective measure of product quality went into this list. I would recommend doing the same when choosing a stock to invest in, at least when it comes to food. If you really like a product it shows that at least you have faith in its quality.
Furthermore, remember that dividend yields swing against prices. If you're in it for the yield then waiting for a drop in price may be prudent. If you do not re-invest your dividends then your yield is locked in at whatever your cost basis is. If you buy a stock and the price doubles (you may want to consider selling), the listed yield is going to be half of what you are actually yielding (not including increases in dividends, which would make it even better).

Disclosure: I am long PEP.