Universal Corporation (NYSE:UVV), together with its subsidiaries, operates as a leaf tobacco merchant and processor worldwide. It engages in selecting, procuring, buying, processing, packing, storing, supplying, shipping, and financing leaf tobacco for sale to, or for the account of, manufacturers of consumer tobacco products. Universal Corporation is essentially the middle man that buys the tobacco from the farmer, processes it, and then ships it to the tobacco company.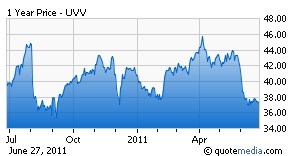 The company was founded in 1888 and has raised its dividend distribution every year for 40 consecutive years. It trades at a current P/E below 7 and has a 5.2% dividend yield. With a current market price of $37 per share, the company trades at 90% of its book value. Is Universal Corporation a screaming buy? Let's dive into their recent 10K filing and find out why there has been recent pressure on the shares.
Possible Future Headwinds
The company notes several headwinds going forward, including industry evolution, oversupply of leaf tobacco, and competition that have put pressure on the stock price as of late.
Industry evolution – Universal Corporation has three main customers (Philip Morris International (NYSE:PM), Japan Tobacco, and Imperial Tobacco Group (ITYBY.PK)) that make up almost 55% of their total revenue. Two of these main customers (Japan Tobacco and Philip Morris International) have recently taken steps to procure more of their leaf needs directly from farmers. Universal Corporation believes the manufacturers have taken these steps for several reasons, including the desire to enhance internal expertise in leaf procurement, actively manage the leaf supply chain in an increasingly regulated environment, ensure supply, and work more directly with tobacco growers.
Oversupply – Universal Corporation is experiencing the effects of leaf oversupply. They expect to see the financial impact of lower leaf prices and tighter margins that typify such cycles in fiscal year 2012. The company states that during the two prior fiscal years of higher than normal demand, a number of customers increased their leaf inventory levels. Those higher inventories, combined with softer cigarette sales in some markets, have led to reduced leaf demand for current crops, evidenced by slower than normal purchasing in major markets. Universal estimates that reduction in processing due to oversupply will cause a decrease of about $30 million in operating income (A 12% decrease from 2011).
Increased Competition - In recent years, Universal Corporation has experienced an increase in competition from small tobacco dealers in some of the markets where they conduct business. These small competitors typically have lower overhead requirements and provide little or no support to farmers. Due to their lower cost structures, they often can offer a price for products that is lower than Universal Corp's price. In addition, Universal has more competitors for available leaf because of recent customer steps to procure tobacco directly.
Response to Headwinds
Industry Evolution - The company believes they have already experienced all the effects of Japan Tobacco's increase in direct leaf procurement on their volumes in fiscal year 2011 (revenue from Japan Tobacco decreased from $575 million in fiscal 2010 to $340 million in 2011). However, the effect from Philip Morris International will be felt in the current fiscal year (revenues in fiscal 2011 were $750 million).
Oversupply - Periodic cycles of under- and oversupply of leaves are not unusual in the business, and Universal Corporation has successfully navigated oversupplied markets throughout their history. They also state that they have had some success in broadening their customer base and expanding the services they offer their customers to offset some of the processing volume reductions.
Competition - The company offers quality controls and farm programs that are necessary for many of their customers that smaller dealers do not. They believe that their major customers value these services and that their programs increase the quality of their products and services. They also believe that their customers value the steady supply that they are able to provide due to the relationship they have with their farmer base.
Is Universal Corporation a Buy?
It's extremely rare to find a dividend champion like Universal Corporation trading under book value. The balance sheet is pristine with a current ratio over 3.0 and a quick ratio of 1.35. Even with the headwinds of industry evolution, oversupply, and competition, the company is still estimated to make over $3 EPS in fiscal 2012, more than enough to cover the dividend of $1.92.
In addition, the company has $83.5 million remaining in stock buyback authority under its stock repurchase plan (10% of the shares outstanding at current market prices). The headwind of oversupply is temporary, however Universal will need to find more ways to add value for their customers to keep from losing business. Given that the company is well seasoned and has been through industry change before, I see a good risk reward in initiating a small position in Universal Corporation at these levels.
Disclosure: I have no positions in any stocks mentioned, but may initiate a long position in UVV over the next 72 hours.