I have had my eye on Cisco Systems (NASDAQ:CSCO) for quite some time, just waiting for the right entry point. CSCO supplies Ethernet switching, Internet Protocol (IP) networking gear used for the internet and is the world's largest supplier of high-performance computer internet-working systems. The numbers don't lie. With just under half of 2010's $40 billion sales coming from foreign sources, CSCO's large already-in-use base is a major advantage over its competitors. It has only $16.75 billion in total debt while its balance sheet shows cash assets of over $43.3 billion, compared with $40.2 billion at the end of the 2ndQ of fiscal 2011, and compared with $39.9 billion at the end of fiscal 2010.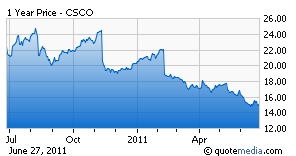 A trailing-12-months P/E of 12, and a forward P/E of 9 versus its 10-year average P/E of roughly 22, point to an undervalued issue. The 52-week high of $26 was reached on July 29, 2010, while its 52-week low of $14.97 was touched last week on June 15, 2011. Today it is trading at less than 50¢ over the 52-week low.
Third quarter results showed sales of $10.9 billion, an increase of 5% year over year, with net income of $1.8 billion using GAAP (Generally Accepted Accounting Principals), $2.3 billion non-GAAP. Earnings came in at 33¢/share using GAAP, versus 37¢ last year. Using non-GAAP, earnings were 42¢ in both years. Third quarter fiscal 2011 had 13 weeks compared with 14 weeks in the 3rd Q of 2010. There are some 47 analysts following CSCO and on a non-GAAP they are predicting for all of 2011, $1.60/share, and $1.72 for 2012.
Also, shares outstanding as of April 30th were 5.5 billion, which is down from the 7.3 billion outstanding in 2001. That, folks, is a drop of close to 25%. Share buy-backs are still ongoing. During the 3Q of fiscal 2011, 54 million shares were repurchased at an average price of $18.39 per share for an aggregate purchase price of $1.0 billion. There remains another $11.7 billion authorized for stock repurchases under the current program. There is no termination date.
Cash flows from operations were $3.0 billion for the 3rdQ of fiscal 2011, (ends July 31), compared with $2.6 billion for the 2ndQ of fiscal 2011, and $3.0 billion for the 3rd Q of fiscal 2010.
Don't forget that back on March 17, 2011, the Board of Directors approved the initiation of 6¢/Q cash dividends. The first dividend was paid on April 20, 2011. Now we are going to be paid while we wait for CSCO to return to a point of normalcy. All in all, a compelling entry point. Also, CSCO now offers a dividend reinvestment plan.
Disclosure: I am long CSCO.