Last Friday afternoon upon market close, Nasdaq released its bi-monthly short interest report for the period ending June 15 and for the first time in seven periods, Sirius XM (NASDAQ:SIRI) saw a decline in the bearish indicator. Following Sirius' short interest is something that I have always taken an "interest" in; not because I have become enamored with the streak (which was just broken), but because there are a lot of hidden messages in the numbers.
The recent reporting period took a snapshot of SI through the period of June 15th and Sirius' SI dropped from 317 million to 292 million. Well as we know Sirius hit a recent low of $1.86 on the 13th. In Friday's report, one message was very clear; shorts have covered and have done quite well for themselves. But the other obvious message was that Sirius is likely to breakout soon.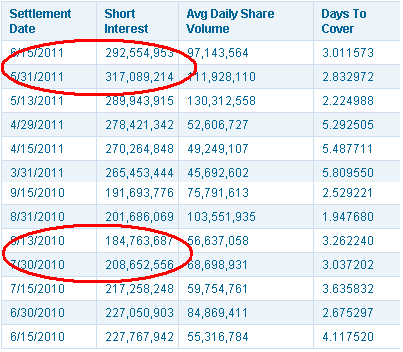 The story in the chart above is very telling when we draw a comparison between the two periods circled in red. For the sake of space it has been condensed. First, the short interest drop from 317 to 292 represents a remarkable 8%; not something to be taken very lightly. The last time Sirius saw such a drop in bearish sentiment was last August, when short interest dropped from 208 million to 184 million for an impressive 11.5%. From August 13th through November 30th Sirius saw its stock rise 37% from $1 to $1.37. Using this as a gauge, I will have to expect Sirius stock to approach $2.75 in a relatively short period of time. From the current $2 level, this would present a 37% increase in its value.
How is it going to unfold?
Sirius XM has yet to officially announce the date on which its second quarter earnings will be reported. However, if we use previous reporting calendars as a gauge, we can take an educated guess that Q2 report will likely fall between August 2nd – 9th. But if pressed to be more specific, I would say August 2nd would be the target.
The announcement dates are always important, not only to Sirius investors, but even more so to Sirius traders such as myself. Neither camp is ever fond of the other but it goes with the territory. The Sirius investors often refer to traders as being complicit in what some believe are manipulative practices of the stock. The Sirius traders often refer to Sirius investors as being less astute to macro environments who often leave "gains on the table." Regardless of your approach as a market participant, it is clear that one's personality and ideals often preside over not only the stock of his/her choice, but also whether he/she is an investor or trader.
Let's keep in mind that I made some assumptions here that Sirius will likely report its Q2 earnings between August 2nd and the 9th. But more specifically, I will use August the 2nd as the focus and basis the numbers that follow. We need to also keep in mind that the summer months are not typically good periods for the stock, so being a little conservative in our estimates will likely be the best approach.
The basis of what we know is as follows: The typical Sirius run up begins 8 to 14 trading days before reporting date for an average gain of 28%. The price typically peaks 2 days before reporting and then begins to fall the day before reporting and didn't stop for 4 days. This has been the working model with the exception of Q1. But that anomaly is not enough steer away from the strategy. There was no way to anticipate what can now be perceived as CitiGroup (NYSE:C) volume moving into Sirius; at least that's my theory.
August 2nd puts us 24 days towards Q2 earnings and Sirius currently sits at $1.98 or almost 20% off its high of $2.44. We can see a couple of times this week that Sirius has tested what appears to be a ceiling at $2.10. Breaking that point will no doubt be a good indicator of what is to come. Because when it does, other than profit taking, there will be nothing to stop it from reaching its higher benchmarks; $2.25, $2.35 and $2.44 and obviously $2.50. The question you should be asking is when does it hit these targets? And when does it hit your target of $2.75? We will revisit this later.
Metrics that matter
As we have come to know, for any of the above to take place Sirius can not disappoint in the metrics that matter. I wrote last week about how fundamentals will always matter even though the stock does not trade on it. You guys hate it when I say this, but it is undeniable. Having said that, it is hard for me to expect new 52 week highs, much less a price north of $2.60 if Sirius is unable to perform.
Let's look a little more closely at the company's key metrics. As noted, due to strong auto sales in Q1, subscription numbers was one of the pleasant surprises. It reported net subscriber additions of 373,064, which was up 118% from 171,441 in the first quarter of 2010. Ending subscribers as of March 31, 2011 were 20,564,028, up 9% from the 18,944,199 subscribers reported as of March 31, 2010. The stock responded favorably and surged towards $2.42.
If you recall (and as noted above) it was in Q2 of 2010 when Sirius really took off. But what many have forgotten is that it was during the Q2 conference call last year when Sirius raised its subscriber and full year guidance. It is not out of the question to expect them to do the same thing this time around; even in the face of a slightly reduced SAAR in May and June.
What will the company report in the area of free cash flow? Last year it jumped in the quarter to $108 million which was up from 13 million in 2009. Not only did Sirius report a stunning 580K net subscriber addition for the quarter, but it increased its conversion rate while reducing the self-pay churn to one of the lowest figures of the year.
So clearly, if last year's second quarter was any indication, Sirius should be able to duplicate similar results this year. During the Q1 conference call, Mel Karmazin indicated that if it were not for the disaster of Japan Sirius would have raised guidance for the year. Well, after three more months of assessing the business, it would be a huge disappointment if guidance was not raised. Mel has become a great manager of the stock price and investors will be looking for him to do just that.
Summary
Yesterday 6/27, according to E*Trade, Thomson Reuters upgraded shares of Sirius from "negative" to "neutral." This comes immediately after last week's upgrade by Janco Partners from accumulate to buy as they raised their target from $2.15 to $2.50; upon which Analyst Vijay Singh was quoted as saying the following:
"We believe that this deal opens up a larger used car market opportunity for SIRI compared to the couple of Certified Pre-owned deals the company has put in place. Considering that SIRI has over 60% market penetration of new cars, there are millions of Satellite Radio-equipped cars that roll off in the used car market offering incremental opportunity to the company. Furthermore, these potential subscribers have low acquisition costs and higher incremental margins."
The timing of these upgrades are very interesting, particularly because Sirius was trading under $2 each time. This forced me to ask the question, what does it mean for the stock? What these analysts apparently know is what Nasdaq just reported, Sirius is due for a breakout towards $2.75 and they are advising that now is the time to buy. I have to say, I agree.
Disclosure: I am long SIRI.