A lot of investors remain unwilling to invest in anything resembling a financial stock, despite the fact many are growing again and trading cheaply. One such company is Alliance Data Systems (NYSE:ADS), which benefits from higher ad spending and improving consumer balance sheets.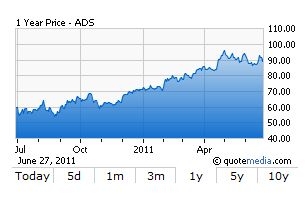 Alliance operates three segments, including Epsilon, LoyaltyOne and its private label credit card business. Each segment is projected to top $1 billion in sales in 2012 as consumer spending improves and companies invest in programs to capture, analyze and exploit customer data for sales growth.
Alliance has never been shy about reinvesting in its brand. Whether through acquisitions to build out its product line or share buybacks, Alliance has demonstrated a commitment to earnings growth.
Epsilon is a great example. Alliance was faced with an admitted talent gap in ad development at Epsilon, so it acquired Aspen Marketing for $345 million. This deal brings along 800 people and $250 million in revenue and significantly boosts Alliance's presence in automotive - a marketing friendly industry.
During the recession, Alliance spent $2 billion buying back stock, equal to 40% of its shares. As a result, the company saw its earnings grow, despite the recession, from $4.42 in 2008, to $5.16 in 2009 and $5.87 in 2010, respectively.
Alliance's balance sheet will improve over the next two years too, thanks to $800-$900 million in free cash flow generation on over $3 billion in annual sales. A new $1.6 billion credit facility in May will repay maturing notes and add liquidity.
In 2011, Alliance's revenue will increase 8%, driving earnings per share up 20% to $7. Its Q1 revenue was $740 million, up 12% year-over-year and earnings per share in the quarter were up 47%.
Epsilon is forecast growing 20% annually for the next few years as companies increase ad spending across web, mobile and permissioned email. The segment has 2200+ customers across retail (NYSE:NWY), lodging (NYSE:HLT), finance (NYSE:KEY), packaged foods (KFT), healthcare (NYSE:AZN) and other sectors. Last quarter, Epsilon sales rose 23% to $156 million, thanks in part to last summers Equifax's Direct Marketing Services acquisition, which added $15 million in sales. The company's database and digital businesses sales were up 21% to $98 million while its data and other businesses sales rose 28% to $58 million.
Over at its LoyaltyOne segment, which serves primarily Canadian households, sales were up 9% to $218 million. Quarterly AIR MILES issued were up 7%, reflecting improving consumer credit card spending trends. Canadian GDP, consumer sentiment and unemployment are all better than most of the G7 nations, which will help Alliance grow in the high single digits organically over the coming years, particularly as Alliance expands LoyaltyOne across industries.
One of the most interesting growth opportunities for LoyaltyOne, however, isn't Canada, where it already commands 10 million households as clients. Instead, it's in replicating the program in Brazil using its Dotz platform. Brazil, expected to grow 4.1% this year, offers a much larger market than Canada for LoyaltyOne. With Alliance's newly inked deal to market Dotz to Banco do Brasil's 30 million-client database, growth in the region should be dramatic. Alliance expects the Brazilian expansion will drag on results over the next 18 months and then boost results nicely in 2013 and beyond.
Alliance is also seeing easing headwinds in its private credit card business, which manages some 90 card programs for various retailers. In Q1, segment sales were up 9% to $369 million. Risk metrics at its World Financial Network National Bank continued to improve with tier 1 risk based capital, tier 1 leverage and total risk-based capital at 15%, 14% and 16%, respectively. In the company's May update, private label credit net charge offs were 7.2%, down from 9.1% year-over-year. This is a drop from 7.4% in April and 7.9% in Q1. The delinquency rate also fell to 4.5% from 5.3% year-over-year in May.
Exiting Q1, $266.6 million remained on its buyback authorization, suggesting the company will provide support on pullbacks. But, providing even more demand could be the 11.4 days of average trading volume still held short. With Alliance beating the street in each of the past four quarters, including a 20.8% beat last quarter, analysts have boosted their 2012 forecasts to $8.06 per share, up from $7.85 a share 90 days ago. Shorts could get caught in a substantial squeeze if the company continues to post better-than-expected results. Already, in the past month shares short have dropped to 11.5 million from 11.9 million. Investors buying today will pay 11.3x expected earnings next year, very reasonable for a company offering double digit top and bottom line growth.
Disclosure: I have no positions in any stocks mentioned, but may initiate a long position in ADS over the next 72 hours.