As of last Wednesday, high-yield (junk) bond funds were hit with the largest weekly outflows on record, with investors pulling $484.2 million from ETFs, and $3.4 billion from mutual funds.
And it wasn't just last week. Investors have been running from high-yield funds for the past four consecutive weeks; it was just a couple of months ago that junk bond funds saw record inflows.
Has the high-yield sell-off created an entry point? Quite possibly. While the spread between high-yield debt and Treasury securities is below its historic norm, it has widened as of late. And one could argue that fundamentals warrant moving into high-yield bonds (balance sheets are healthy and margins look good).
Looking at a proxy for high-yield debt, the SPDR Lehman High Yield Bond ETF's (NYSEARCA:JNK) recent action has left the space oversold for the third time in the past three months. And the sell-off has forced the fund into a short-term downtrend; as of last Wednesday, the fund saw a weekly outflow of $245.3 million. But the fund is still in a long-term positive trend, and is still absolutely a long-term buy.
[Click to enlarge]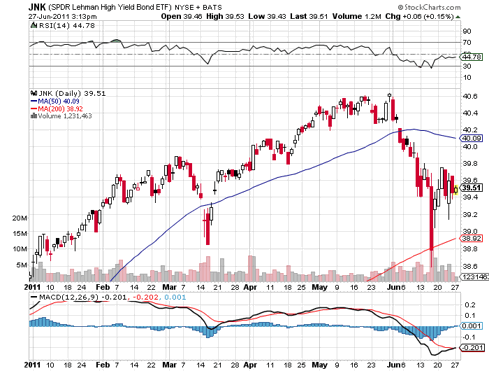 Click to enlarge
Source: www.stockcharts.com
Disclosure: I have no positions in any stocks mentioned, and no plans to initiate any positions within the next 72 hours.