The events of last week seem deserving of a much closer look as financial markets enter the seasonally unfavorable summer months amid more evidence that growth is slowing dramatically. This has prompted policy makers to take action and last week's release of crude oil from the SPR (Strategic Petroleum Reserve) perhaps is a sign of the urgency (or desperation) they feel.
To be sure, many elected officials, economists, and analysts are confused about our current condition, and for good reason. Here we are, nearly two years after the recession ended, with the worst economic recovery in the post-WWII period.
What Henry Blodget noted in this commentary in The Business Insider recently - Why Does Bernanke Lie To Us? Why Can't He Just Admit What The Problem Is? - is at the heart of our current troubles, and in the U.S., the primary culprit is depicted in the chart below from this report(.pdf) from the Council on Foreign Relations.
click to enlarge images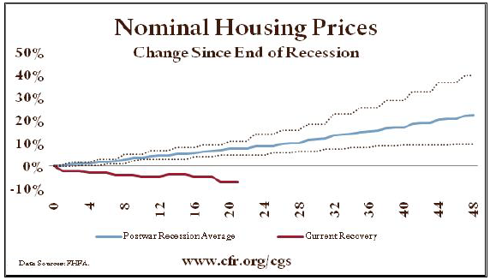 As Blodget notes, we are now enduring a very different kind of recovery than the post-WWII norm, and far too few have acknowledged this reality, along with what it portends for the future.
Anyone who has read This Time is Different by Carmen Reinhart and Ken Rogoff, now seems to have a big leg up on the Fed Chairman who acknowledged last week that the central bank doesn't have "a precise read on why this slower pace of growth is persisting".
As Reinhart and Rogoff showed, throughout history, financial crises have spawned recessions that ran much deeper and extended much longer than "typical" slowdowns that, more often than not in the post-WWII period in the U.S., were induced by the Fed itself via higher interest rates.
As the CFR notes, "the weakness of nominal home prices is a postwar anomaly" , and since residential construction and rising home prices have played a major role in every post-WWII economic recovery up until the current one, the burst housing and credit market bubbles are the primary reasons why this recovery has been so weak. Yet few want to acknowledge this, likely because the conclusion that follows is not a desirable one - that only time will heal the wounds caused by the credit excess of the last decade, and that this recovery should be very long and very weak, perhaps rivaling the multi-decade swoon in Japan.
I don't know what Ben Bernanke really believes about the U.S. economy - how it got here and when it will recover - nor do I know what I'd say if I were in his position, particularly after the job of Fed chief has become such a powerful and political one after the Greenspan years. But, after the last two years of the weakest recovery since the Great Depression and an expressed lack of understanding about why this is so, Ben Bernanke appears to be more befuddled than ever before.
Equity Markets Doubt the Recovery
The stock market certainly hasn't taken the news of slowing growth very well. Over the last two months as a series of disappointing economic reports have been released (see the Citigroup (C) Economic Surprise Index (CESIUSD:IND) for details), investor confidence has waned.
As energy prices climbed this spring and the sovereign debt troubles in Europe flared up again, markets were at first emboldened to go higher, but they now seem to have exhausted themselves.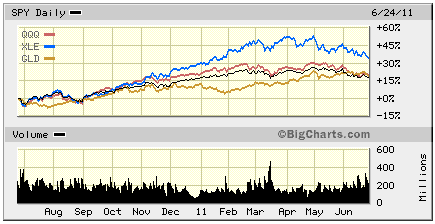 Commodity prices surged until late-April but are now down sharply, WTI crude oil's 25+ percent year-to-date gain at the time now completely wiped out.
Once high flying cotton is now down almost 50 percent from its peak earlier in the year, and other commodity prices have also tumbled due to fears of slack demand, resulting from slower growth and a series of moves by regulators to raise margin requirements and tamp down the speculative fervor.
While the Federal Reserve has had remarkable success invigorating asset prices over the last year with its $600 billion QE2 money printing effort (with the notable exception of housing), stock market investors are now increasingly concerned about the sustainability of the recent moves higher and, since the late-April peak, markets have grown more and more volatile.
As shown below, investors have been withdrawing money from stock funds for nearly two months, the most recent outflow on par with what was seen during last year's mid-year slowdown in economic growth.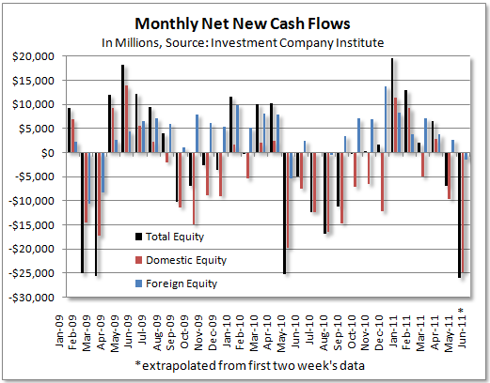 Broad U.S. stock markets have now fallen for the seventh week out of the last eight and, after mounting evidence of slower growth in both the U.S. and around the world, renewed talk of a "double-dip" recession is now being heard, just like last year.
Of course last year, inflation was much lower and when economic indicators weakened, the Fed started talking about another round of money printing. It didn't take long for the talk to turn into a Jackson Hole promise from the Fed Chief about QE2 and, for the next eight months, both the economy and asset markets rebounded nicely.
This time around, memories of the world-wide criticism of QE2 last year and rising inflation since it was launched virtually rule out the imminent announcement of QE3. As I've noted recently, unless stocks and commodities move much lower, the central bank is not likely to act, but, in a sign that more and more analysts are viewing as a sign of desperation, the IEA already has acted by tapping the Strategic Petroleum Reserves.
Will the release of 60 million barrels of crude oil from SPRs have any substantive impact on the fading economic recovery? We will soon find out, but, one thing seems clear - policy makers around the world felt that someone had to act.
GDP Forecasts for Q2 Keep Falling
Another result of last week's FOMC meeting was the release of updated forecasts for a number of economic statistics for the U.S. and, if Ben Bernanke didn't already make clear that he didn't understand what the economy has been doing lately, the updated estimates for economic growth certainly make that case. It's no wonder that confidence in the Bernanke Fed has dropped to record lows, as reported by Bloomberg on Friday.
The Fed's updated forecast sees the economy expanding at between 2.7 percent and 2.9 percent this year, down from their April growth forecast that ranged from 3.1 percent to 3.3 percent. For 2012, Fed officials expect the U.S. economy to expand at a rate of between 3.3 percent and 3.7 percent, down from a prior estimate of 3.5 percent to 4.2 percent.
The obvious question here is, why did the Fed revise 2012 growth forecasts lower if so many of the factors behind the current growth slowdown are just temporary or, adopting their latest favorite word, "transitory". Is it simply a matter of this year proving to be disappointing and so next year is likely to be disappointing as well?
Perhaps more importantly, the question should be asked whether these Fed forecasts are of any value at all, given the poor track record they've established in recent years, and Ben Bernanke's horrible mid-decade calls on the housing market.
As shown below from this item at Zero Hedge last week, along with many mainstream economists (who either haven't read This Time is Different or disregarded its message), the central bank is getting worse and worse at seeing into the future with any clarity.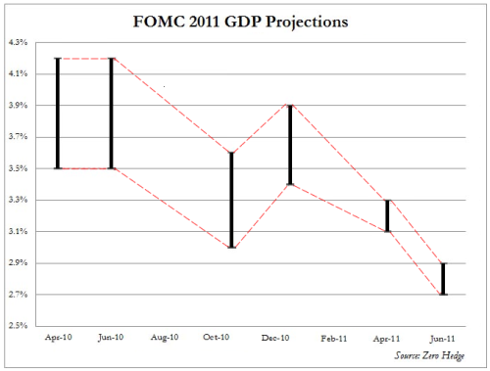 Even the folks at The Economist are beginning to doubt that the central bank's prognostications are of much value, noting in this story last week that "His admission of ignorance reflects genuine puzzlement with the economy's failure to reach what he likes to call escape velocity."
While raising its forecast for unemployment (bad news for the Obama White House), over the last year, the central bank has lowered its projections for 2011 GDP growth from almost 4 percent to under 3 percent and, when you think about what will be required to hit that number, even that modest rate of growth seems unlikely.
That is what struck me most about the Fed's recently lowered forecast - given a growth rate that is now likely to be less than two percent during the first half of the year, the economy would have to expand at almost a four percent rate in the second half in order to hit even the new, lower 2.8 percent mid-point estimate over the entire year.
As shown below, since the recession ended, the U.S. economy has only expanded at that pace once, shortly after the recession ended, when confidence by both businesses and consumers was rebounding.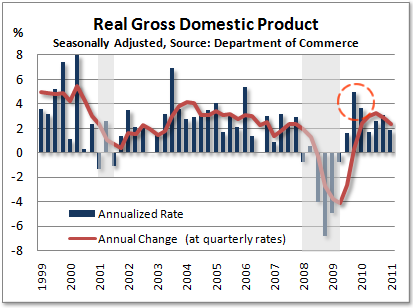 There is much debate about what is going on at the Fed but, clearly, they are now befuddled by the latest economic developments two years after the recession was officially declared to be over, and the latest batch of revised forecasts for growth in the second quarter offer no relief for anyone still counting on a solid year of expansion for the U.S. economy.
Goldman Sachs (GS) revised their Q2 GDP growth estimate from a 3 percent rate to 2 percent, citing high unemployment and a weakening manufacturing sector as the primary culprits.
The investment bank also said the Fed remains in a "zone of inaction" that will likely result in no change in monetary policy until the economy gets appreciably worse, or until inflation drops sharply from the lofty 3.6 percent annual rate reported last month.
Ultimately, that may be what was behind the IEA move last week to release 60 million barrels of oil from SPRs around the world - to knock oil prices down, so inflation comes down, so central banks can print more money to aid an ailing global economy that just doesn't seem to be responding as it normally does.
They may only be starting to realize it at the Fed, but this time really is different.