The market rebounded heavily yesterday as we expected would happen, and it sets up the question: Are we heading into a strong week or is this just a setup for another shorting day? We definitely cannot be sure in either direction, but it appears that "window dressing" for awful Q2 results for most institutions is on the way. The market is searching for a rise, and we move up on weaker data points today. Overall, we have to be feeling pretty bullish on the market right now moving into the Greek vote. At the same time, this market seems to be fairly toppy at 12,200. As we move to that line, we may see another drop.
Let's get some ideas together for more gains or a pullback day.

If we continue higher ...
Apple (NASDAQ:AAPL): The stock is starting to show some very strong technicals after bottoming at 315. The company has continued higher since that bottom and broke back above its 20-day MA at this point. We believe this stock should test $338 on another up day. The 50-day MA sits there and will create a significant resistance point. We would be buying the stock upon another break above the 50-day MA. Moving into today, options are appealing as well for an intraday move to that MA. We would look at buying naked $340 calls from the open to the MA. Additionally, for a less agressive position, selling the $315 Jul16 puts seem rather attractive and are still at a decent premium if you have the margin size to do so.

[Click all to enlarge]
DIG and ERX: We are interested in the gas side of the oil trade moving into July 4, as we think the combination of better market conditions and a higher demand for gasoline this weekend should create some higher valuations for gas companies like Exxon Mobil (NYSE:XOM), Chevron (NYSE:CVX), and ConocoPhillips (NYSE:COP). We like the more aggressive ETFs like ProShares Ultra Oil and Gas ((NYSEARCA:DIG)) and Direxion Daily Oil and Gas 3x ETF ((NYSEARCA:ERX)). These both work well as just equity. We believe that oil is bottoming, which helps as well.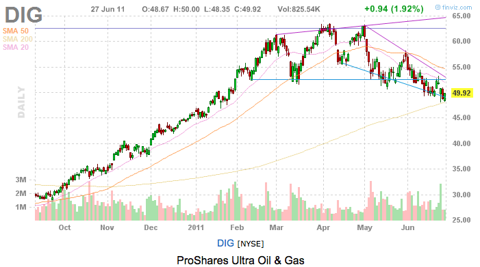 But let's get real: The economy is not that great:
Sears Holding (NASDAQ:SHLD): The move higher in Sears is attractive for shorting. The company has been moving down fairly well since a recent high above $75. The company, though, is in a significant downward price channel and its recent movements seem to suggest more downside. On up days, the company is getting light volume with smaller ranges between open and close (note the candlesticks). On down days, the stock is opening lower and dropping significantly. Yesterday's movement higher was on no fundamentals and on light volume, setting the stock up for a drop on a weaker or flat day. The company has lots of room back to the support levels above $66 that it was at before a recent rally, and we like to think that the stock will be there soon.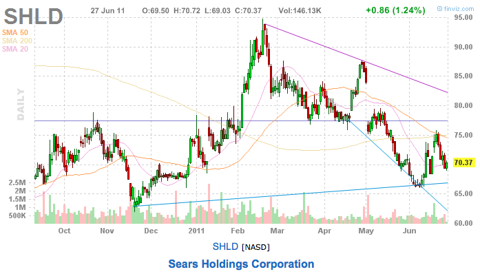 Skechers (NYSE:SKX): This company is probably the weakest retailer out there right now, and it seems to have found a recent bottom at $13, but it is not something that anyone should be buying. This is a company that ran up significantly on a single shoe product that could not be leveraged into a longer-term upside play and could not leverage the product as a whole. The company has more downside ahead, and has very little future prospects. The stock jumped on no news yesterday like SHLD. The stock should drop well on a downward moving day, and if we get a sell-off anytime soon, SKX should be a good candidate to continue lower. No options trade here.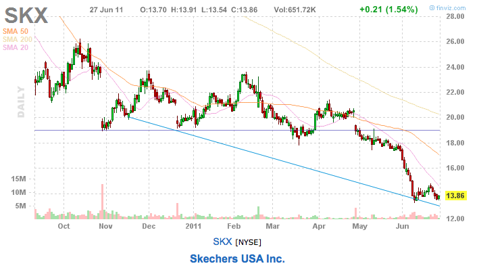 Disclosure: I have no positions in any stocks mentioned, but may initiate a long position in AAPL, DIG, ERX over the next 72 hours.
Additional disclosure: I may short SKX or SHLD.