A little over a year ago I wrote an article about General Motors (NYSE:GM) warning about potential pitfalls in purchasing its stock when it comes out of bankruptcy. Sure enough, on November 18, 2010, the "new" General Motors company started trading with an IPO price of $33. The price moved up to just under $40 into early January, with brokerage firms cheerleading investors to buy the stock.
However, since January 7, 2011, the stock has been in a general down trend, with a low occurring on June 16, despite analyst's bullishness, as can be seen here:
Current Month
Last Month
Two Months Ago
Three Months Ago
Strong Buy
6
7
7
7
Buy
9
8
8
8
Hold
3
3
4
3
Underperform
1
1
1
1
Sell
0
0
0
0
From Yahoo Finance via Thomson/First Call.
The price sits just above $30 as this is being written, with about a $2 bounce occurring over the last 8 trading days.
[Click to enlarge]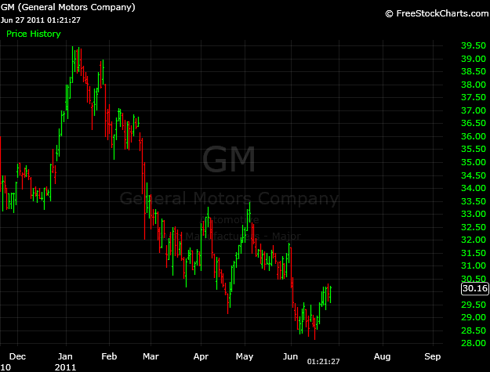 Click to enlarge
I checked GM's balance sheet over a year ago: "...GM still has 5 times more debt then equity; and now its owners want to shift some of that capital structure from debt to new equity holders." Checked again and GM, as of March 31, has a ratio of 2.8 Debt to equity. This would seem to be an improvement, which would be expected since equity was issued; however, GM still carried just over $30 Billion in goodwill on its balance sheet all through the bankruptcy process. Maybe a CPA can explain why goodwill was not written down to zero for a bankrupt company?
A common adjustment for financial analysts to do is remove goodwill from the balance sheet and at the same time reduce equity, to keep things in balance. If this "proforma" adjustment is made, then GM has a debt to equity ratio of over 13. On page 258 of GM's annual report, an investor can also find information on operating leases that GM has which do not appear on the balance sheet and would make this ratio climb even higher.
GM's operating cash flow has been negative the past two quarters: -$377 Million (Mar. 2011) and -$1,539 Million (Dec. 2010), while reporting positive net income. A strong firm has both positive net income and operating cash flows occurring concurrently. GM used assets sales to help improve its net income numbers last quarter. There have also been reports of GM channel stuffing. If auto sales continue to stagnate, as reported in this Seeking Alpha article, then GM's stock price will most likely have further to drop.
Over a year ago I concluded:
Most investors still want a recommendation to buy something and not go away empty handed. So in order to not have anyone feel disappointed I recommend going long lipstick futures. Unfortunately, they do not exist yet, but maybe ... the CME Group (NASDAQ:CME) will develop this complement to its pig contract, which goes by the more respectable term "lean hogs." For I am certain after reading about GM that the demand for lipstick will be very high.
Looking at GM's stock price over the past year and analysts' recommendations, it appears that the "shun GM and go long lipstick futures" was the right call. Now, I just need to find the brand that of lipstick that analysts use and go long that.
Disclosure: I have no positions in any stocks mentioned, and no plans to initiate any positions within the next 72 hours.