Monday (June 27), Medtronic (NYSE:MDT) and Nile Therapeutics (OTC:NLTX) announced they have completed dosing in the first patient in Part-B of the ongoing phase 1 study with cenderitide. As a reminder, Part-A of the study evaluated the pharmacokinetics of administering cenderitide through two subcutaneous bolus injections. The goal was to show bioavailability and safety at a level that provided a strong therapeutic window at an effective cost. Based on comments from Medtronic's VP of Clinical Research, Hsiao Lieu, MD, we believe Part-A clearly obtained its goal. In Part-B of the study, Nile and Medtronic will study a 24 hour continuous infusion of either cenderitide or placebo, delivered through Medtronic's subcutaneous pump (MiniMed Paradigm) technology.
Part-A of the study completed about a month ahead of our expectations. If enrollment continues on plan, we believe the phase 1 trial could end as early as September 2011, with data toward the end of the year. We expect this would be top-line data, with full data coming in March 2012 at the American College of Cardiology (ACC) meeting. We are expecting around 30 patients in Part-B of the trial.
The primary purpose of the trial is to understand the doses required to achieve pre-determined plasma levels of cenderitide delivered through a subcutaneous infusion pump and the pharmacodynamic activity at these doses. Costs of the phase 1 trial are being reimbursed by Medtronic (we estimate around $2 million). As a result, Nile has agreed to not partner cenderitide with any other company while the trial is ongoing. This exclusivity period expires three months after the delivery of the phase 1 data to Medtronic, or in May 2012. We think based on the current enrollment pace, the three month post data delivery expiration will come long before May 2012.

New Post-Acute Indication Takes Center Stage
On February 28, 2011, Nile announced it will begin development of cenderitide (formerly CD-NP) in a new indication, seeking to treat patients with acutely decompensated heart failure (ADHF) on an outpatient basis for up to 90 days after discharge from the hospital.
We like the opportunity here for investors. Nile's stock is dirt cheap, trading with a market value of only $28 million. And, for a $0.72 stock, the risk is far less than one would assume. Below we outline five typical risks that plaque micro-cap biotech stocks. We believe Nile has addressed or is addressing all these risks.
Risk 1: Efficacy Risk
The first question for any biotech investment is: Does the drug work? Based on the phase 2a study on "acute" (in-hospital) patients, we think the odds clearly point to: Yes
In November 2010, Nile presented encouraging data from a 77 patient phase 2a program with cenderitide in patients with ADHF and mild to moderate renal insufficiency. Patients received study drug for up to 72 hours and were followed for 30 days. The primary objective of the study was to assess the safety and tolerability of cenderitide in an ADHF population with renal insufficiency. Secondary endpoints included several assessments of drug activity.
Results demonstrated that multiple doses were characterized as well tolerated, with promising signs of favorable drug activity in this acute population. Specifically, cenderitide infusion at 1.25, 2.5 and 3.75 ng/kg/min appeared to be well tolerated. A dose-dependent effect on blood pressure was observed, with minimal or mild blood pressure reduction at 1.25 and 2.5 ng/kg/min, and moderate blood pressure reduction at 3.75 ng/kg/min. Dose escalation was limited by significant blood pressure reduction at 5 ng/kg/min.
We think the data from the phase 2a study, which was presented at the 60th annual American College of Cardiology (ACC) meeting in April 2011, clearly show the drug has utility and warrants further clinical testing. We are particularly excited about moving the drug from the "acute" to "post-acute" setting because of the larger patient population and lack of available effective treatment options.
...SBP Change Over Infusion Period...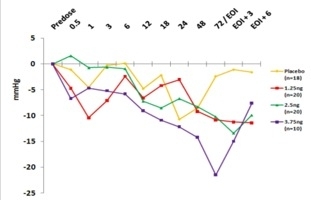 Secondary analyses demonstrated favorable effects of cenderitide on renal function, particularly at the 1.25 and 2.5 ng/kg/min doses. There was a trend for improved renal function at lower doses (1.25 and 2.5 ng/kg/min) by the end of infusion relative to placebo (Figure 1). In the 3.75 ng cohort, serum creatinine increased from baseline presumably because the blood pressure lowering effect of this dose off set any direct renal enhancing actions of cenderitide. Mean eGFR showed the greatest improvement at the 2.5 ng cohort (Figure 2).There was no change at the 1.25 ng dose. Figure-1 Figure-2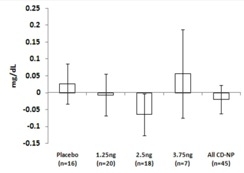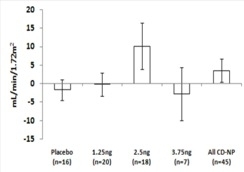 Risk 2: Development Risk
As noted above, Nile is changing gears with cenderitide. The previous phase 2a study discussed above was in an acute, hospital setting. Before management could move forward into a phase 2b study with the "post-acute" (out-patient) indication, management had to go back to phase 1 to study the pharmacokinetics and bioavailability of the drug. With Nile's press release and recent comments by management at Medtronic, we believe the first part of the phase 1 study, Part-A, clearly demonstrates the type of pharmacokinetics and bioavailability Nile and Medtronic were looking for (i.e. a wide therapeutic window with a reasonable manufacturing cost). Part-B of the study has initiated, and data are expected later this year. We are confident in the outcome of Part-B.
Risk 3: Regulatory Risk
No drug is ever a guaranteed approval. However, we really like the fact that the U.S. FDA has taken a keen interest in cenderitide and has been working with Nile and Medtronic on its early-stage development. On March 31, 2011, the U.S. FDA granted Nile "Fast Track" designation for cenderitide for reducing cardiovascular mortality and cardiovascular re-hospitalization in the post-acute period in patients with acute decompensated heart failure.
Fast Track is a designation that the FDA reserves for products that demonstrate the potential to address unmet medical needs for serious or life-threatening conditions. The Fast Track process is designed to facilitate the development and expedite the review of these products. In addition, sponsors of drugs that receive Fast Track designation can file a new drug application (NDA) on a rolling basis as data become available and have the possibility to be considered for Priority Review, which could reduce the time it takes the FDA to review the NDA from ten to six months.
Risk 4: Financing Risk
Nile is a micro-cap stock. Management will be the first to admit, it does not have the funds to take cenderitide to the market. Funding a phase 2b and phase 3 trial with cenderitide could cost more than $100 million. We point to J&J's recent ASCEND-HF trial looking at the clinical effectiveness of Natrecor (nesiritide) in decompensated heart failure. The program enrolled 7,141 patients at 398 clinical sites in 30 countries around the world, and cost an estimated $200 million to complete. J&J initiated the program in 2005, and just presented the data in March 2011.
What Nile needs to fund, however, is its overhead operations for the next 6 months while the phase 1 trial is ongoing. Then the company needs an additional 6 to 12 months of cash to negotiate with Medtronic or a new partner for phase 2. We believe Nile has sufficient cash to get this done.
On June 23, 2011, Nile raised $2.5 million in proceeds through a private placement of 5.0 million shares of common stock and five-year warrants to purchase an additional 2.5 million shares of common stock. Based on our financial model, Nile now has enough cash to fund operations through the third quarter 2012. As noted above, data from the phase 1 study should be available by the end of the year. Medtronic would then have three months to review the data and make a decision to partner for phase 2. If the data are positive, we would be surprised to see Medtronic pass up on the opportunity to scoop-up Nile at such a discounted price.
Risk 5: Deal Risk
Partnering remains the end-game for Nile. As noted above, the company has enough cash to make it through the third quarter 2012. Based on when we expect the data from phase 1, Nile will have the first quarter 2012 to negotiate with Medtronic, and then the second and third quarter 2012 to negotiate with new partners if Medtronic is not interested. Based on comments from Medtronic management, we believe Medtronic is already in the initial planning stage for the phase 2 trial. We do not expect Medtronic to let the exclusivity period expire without a deal. We expect a full licensing agreement sometime during the first half of 2012. In fact, if Nile remains this low, we would not be surprised to see an outright acquisition of Nile by Medtronic. We believe Nile is vastly under-valued at today's price.
Potential Blockbuster Indication
We believe this new "post-acute" indication could be a blockbuster opportunity for cenderitide. In the U.S., approximately 5.5 million people (~2% of the population) suffer from heart failure (NYSE:HF). The incidence is even higher for patients above the age of 65, where approximately 6% to 10% of the population is at risk. There are an estimated 650,000 new cases diagnosed annually. Treatment of heart failure generates annual costs of approximately $35 billion, of which approximately $3 billion is spent on drugs and $19 billion is spent in the acute hospital setting.
HF patients frequently suffer acute episodes of decompensated heart failure, which require hospitalization. Each year, HF is responsible for over 1.2 million hospitalizations. For Americans over the age of 65, ADHF is the most frequent cause of hospital admission, and the incidence has doubled in the past 15 years. The average length of hospital stay is 4.3 days. Subsequent to a discharge for ADHF, the average time to re-admission is 3 months and mortality is high. In fact, 50% of patients discharged with a primary or secondary code of ADHF will require re-hospitalization during the following 9 months. Mortality at 1-year is over 10%.
Nile and Medtronic are looking at the potential to administer cenderitide continuously for 90-day using Medtronic's MiniMed Paradigm pump currently used for continuous infusion of insulin. The pump utilizes MiniMed's minimally invasive, subcutaneous micro-needle technology. If Nile can capture only 10% of the 1.2 million post-acute HF patients, at a cost of $5,000 per treatment, sales would be $600 million. We think the opportunity exists to charge even more for this therapy given the high burden and unmet medical need. The potential to use cenderitide in a post-acute indication is very exciting in our view. There are currently no approved heart failure drugs targeting cardio-renal improvement in an outpatient setting.
For more information on why we are optimistic on cenderitide, please check out this article I wrote last year following the American Heart Association meeting. It covers the data Johnson & Johnson (NYSE:JNJ) presented from the ASCEND trial and why we believe that Nile's cenderitide may be more successful than J&J's nesiritide (Natrecor). See here.
Disclosure: I have no positions in any stocks mentioned, and no plans to initiate any positions within the next 72 hours.