With the pullback in oil prices, the energy sector has had a significant selloff and bargains are starting to become apparent. Here are three stocks involved in the energy industry that have sold off and are worth considering at these levels.
Hess Corporation (NYSE:
HES
) - Hess Corporation and its subsidiaries operate as an integrated energy company. It operates in two segments, Exploration and Production (E&P) and Marketing and Refining (M&R). The E&P segment explores for, develops, produces, purchases, transports, and sells crude oil and natural gas. This segment engages in exploration and production activities principally in Algeria, Australia, Azerbaijan, Brazil, Colombia, Denmark, Egypt, Equatorial Guinea, Gabon, Ghana, Indonesia, Libya, Malaysia, Norway, Peru, Russia, Thailand, the United Kingdom, and the United States.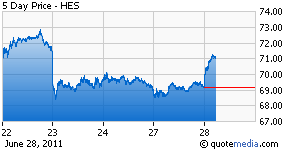 Valuation and Prospects – HES is selling at just $69 a share after being as high as $87 in early April, despite rising consensus estimates for 2011 and 2012. The pullback left HESS deeply undervalued as it goes for around 9 times this year's estimated EPS and under 8.5 times 2012's consensus. The stock now is in the bottom of its five year valuation range based on P/B, P/S and P/CF. It sells for less than .7 times trailing revenues, 6 times operating cash flow and a PEG of around .8. HESS has good assets in the Bakken Reserve, but its properties in Ghana could be real game changers. Credit Suisse put out a report in late April that projected if those assets pan out, it could take Hess' oil output from 390k BPD in 2011 to up to 700k BPD in 2017. Credit Suisse has a price target of $115 on HES, S&P is at $96 and Deutsche Bank has a price target of $105.
Patterson-UTI Energy (NASDAQ:
PTEN
) - Patterson-UTI Energy, Inc., through it subsidiaries, provides onshore contract drilling services to oil and natural gas operators. The company offers pressure pumping services that consist of well stimulation and cementing for completion of new wells and remedial work on existing wells in Texas and the Appalachian Basin; and contract drilling services primarily in Texas, New Mexico, Oklahoma, Arkansas, Louisiana, Mississippi, Colorado, Utah, Wyoming, Montana, North Dakota, Pennsylvania, West Virginia, and western Canada. It also owns and invests in oil and natural gas assets located primarily in Texas and New Mexico.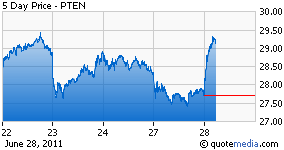 Valuation and Prospects – Like Hess, PTEN has had a significant selloff in the last two months, giving up over 10% since late May. Patterson sells for around 13 times this year's projected earnings and just ten times 2012's consensus earnings. Analysts consistently underestimate earnings drivers for PTEN. The company has been handily beating earnings estimates each of the last four quarters and consensus estimates for 2011 and 2012 have dramatically been revised up over the last 90 days. The main drivers for the improved earnings outlook is the expected increased rig count in 2011 and 2012 as well as better margins. PTEN currently goes for under $28 a share. Credit Suisse has a price target of $40, and the average analyst target on Patterson is $37 where S&P is at as well.
World Fuel Services (NYSE:
INT
)
-
World Fuel Services Corporation engages in the marketing and sale of marine, aviation, and land fuel products and related services worldwide. Its Marine segment markets fuel and related services to international container and tanker fleets, commercial cruise lines, and time-charter operators, as well as to the United States and foreign governments. The company's Aviation segment markets fuel and related services to commercial airlines, second and third-tier airlines, cargo carriers, regional and low cost carriers, corporate fleets, fractional operators, private aircraft, military fleets, and to the United States and foreign governments.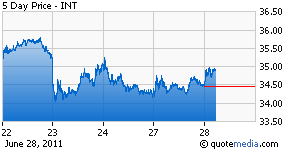 Valuation and Prospects – World Fuel is one of my favorite "under the radar" stocks. It is also one of the few equities that grew earnings and revenues right through the Great Recession. The company has mastered the art of small, strategic acquisitions. After selling off 15% in past two months, INT sells for around 13.5 times this year's expected earnings and just 12 times 2012's consensus EPS. For a company that has grown earnings over 23% annually over the last five years, valuations seem more than reasonable. INT sells in the bottom third of its five year valuation range based on P/B, P/S, P/E and P/CF. INT goes for just over $34 a share. Both S&P and Credit Suisse have $46 price targets on the World Fuel.
Disclosure: I have no positions in any stocks mentioned, but may initiate a long position in HES, INT over the next 72 hours.