Large-capitalization technology stocks that returned nothing or lost money for shareholders will continue to do the same in the future.
Why? These companies are very rich with cash, are growing at steady rates, but the market believes they lack any hope for growth. The ability for these companies to grow are held back by a number of important reasons: Heavy management, company size, or by the inability to compete with more nimble rivals.
It is time for investors to drop these holdings and to buy nimble competitors, despite the standard metrics used to evaluate the value of these companies.
Metrics considered:
Large market capitalization companies with substantial cash balance and low debt/equity are considered.
Note: All figures obtained from finviz.com. Despite inaccuracies due to older data used, the differences will not impact analysis.
Qualitative considerations:
Companies that have issues in executing their growth strategy or where management leadership is called into question are considered.
1) Cisco Systems (NASDAQ:CSCO)

Cisco Systems has $10 per share in cash, or $43B. It is unable to grow domestically due to a slowdown in U.S. government spending (public sector orders decreased 8% in its most recent quarter). The transition for sales of its largest business in routing, the Nexus product line, is gaining some early traction, but not at a rate that signals significant growth for the company.
Management went from nine councils to three councils, and from 42 boards to 15, but the market continues to drive Cisco's share price lower. The market is skeptical that the company is capable of responding to and selling products in higher growth businesses.
With heavy competition in the business space from more nimble companies, Cisco remains unable to grow outside, in the consumer space. The company acquired Flip video in 2009 for $590M, only to shut it down in April 2011.
Why is Cisco unable to operate in the consumer space? Cisco is limited with "corporate DNA." Sizhao Yang, creator of Facebook Farmville (later sold to Zynga) described the concept of company DNA as being implanted by the company's founders. The more creative and more dynamic the business, the more important DNA becomes. The DNA of selling to consumers is unfortunately not part of Cisco's DNA.
Alternatives to Cisco Systems: Riverbed Systems (NASDAQ:RVBD)
Riverbed is in the market of WAN optimization, and helps customers improve network performance. Officially described by the company: "Steelhead products enable our customers to improve the performance of their applications and access to their data across WANs."
Click to enlarge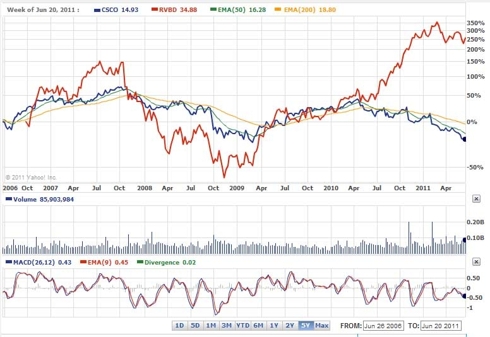 2) Microsoft Corporation (NASDAQ:MSFT)

Known for its dominance of the operating system for the desktop and laptop market, Microsoft is a solid long term investment. T2 Partners also built a case for a long position in Microsoft.
Microsoft was and remains a long term buy recommendation for patient shareholders. A preview for Windows 8 illustrated that the company was still a solid play in the tablet market. The company will not be irrelevant, but it also will not be a play in the growing tablet space dominated by Apple (NASDAQ:AAPL).
Still, a troubling trend exists for the company. Its Azure cloud strategy is showing tepid success. Most troubling with Microsoft is that its dominance in the desktop browser will be effectively neutralized by 2012. Google (NASDAQ:GOOG) Chrome and Firefox are growing rapidly, despite recent improvements made in Internet Explorer. Users must buy Windows 7 before they can upgrade to the faster Microsoft browser.
Microsoft had nearly $50B in cash (source: finviz.com) excluding the Skype acquisition costs. Microsoft's debt/equity was 0.22.
Microsoft should be considered sold, and switched with alternative investments, because its latest acquisition of Skype does not show that it knows what it needs to do to grow.
Skype on paper was attractive: it had 25 million concurrent users as of November 2010 and 663M subscribers, yet remained highly unprofitable. EBay (NASDAQ:EBAY) made the mistake of buying the company at a $2.75B valuation, and Microsoft now is paying more ($8.5B). In Microsoft's defense, the company is using overseas-held cash, which was subject to U.S. tax if repatriated. Skype must continue to provide consumer services for free, otherwise it will risk losing millions of users due to the availability of alternatives.
It is not clear how profitable the Skype integration in the business offerings of Microsoft products will be.
For the cores business products, Microsoft's database and enterprise businesses are growing at a respectable pace, but the company is losing large deals to nimble companies that did not exist 10 years ago.
Alternative to Microsoft: Salesforce.com (NYSE:CRM)

Salesforce.com. This cloud-based customer relationship management (CRM) company, is eating Microsoft's lunch: corporate customers. In its most recent quarter, the company showed off that it was winning large deals, because the custom solutions were more attractive to Microsoft's "all-in-one" enterprise cloud solutions.
Salesforce.com is also a true cloud computing play. Its Chatter is the foundation of this. Its "Cloud 2" mission extends to growing in a new social enterprise model. Chatter benefits from the use of iPad in the corporate space.
Marc Benioff, the co-founder and CEO of salesforce.com, took a swipe at Microsoft in its most recent quarterly earnings call (source: seekingalpha.com):
Our flagship, Sales Cloud, continued to crush the competition in the quarter. Microsoft's desperate strategy of underfunding, pricing with undifferentiated and highly proprietary products basically has had the same impact on our business as the Windows tablet and Zune did against the iPad and iPod. We call Microsoft's strategy, "the Zune strategy."
Click to enlarge
Research In Motion continues to run a tremendously successful business, but its market share in North America negates the overall growth potential for shareholders. While previous articles contend the company value of RIM is worth higher than its current share price, this argument is based on catalysts that must be met first.
Research In Motion previously enjoyed the benefit of companies providing secure, mobile email services to staff. With the trend slowly growing for workers to use their own smart phone device for work, the trend for having a work and personal device is running against RIM.
Like Cisco, RIM is being penalized by the market for being unable to sustain growth outside its corporate DNA. Taken from Vitaliy Katsenelson's summary at VALUEx Vail 2011:
Research In Motion has engineering DNA, and it has done a great job making highly sophisticated, very secure smart phones for the business market. Apple has design DNA and thus has created terrific iPhones for the consumer market. However, the "smart" smart phone market is converging towards the consumer side. Business people want to use the same cell phone for business and pleasure, and the design – an easy-to-use (iPhone-like) interface – becomes very important. In fact I see many of my friends who work for large companies carrying both Blackberries and iPhones, or dropping their Blackberries altogether in favor of iPhones (I guess their employers find that the iPhone is secure enough).
Does that mean a firm with engineering DNA cannot create good consumer products, or vice versa? No, but you want to handicap the probability of success, because a DNA mismatch makes it an uphill battle.
Research In Motion has the potential to regain lost traction, but it must contend with the shift underway with business consumers as described above.
Alternative to RIM
It is not Apple.
Apple would seem like an obvious alternative holding to RIM, but the company market value is already at $300B. Share price growth, along with corporate profit growth, relies too heavily on new releases of its iPhone or iPad to sustain a surge in its market value. It was previously hoped that new iPhones would be announced earlier this month. However, the iPhone 4 refresh (either as iPhone 4G or iPhone 5) will now be delayed until September.
Apple is trying to diversify its growth dependencies outside of hardware and operating systems, to cloud storage services and software. Apple made a rare product release blunder with its Finale Cut Pro. The software lacks many "pro" features and many negative critiques on the product were given by users who spent U.S. $299 for the offering. Late night talk show Conan O'Brien also commented on the product.
Nvidia Corporation (NASDAQ:NVDA) an Alternative to RIM
The alternative holding to RIM is Nvidia Corporation. The smart phone space is highly competitive, and the real winners will be companies that supply the key components to smart phone makers. Nvidia faces competition on multiple fronts, including PC/laptop graphics, but so far showed an ability to cope with this pressure. It is a beneficiary to the growth in the Android operating systems. The growth potential for Nvidia in this space was disappointing to the company, and is part of the reason why the shares are being held back.
Nvidia recently acquired Icera. Icera is a leading innovator of top-performing wireless modems for 3G and 4G cellular phones and tablets. This acquisition broadens Nvidia's mobile computing offerings to OEM customers.
4) Hewlett Packard Company (NYSE:HPQ)

Hewlett Packard shares continue to fall after peaking at $48.60 in February 2011. Mark Hurd was an instrumental asset to the company, and his leadership is now within the management of Oracle (NASDAQ:ORCL). The animosity between the two companies is growing. HP recently sued Oracle for behaving illegally when Oracle decided that future versions of its database software won't support a particular line of HP servers (as reported by AP).
Alternative to HP: Oracle

Oracle offers a true "cloud computing" play for investors. "Exadata machines" is the solution provided by Oracle for both a cloud computing billing system and a cloud e-mail system that scales to millions of users.
Oracle's new Exadata and Exalogic products illustrated how well the company is performing under two great leaders: "Exadata and Exalogic continue to show fantastic growth. This strategy shows up in our hardware gross margins, which were 56% this quarter, significantly higher than the 46% last year," the company said.

Click to enlarge
Investors who hope that Microsoft, HP, RIM and Cisco will able to turn themselves around as growth companies should consider:
1) Selling these companies and consider starting a small position on the alternatives
2) Initiating positions on the listed alternatives an addition to the laggards. This strategy is riskier because exposure to high p/e companies in the same sector will not offset losses in Microsoft, HP, RIM and Cisco should the sector as a whole sell-off.
These alternative holdings are not cheap, when using the widely accepted measure of P/E. These companies are expensive because markets recognize that they are nimble, well-run companies that offer products that are in the early- to mid-level stage of demand. Look for a pull-back in these alternative companies before including them in an investment portfolio.
Disclosure: I am long MSFT.