I spent this past Friday through Monday in San Francisco. My travels took me across large swaths of this great, albeit advertisement-littered, city as well as portions of the peninsula near SFO. Over the entire four-day journey, I only came across Sirius XM (NASDAQ:SIRI) one time. As a shareholder in the satellite radio company, this concerns me quite a bit.

For the ride to SFO on Monday afternoon, I hopped into a friend's Toyota (NYSE:TM) Prius. On her dash, one of the buttons gives the choice "AM/SAT." Not surprisingly, she does not subscribe to satellite radio and, when she bought the car, the sales representative made no mention of Sirius XM as an option. Sirius XM, referred to as "SAT," simply shares a button with much-maligned terrestrial AM radio. That's weak, to put it kindly.

Other than that limited "exposure" (for want of a better word), I did not see one billboard, one in-store display or one piece of random or strategically-placed marketing material - nothing - across San Francisco's Financial District, Union Square, Mission District, other random neighborhoods and between the city and SFO.

Worse yet, other than really looking hard for it (e.g., digging through the racks in an electronics store for a Sirius XM receiver), I would have probably had to go car shopping on my vacation to run into some type of Sirius XM promotion. And, even then, I think a less than 50/50 chance exists that I would have bumped into the nation's only satellite radio service.

It's an understatement of epic proportion to say that Sirius XM has tied itself to the fortunes of the auto industry. While they do not tell the entire story, consider the correlation between SIRI and the two major U.S. automakers, General Motors (NYSE:GM) and Ford (NYSE:F), courtesy of AssetCorrelation.com.
Click to enlarge charts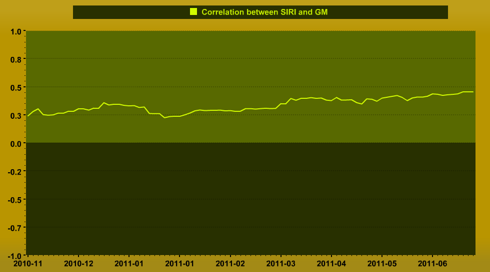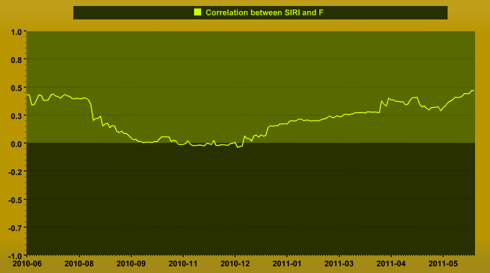 SIRI does not correlate perfectly with GM and F. However, the correlation continues to get stronger. A claim that what's good for General Motors and Ford is good for Sirius XM should not get you booed out of any room, not even the annual SIRI shareholders meeting. What might raise the ire of a few observers, however, is having a problem with this reality. Articles noting how Sirius XM continues to benefit from strong auto sales (or how it could get hurt if and when sales decline) come and go without much mention, if any, of how the marriage that got the company to where it's at today might be turning sour.

In the interest of clarity, I do not think Sirius XM should abandon the automobile as its primary source of revenue. Getting people to subscribe and listen to satellite radio in their vehicles brought the company to the dance. Because drivers and passengers tend to spend a lot of time with radio while in the car, it only makes sense to focus on that part of the business. I fear, however, that management might be focusing too hard on this marriage at the expense of more than viable side bets.

The deals with automakers keep coming, yet Sirius XM lacks in other crucial arenas. First, as an Internet-only subscriber, I can tell you first hand that the sound quality of Sirius XM's online stream is abysmal at best. The functionality of its online interface (tuner, channel guide, etc.) is not much better, even after a recent redesign. I only put up with it because of my obsession with Bruce Springsteen, which is supported by Sirius XM's E Street Radio services.

The company has done virtually nothing to promote itself, other than poorly-executed, cheap and fleeting publicity stunts. There's no reason why you should be able to walk around a major U.S. city for 12 hours a day and not bump into - or overhear someone talking about - Sirius XM. Frankly, it's inexcusable.

When Howard Stern re-signed with Sirius XM, both parties touted how excited they were that his show would be available via a mobile app. According to a website that tracks the popularity of apps in Apple's (NASDAQ:AAPL) App Store, the Sirius XM app has seen its popularity decrease in recent months. Like SIRI's internet stream, users give the iPhone/iPad app poor reviews.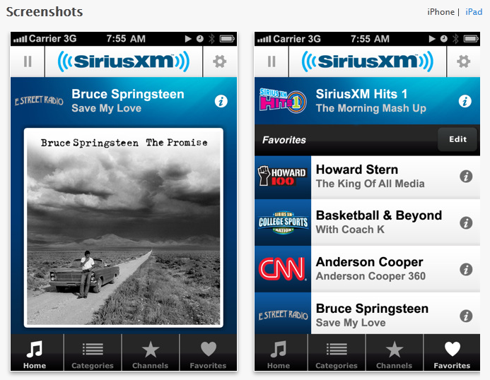 At day's end, Sirius XM management appears to have, for all intents and purposes, neglected online and mobile, the two areas it probably should - given its competition - focus on alongside the auto industry. Instead of working to ensure that it gets its name out into the mainstream and improving the functionality of its online and mobile offerings - two strategies that would diversify its subscriber base - Sirius XM leaves its sales, marketing and promotional efforts in the hands of used and new car salespeople.

When Sirius XM gets its service into a new or used car, the deals get structured in any number of ways. Seeking Alpha contributor Spencer Osborne provides a nice overview. Whatever the arrangement, a bit too much for my liking gets left up to the automaker. Sirius XM seems to have little control over how an automaker explains the availability of satellite radio to local dealers and, then, how local dealers develop a game plan with their sales teams.

In my retail sales experience, particularly in the bicycle industry, I have come across all sorts of free trial offers and extra options to offer consumers at the point-of-sale. Whether I focused on selling one or neglected another had a lot to do with (a) my motivation, which often hinged on what's in it for me financially and (b) how management positioned the situation to me, which can range from no mention whatsoever to counter-productive over-hyping.

What happens on the ground at an auto dealership goes beyond actual sales and subscriber numbers. Worthy debates aside about Sirius XM subscriber metrics, every time a car salesperson neglects to mention or does a bad job selling Sirius XM as an in-vehicle, dashboard-ready audio entertainment option, not only does Sirius XM miss out on a subscriber, it also loses valuable word-of-mouth advertising that could make up for its lack of direct outreach.

Admittedly, I hinge my current long position in SIRI on not only the much-anticipated August conference call, but the performance of CEO Mel Karmazin. I believe Karmazin recognizes the issues I bring up and has plans to address them. As he reveals details on SatRad 2.0, I expect it to play a key role.

Either way, it's a bit of an embarrassment that his company presently relies on automakers and their salespeople to drive not only sales, but promotions for the company, while its Internet stream and mobile app continue along as something just short of insignificant. If I don't like what I hear from Karmazin on the call, I will book any profits or take any losses and end my long relationship with Sirius XM stock.

Disclosure: I am long SIRI.