Often times dividend companies are a great way for investors to bring in extra income. However, one important fact for investors to remember is a dividend may not make up for a losing company. This may seem fundamental, but the truth is some investors get swooned over by a high yielding dividend and realize after the fact the dividend did not make up for losses in share price. Another possibility to keep in mind is some companies raise the dividend in order to, in theory, keep the share price moving upwards; of course often times this does not work. With that said there are many dividend companies that continue to grow quarter over quarter and year over year. These are the companies investors need to get there hands on.
Due to investor sentiment declining, I will begin with five of the better growth companies with a strong dividend over the past year. Throughout this article it will be important, for comparison reasons, to remember the Dow Jones has risen 18.8%, Nasdaq 21% and the S&P 500 about 19.1% over the past year.
Five Dividend Growth Winners
1) Caterpillar (CAT) has not only seen strong growth over the past year, but also throughout the history of the company. Over the past year Caterpillar has returned about 59% including the four past dividends. This has been due to continuously strong quarters, which keep the share price from falling back down. However, recent events have caused Caterpillar's share price to fall almost 14%. This pullback, along with a two cent dividend raise, makes Caterpillar look appealing. One thing that has helped Caterpillar continuously cruise through soft patches in the economy is the fact that Caterpillar provides supplies worldwide. Therefore as long as a handful of countries are prospering and requesting machinery and construction products, Caterpillar will prevail.
The history of Caterpillar's dividend is very strong as the company usually raises the dividend on an almost yearly basis. This is good for investors because currently the dividend is very miniscule when compared to the share price; and continuous increases may make the dividend more worthwhile. Currently the 46 cent per share dividend is about 0.46% per quarter and about 1.84% per year; if the share price stays at 100 the rest of the year. This is not a very satisfying dividend, however Caterpillar has returned enough to investors via the share price to keep shareholders satisfied. According to the split adjusted dividends, Caterpillar has never decreased the dividend. In 1996 the dividend was $0.0875 and Caterpillar has slowly increased the dividend to the $0.46 per share level that is scheduled to be dispersed on August 20.
The continuous growth in dividend and share price means Caterpillar is a great company to pick up for the long term on any major pullback. Since Caterpillar has strong resistance right now at the 95-96 level, the closer to this region the share price gets the more reason for investors to take a position.
2) Another strong dividend company that has grown about 47% over the past year is Philip Morris (PM). Philip Morris is known as one of the sin stocks due to the fact that the main product is cigarettes and tobacco. Despite the company producing these products; which have been shown to lead to several kinds of cancer, Philip Morris states the company works with regulators to produce less dangerous products. Regardless of whether or not Philip Morris works to make the products safer, the truth is cigarettes will always be used by people due to the addictive habits of nicotine and the ability of nicotine to trick the body into thinking cigarettes relieve stress. I am not going to go into detail of how this works as that would far digress from dividends, but I have found a simple, possibly biased , and uncomplicated description here. Because cigarettes are addictive and give false sensations, consumers are unable to quit easily. Since consumers are unable to quit, the tobacco companies, particularly Philip Morris, will continue to flourish while rewarding investors with strong dividends.
Currently, Philip Morris' dividend is set for 64 cents per share, which is about 4% per year. As you can see from above, Philip Morris' share price has returned much more than the dividend. The dividend has slowly increased every four quarters since Philip Morris' first continuous dividend in 2008. The continuous devotion to a dividend for about three years shows, just as the other dividend growth companies, management is dedicated to rewarding shareholders.
As you can see below, the chart over the past year unsurprisingly resembles Caterpillar. As the dividend continues to grow from 4% on up, investors will receive stronger returns as the share price increases accordingly. Going forward, Philip Morris should have pretty strong resistance at the 62 level. Therefore Philip Morris still has some downside and if it breaks through that level, we should see some serious decline in share price.
3) Many healthcare firms offer dividends, but most see little continuous growth due to investors buying and selling in hoards based upon new drugs, clinical trials, and FDA decisions. One company that has grown 44% including dividends is Pfizer (PFE). Pfizer currently has an army of products on the market that will bring in sustained revenue for years to come. Especially with a planned decrease in research and development that will give Pfizer much stronger margins in the coming years. Two recently developed drugs that will lead Pfizer to more profits is Acurox and Eliquis. While Acurox was recently approved as a tamper resistant pain killer, Eliquis is a blood thinner to help stroke victims with blockbuster potential.
Pfizer's dividend is currently 20 cents per share which equates to about 1% per quarter and 4% per year. This dividend is a strong way to bring in extra income, but couple the dividend with continued growth in the market and investors will be satisfied for years to come. Pfizer increased the quarterly dividend at a split adjusted level from 1980 until 2009. Pfizer did not discontinue the dividend in 2009, the company simply lowered the dividend from 32 cents per share to 16 cents per share. Investors trust Pfizer's management to continue to bring in top returns, and the company will reward that trust with a strong dividend.
Going forward from here Pfizer has some very strong pipeline developments coming within the next 6-10 months; which should lead to continued upward momentum. The downside for Pfizer right now is in the low-mid 19 range.
4) Family Dollar Stores (FDO) is less known than the companies above, yet the share price, including dividends, has returned about 37% over the past year. As I mention below, the current dividend is quite small; but due to aggressive management actions the first half of this year, Family Dollar has a very good chance to continue the rise in share price in the future. Especially if the general economy continues to slip, "cheaper" stores like Family Dollar, Dollar General (DG), 99 Cent Stores (NDN) will continue to be fashionable. Of course on a more personal note, it shouldn't take a slow economy to force people to find ways to save money.
Family Dollar's dividend is currently a minuscule 18 cents per share; which is roughly 1.37% per year. Family Dollar has raised the dividend at a split adjusted level since 1997. Most recently raising the dividend to 0.18 per share from 0.155 per share in March. Just as Caterpillar, the dividend may seem excruciatingly small for dividend income, but investors are more than satisfied with the returns of Family Dollar.
Currently the share price is showing strength above the 50-50.50 level. The chart shows a flattening out over the past few months; which is different from the general market that has gone down during that period.
5) The final winning company, Exxon Mobil (XOM), returned almost 36% over the past year. As many people know Exxon is one of the worlds largest oil and gas producing and manufacturing companies. One thing that has helped Exxon over the years is the almost continuous inflation of oil and gasoline prices; along with the fact that the world can not run without oil and gas. Because of these reasons, I am expecting strong earnings the rest of the year for Exxon due to uncharacteristically high oil prices the past several months; which should lead to Exxon producing very strong margins. The recent pullback in oil prices should not effect margins.
Exxon's dividend is currently 47 cents per share which is about 2.44% per year. Exxon has distributed some form of dividend every year since 1911. And as many of us know, the past 100 years has seen some of the most difficult financial times one can imagine and Exxon has been able to survive and thrive. As you can see, since 1956 Exxon has not decreased the dividend on a split adjusted scale. Because of this continuous disbursement to shareholders, it should be no surprise Exxon has grown to such levels; not only over the past year, but also over the past century.
Exxon's chart shows the share price very close to breaching the 200 SMA. If this happens I would not be surprised to see the share price fall to the 74 level for the next resistance. However it must be noted Exxon succeeds in more ways than just oil, therefore due diligence to see why Exxon has been able to grow while oil prices have fallen.
Five Companies with Strong Dividends to Avoid
1) Some of the companies listed below are obvious losers over the past year, but others are not so obvious. One of these is Sysco (SYY). Sysco has only returned about 6% including dividends during the past year. This is why I group Sysco as one of the companies to avoid because Sysco underperformed the market over the past year. Investors may argue many investments were worse over the past year, but there were many much better investments that may not distribute dividends at all. Despite all the negatives discussed I think Sysco's objective is sound since people will always need food. Unfortunately Sysco's margins will take a hit due to high commodity prices.
Sysco's dividend is currently 26 cents which is roughly 0.84% per quarter and 3.4% over a year. Sysco's four dividends have returned $1.02 to investors; which is about 13-15% more than the share price returned over the past year. Therefore I believe it is fair to say Sysco's dividend is holding the company up. Granted shareholders are not holding the company solely for the dividend, but the truth is the company is not returning anywhere close to levels that can be considered successful; and if it weren't for the near 4% dividend, those returns would be even lower.
As you can see, the chart for Sysco has been up and down during the past year. This makes it difficult to make judgments because any bit of news could cause the share price to rocket up or slide down. However the share price should stay above the 29 level and find light resistance at the 30 level.
2) Another company that has returned very little over the past year is JP Morgan Chase (JPM). JP Morgan has only returned about 4.5% including dividends. It should not be surprising a bank is on the "avoid" list as many banks have faced substantial losses over the past year. With even more losses to come as the Federal Government gets involved to get back some of the money lost during the initial housing crisis. Nevertheless, JP Morgan will always be a bank; and the truth is people and businesses need banks for loans to build large projects. Just as James Piermont Morgan would like, JP Morgan Chase does not shy away from housing, construction or business projects. Because of this we should expect the share price to grow painfully slow; and when, and possibly if, this soft patch in the economy ends, banks will flourish again.
In terms of JP Morgan's dividend, the company recently raised it to a quarter per share from a nickel per share. Up until the 2009 drop from 38 cents to 5 cents per share, JP Morgan Chase had steadily increased the dividend. Unlike many companies JP Morgan lowered the dividend during harsh times and raised it when that soft patch was passed. Granted I believe the recent dividend jump was a bit too much considering most facts point to a slowing economy. Nevertheless dividends have accounted for about a third of JP Morgan's return.
Therefore as you can see in the chart, growth is very slow in JP Morgan's share price and management may feel they can kickstart some momentum with a drastically higher dividend; however I think that plan will implode sometime in the next year if lawsuits keep being thrown at JP Morgan.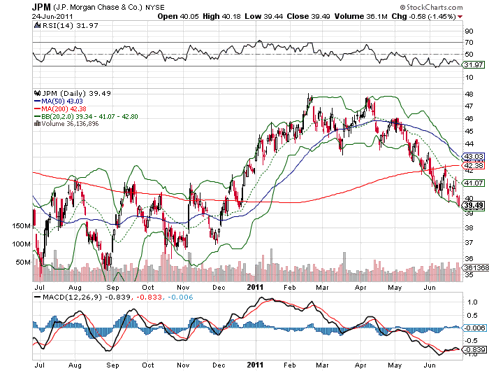 3) The next worst performing company over the past year I will discuss is Microsoft (MSFT). Microsoft only returned about 6%%, including dividends. Microsoft investors, as well as investors and traders in general, should not be surprised by this news as the share price has gone nowhere in over a decade. Microsoft is trying to compete with some of the other major computer companies by buying Skype not to long ago, however unless Microsoft does something with Skype that will make up for the $8.5 billion investment, Microsoft will continue to slip. Also, the newest version of Windows, Windows 8, is coming out soon; and I am asking why? Since Windows 7 seems to be just fine and up to date. Although maybe some incorporation of Skype into Windows 8 should be expected; as well as a plan to put Windows on the cloud is in the making. Nevertheless, Microsoft will need to do more than just push through new operating systems to keep pace with investor expectations. With all that said, I think it is important to give Microsoft the benefit of the doubt as the company has fought through rought times before.
Microsoft has increased the dividend since 2004 with the dividend currently being at 16 cents per share; which equates to about 2.56% per year. Therefore the dividend has returned more than the share price. This is the reason Microsoft is a good choice to avoid because the dividend is the main reason as to why the company has returned anything at all. Because Microsoft is a powerful company with a lot of potential, the share price could move at any given moment if the company can produce an innovative product. Of course that is what investors of Microsoft have been asking for for years and nothing has come of it.
Currently the 23.50 level is the downside for Microsoft and an upside is theoretically infinite. However, a fluctuation between 24.50 and 26 is very possible for the share price. On a strongly bullish market the share price could head as high as 27, and on an extremely bearish market the share price could fall to an extreme 23 level.
4) Merck (MRK) has only returned roughly 0.3% over the past year, including dividends. Just as Pfizer, Merck has quite the diverse amount of products marketed that have a goal to improve human life. However the difference between Pfizer and Merck has been returns to investors. While Pfizer has returned a great amount for investors, Merck has not despite having a larger dividend. It must be noted that the majority of the losses in share price were due to substandard guidance during the February earnings release. This guidance could have been ignored as it pertains to the long term, however CEO Ken Frazier decided it was a good time to let investors know how the future of Merck will look. Even though this was a respectful action, the truth is investors were hurt as the company took severe losses and eventually hit a bottom in mid March. If it weren't for these losses Merck would not be considered a company to avoid. Merck may still not be a company to avoid, but the truth is the share price returned nothing the past year and with low guidance there may be more bumps in the road.
On the other hand Merck's dividend has consistently been raised since 1969; when adjusted for splits. This shows great strength in Merck and could signal a strong future. However one note to pay attention to is the fact that Merck has not raised the dividend since 2004. Many companies have raised the dividend since that time and Merck seems to be lagging behind. With that said, it could be worse as many companies have lowered dividends during the past seven years.
Based upon the 200 SMA over the past year, investors can clearly see the stagnation for quite some time. The share price has fluctuated up and down, but there has been no constant momentum in either direction. This is good for traders because it allows an easy way to predict bottoms and peaks. Currently the share price should hold strong above the 34 level as it would take severe selling pressure to push below that.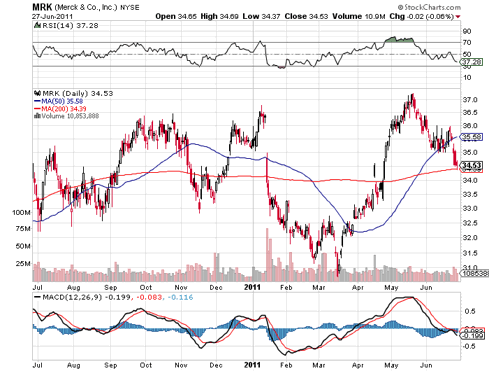 5) The final company I will discuss is one of the biggest disappointments over the past year. Cisco Systems (CSCO) has declined about 32% over the past year, including dividends. Not only has the company missed earnings estimates, Cisco has given very poor guidance. In return massive selloffs have caused the share price to decline to levels that actually make the company look good. However with continued poor guidance and the overall technology sector lagging due to some bearish sentiment, Cisco may be a dividend company to stay away from. I have historically been bullish in technology stocks, but Cisco is one company that scares me due to the poor guidance. Granted all it takes is one quarter that far surpasses expectations and a huge initial jump in share price may proceed; but investors should not get too excited until Cisco can beat expectations and improve on a poor outlook.
Cisco may not fall into the category as a true dividend company as Cisco's initial dividend was last quarter. Nevertheless Cisco may keep the dividend as a standard quarterly event. The first dividend was distributed as six cents per share and another six cents has been promised this upcoming quarter. The dividend may be very small right now, currently 1.6% per year, but could be raised within the next few years if the company can rebound. On the one hand investors can easily argue the over 30% drop opens up for 30% gains in the future under a bull market. However on the other hand if Cisco cannot pull out of the basement, investors should not expect any sustainable gains.
It is difficult to make out whether or not Cisco has bottomed. Some argue the share price can easily dip under the 10 level. I am seeing some light resistance at the 15 level, but any form of bad news could see a continued plunge down to 12.50-13 level before the next resistance is found. An upside is hard to determine as the company has nothing going for it right now, so I will leave that up to investors to determine.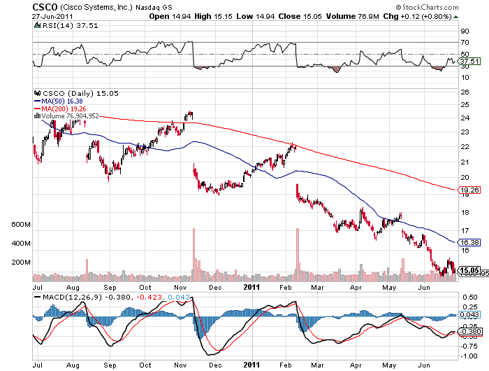 Four Companies Investors Wish Would Initiate a Dividend
I will not go into detail for these four companies as they are all well known and have seen extreme gains over the past year. Lululemon (LULU) has returned over 150% and is still growing at a very fast pace as the more stores are built. Lululemon may not have consistent growth in cash flow due to expansion, but in the future Lululemon would be a prime candidate to offer a dividend; so long as the company continues to grow at the rates it has the past few years.
The second company that would be a good choice for a dividend in the future is Dominos Pizza (DPZ). Dominos is currently in the same boat as Lululemon, with building expenses high, it is difficult for Dominos to rack up extra cash flow such as a company like Apple (AAPL). Apple is the next company that investors would like to see initiate a dividend. Apple obviously has a very large cash flow that could easily be used for a repurchase program or dividend. Due to the high price of the security, most investors would most likely want to see a dividend.
The final company that has risen over 100% in the past year that I would like to see begin a dividend is Chipotle Mexican Grill (CMG). Unlike Dominos and Lululemon, Chipotle's cash flow has been increasing at a fairly constant rate. I expect some of this to be used for further expansion before a dividend will be available for investors. If Chipotle's share price continues to grow at the rates we have seen the past years, investors may not see a dividend for many years to come; but even without a dividend, just as the three other companies above, Chipotle has returned enough money to keep shareholders happy.