In the current market environment, it is important for income investors to choose their dividend stocks wisely. As volatility increases, investors may want to add some low beta stocks to their holdings to help dampen portfolio volatility. In general, companies with low betas will tend to be less volatile than the general market.
With that in mind, we did a screen with the following parameters to find companies that had high dividend yields, low betas, and P/E ratios under 20:
Dividend Yield > 4%
Avg. 3m Volume > 1,000,000
Stock Price > $10.00
Market Cap > $1 billion
P/E Ratio < 20.0x
Beta < 1.00
The stocks below meet the parameters above. Use this data as a starting point for your own analysis.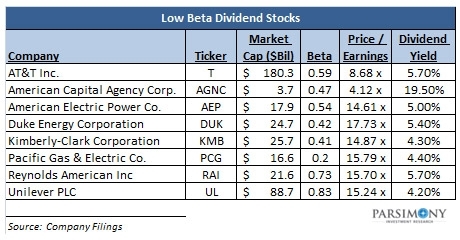 It is interesting to note that an MREIT, American Capital Agency Corp (NASDAQ:
AGNC
), showed up on this screen. Even though this stock has a low beta (and also meets the rest of our screen parameters), it certainly carries more risk than the other stocks on the list (hence the 19.5% yield).
That said, we actually like the risk/reward profile of AGNC (and MREITs in general), but we caution investors to do their homework before investing in MREITs. We have written several articles on the sector, including a
deeper look into AGNC.
Aside from AGNC, the other 7 stocks on the list are "middle of the fairway" dividend stocks and would be a nice addition to any income portfolio in the current market environment.
Disclosure:
I am long
AGNC
.