CAN SLIM refers to the seven-pronged mnemonic publicized by the U.S. publication Investor's Business Daily, which claims to be a checklist of the characteristics performing stocks tend to share before their biggest gains. It was developed by Investor's Business Daily editor William O'Neil who has reportedly made several hundreds of millions of dollars by consistently using its approach.
The seven parts of the mnemonic are as follows:
C stands for current earnings. Per share, current earnings should be up to 25%. Additionally, if earnings are accelerating in recent quarters, this is a positive prognostic sign.
A stands for annual earnings, which should be up 25% or more in each of the last three years. Annual returns on equity should be 17% or more.
N stands for new product or service, which refers to the idea that a company should have a new basic idea that fuels the earnings growth seen in the first two parts of the mnemonic. This product is what allows the stock to emerge from a proper chart pattern of its past earnings to allow it to continue to grow and achieve a new high for pricing.
S stands for supply and demand. An index of a stock's demand can be seen by the trading volume of the stock, particularly during price increases.
L stands for leader or laggard? O'Neil suggests buying "the leading stock in a leading industry." This somewhat qualitative measurement can be more objectively measured by the Relative Price Strength Rating (RPSR) of the stock, an index designed to measure the price of stock over the past 12 months in comparison to the rest of the market based on the S&P 500 or the TSE 300 over a set period of time.
I stands for institutional sponsorship, which refers to the ownership of the stock by mutual funds, particularly in recent quarters. A quantitative measure here is the Accumulation/Distribution Rating, which is a gauge of mutual fund activity in a particular stock.
M stands for market indexes, particularly the Dow Jones, S&P 500 and Nasdaq. During the time of investment, O'Neil prefers investing during times of definite uptrends of these three indices, as three out of four stocks tend to follow the general market pattern.
CAN SLIM is a growth stock investment strategy formulated from the study of the 500 best performing stock market winners dating back to 1953 in the book How to Make Money in Stocks: A Winning System In Good Times or Bad, by William J. O'Neil. This strategy involves implementation of both technical analysis and fundamental analysis.
The goal of the strategy is to discover leading stocks before they make major price advances. These pre-advance periods are "buy points" that are emerging from price consolidation areas, typically in the form of a "cup and handle" price pattern, of at least seven weeks on weekly price charts.
The strategy is one that strongly encourages cutting all losses at no more than 7% or 8% below the buy point, with no exceptions, to minimize losses and to preserve gains. It is stated in the book, that buying stocks from solid companies should generally lessen chances of having to cut losses, since a strong company (good current quarterly earnings-per-share, annual growth rate, and other strong fundamentals) will usually shoot up in bull markets rather than descend.
Some investors have criticized the strategy when they didn't use the stop-loss criterion. O'Neil has replied that you have to use the whole strategy and not just the parts you like.
O'Neil has stated that the CAN SLIM strategy is not "momentum investing," but that the system identifies companies with strong fundamentals with significant sales and earnings increases, which is a result of unique new products or services. Moreover, the strategy encourages buying a stock when it emerges from price consolidation periods and before it advances dramatically in price.
The CAN SLIM stocks are market-leading stocks that show strong earnings growth, positive institutional sponsorship, excellent industry strength, and solid sales growth, profit margins and return on equity. Stocks must also meet minimum price and volume levels. Please review the following 16 stocks that meet the CAN SLIM test. Use this information as a starting point for your own due diligence.
Below is a table with detailed statistics regarding each company's current earning per share and sales information followed by a brief summary of each company and a chart of the company's key statistics and current performance.

Company Sales and Earnings Review
Company Profiles

Accenture plc (NYSE:ACN) operates as a management consulting, technology services and outsourcing company. Its management consulting services include customer relationship management, finance and performance management, process and innovation performance, risk management, strategy, supply chain management, and talent and organization performance services.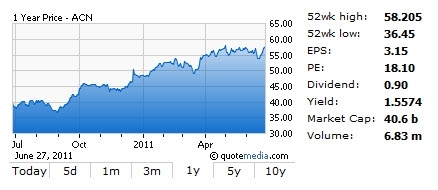 Alexion Pharmaceuticals, Inc. (NASDAQ:ALXN), a biopharmaceutical company that engages in the discovery, development and commercialization of biologic therapeutic products in the United States, Europe, Latin America, Japan and the Asia Pacific.


Allied Nevada Gold Corp. (NYSEMKT:ANV), together with its subsidiaries, engages in the evaluation, acquisition, exploration, and advancement of gold exploration and development projects in the State of Nevada.


AMERIGROUP Corporation (AGP) operates as a multi-state managed healthcare company. It focuses on serving people who receive healthcare benefits through publicly funded healthcare programs, including Medicaid, Children's Health Insurance Program (CHIP), Medicaid expansion programs, and Medicare Advantage.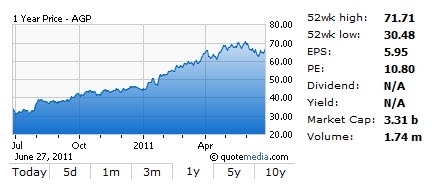 Ariba, Inc. (NASDAQ:ARBA), together with its subsidiaries, provides collaborative business commerce solutions for buying and selling goods and services. It combines technology to optimize the commerce lifecycle with the Web-based community to discover, connect and collaborate with a global network of trading partners, and enhance cash flow and operations in a cloud-based environment.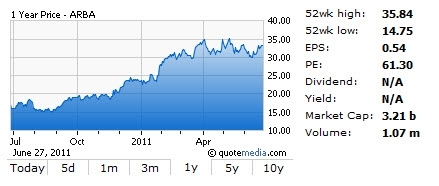 Aruba Networks, Inc. (NASDAQ:ARUN) provides an enterprise mobility solution that enables secure access to data, voice and video applications across wireless and wireline enterprise networks in the United States and internationally.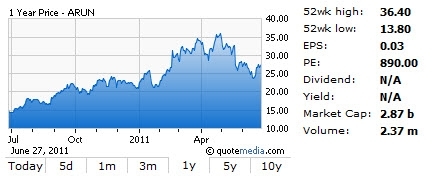 Bank of the Ozarks, Inc. (NASDAQ:OZRK) operates as the bank holding company for Bank of the Ozarks that provides a range of retail and commercial banking services.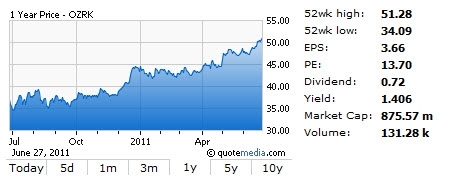 Buffalo Wild Wings, Inc. (NASDAQ:BWLD) engages in the ownership, operation and franchise of restaurants in the United States. The company provides quick casual and casual dining services, as well as serves bottled beers, wines and liquor.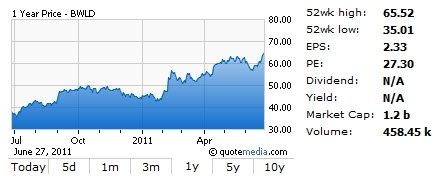 C.H. Robinson Worldwide, Inc. (NASDAQ:CHRW), a third-party logistics company, provides multimodal freight transportation services and logistics solutions to companies in various industries worldwide.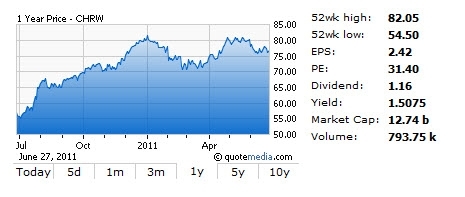 Canadian National Railway Company (NYSE:CNI), together with its subsidiaries, engages in the rail and related transportation business in North America.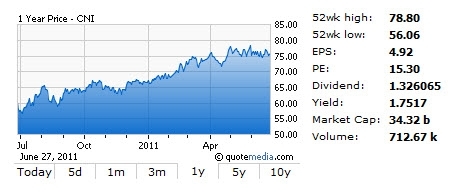 Cardtronics, Inc. (NASDAQ:CATM) owns and operates ATMs and financial services kiosks. As of December 31, 2009, it operated approximately 33,400 ATMs and financial services kiosks in the United States, the United Kingdom, Mexico and Puerto Rico.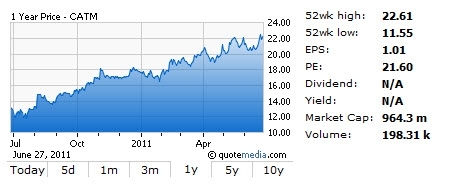 CommVault Systems, Inc. (NASDAQ:CVLT), together with its subsidiaries, provides data and information management software applications and related services primarily in North America, Europe, Australia and Asia.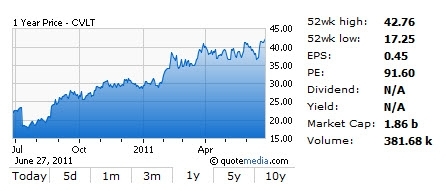 Concho Resources Inc. (NYSE:CXO) engages in the acquisition, development and exploration of oil and natural gas properties. Its principal operating areas are located in the Permian Basin of Southeast New Mexico and West Texas.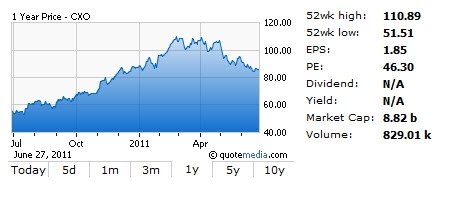 Core Laboratories N.V. (NYSE:CLB) provides reservoir description, production enhancement and reservoir management products and services to the oil and gas industry worldwide.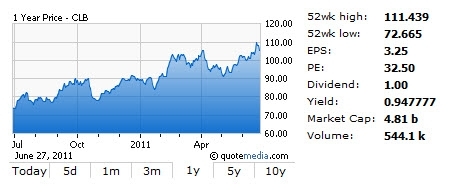 Corn Products International, Inc. (CPO), together with its subsidiaries, manufactures and sells various food ingredients to food and industrial customers in North America, South America, Asia and Africa.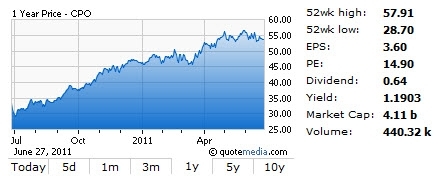 CoStar Group, Inc. (NASDAQ:CSGP) provides information/marketing services to the commercial real estate industry in the United States, the United Kingdom and France.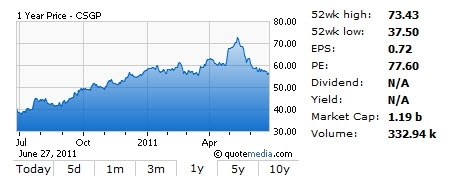 Information was gathered from CNBC, Yahoo Finance and respective company websites. Based on the current market conditions I would suggest scaling in to any position to reduce risk. I believe these stocks have substantial upside potential and provide a significant opportunity for long term investors. Please use this as a starting point for your own due diligence.
Disclosure: I have no positions in any stocks mentioned, but may initiate a long position in ACN, ALXN, ANV, AGP, ARBA, ARUN, OZRK, BWLD, CHRW, CNI, CATM, CVLT, CXO, CLB, CPO, CSGP over the next 72 hours.