At the end of April, most domestic and world equity benchmarks had hit new highs for 2011. The S&P 500 finished at 1363 - roughly 8.4% higher on the year.
By May 31, the U.S. stock gauge had dropped to 1345. And nearing the end of June, the heralded index drifted down to 1290. As far as corrections go, -5.3% is hardly a catastrophe.
Credit the historically low valuations for stock assets. Trailing P/E ratios of 15.8 and Forward P/Es of 13.3 suggest that U.S. stocks are fairly valued or undervalued. We might also credit investor desire to look beyond near-term risks, including, but not limited to: (1) European sovereign debt crises, (2) worldwide escalation of inflation, (3) unemployment uncertainty, (4) a June 30 finale for quantitative easing, and the (5) ongoing U.S. debt ceiling battle.
That said, a sustainable summertime rally seems unlikely. Many of the near-term risks will not be solved, settled or successfully delayed before September. And if Fed Chairman Bernanke isn't quite sure which headwinds to economic progress are transitory and which are longer-lasting, it's hard to believe that CEOs will be exceptionally confident with their crystal balls.
In fact, you may not need to look any further than Oracle (NASDAQ:ORCL). A few days earlier, Oracle knocked nine out of 10 measures of business success out of the park and expressed reasonable enthusiasm for the future. Still, investors sent the stock down -4%. In other words, positive "micro-econ" buzz may not be able to do much more than offset "macro-econ" malaise.
However, there have been a number of themes for bargain-hunters to ponder. Specifically, the month of June may have been a turning point for ETFs in the under-appreciated camp.
1. Local Recovery in Japan. When I talk about ways to invest in the country's economic revival, I favor the neighbors that provide the raw materials and unfinished products. I've advocated iShares Malaysia (NYSEARCA:EWM) as a means to profit from a leading exporter.
At the same time, it's difficult to ignore the recent surge in small-cap Japan ETFs. Month-over-month (through 6/28), SPSR Russell/Nomura Small Cap Japan (NYSEARCA:JSC) tacked on 4.6%, while WisodmTree Small Cap Japan (NYSEARCA:DFJ) added 3.9%. The S&P SPDR Trust (NYSEARCA:SPY) shed -2.7% in the same period. Moreover, small-cap Japan ETFs have notched "higher lows" for four consecutive months, ever since the tsunami/earthquake tragedy in March.
Click to enlarge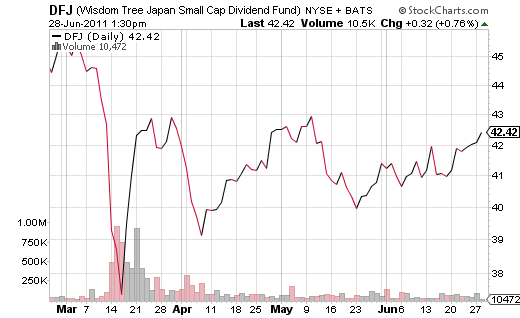 2. Time to Stop Picking on India? Once a highlight reel for emerging market growth, India's inflation challenge has overshadowed its 8%-plus GDP and its corporate profitability.
The majority of India ETFs have already hit bearish 52-week lows of -20%-plus. At present, iShares India Nifty Fifty (NASDAQ:INDY) and iPath India (NYSEARCA:INP) are still down -14% and -18% respectively. However, these and other ETFs have climbed above a 50-day, short-term moving average in June.
Click to enlarge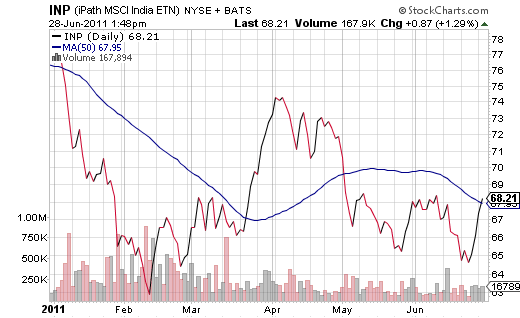 Disclosure: Gary Gordon, MS, CFP is the president of Pacific Park Financial, Inc., a Registered Investment Adviser with the SEC. Gary Gordon, Pacific Park Financial, Inc, and/or its clients may hold positions in the ETFs, mutual funds, and/or any investment asset mentioned above. The commentary does not constitute individualized investment advice. The opinions offered herein are not personalized recommendations to buy, sell or hold securities. At times, issuers of exchange-traded products compensate Pacific Park Financial, Inc. or its subsidiaries for advertising at the ETF Expert web site. ETF Expert content is created independently of any advertising relationships.