I screened Barchart for the S&P 100 companies having the most frequent new highs, and Biogen Idec (NASDAQ:BIIB) had nine new highs and is up 15.33% in just the last month. The company has a very nice balance sheet with 1.2 billion in cash and a debt to capital ratio of only 16%. It has started to repurchase stock and will have cash to buy into new products. Carl Ichan is one of the major stock holders so a buyout can't be ignored. I'm looking at the stock's momentum.
Click to enlarge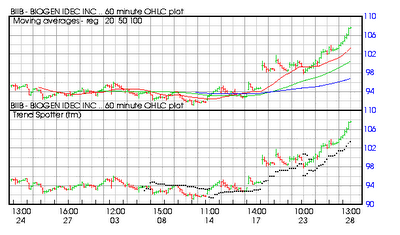 Biogen Idec is a biopharmaceutical company engaged primarily in the research, development and commercialization of targeted therapies for the treatment of cancer and autoimmune and inflammatory diseases. Its first commercial product, Rituxan, and its most advanced product candidate, ZEVALIN, are for use in the treatment of certain B-cellnon-Hodgkin's lymphomas. The company also is developing products for the treatment of various autoimmune diseases (such as psoriasis, rheumatoidarthritis and lupus).
Factors to Consider
Barchart Technical Indicators
100% Barchart technical buy signal
Trend Spotter buy signal
Above its 20, 50 and 100 day moving averages
9 new highs and up 15.33% in the last month
Relative Strength Index 77.87% and rising
Trades around 107.74 with a 50 day moving average of 96.03
Very conservative balance sheet with 1.2 billion in cash and a debt to capital ratio of only 16%.
Wall Street brokerage analysts are positive with six strong buy, two buy and 15 hold recommendations released.
Sales are estimated to increase by 2.40% this year and another 1.80% next year.
Earnings projections are robust with an increase of 14.40% this year, 5.90% next year and an annual earnings growth rate of 9.69% expected to last for the next five years.
General Investor Sentiment
On Motley Fool the 903 readers that expressed an opinion on this stock are 92% positive that this stock will beat the market.
CAPS members vote 614 to 61 for that result.
The more experienced All Stars are in agreement with a 218 to 10 vote.
Summary: Biogen Indec has momentum with nine new highs and climbing 15.33% in the last month, an extremely conservative balance sheet and analysts looking for increases in earnings over the next five years.
Disclosure: I have no positions in any stocks mentioned, and no plans to initiate any positions within the next 72 hours.