We're initiating coverage on Big 5 (NASDAQ:BGFV) with a fair value of $15.
If

you

read

nothing

else

,

consider

these

3

points

:
Big

5

is

disproportionately

affected

by

unemployment

in

its

key

home

states

The

company

continues

to

grow

slowly

and

conservatively

Big

5

finds

homes

in

niche

markets

that

Dick's (NYSE:DKS)

and

The

Sports

Authority

aren't

interested

in
What
Big
5
does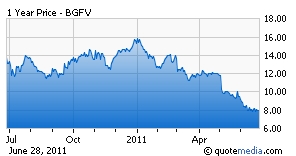 Big 5 is a small sporting goods retailer with 396 stores in 12 western states. The vast majority of its shops are concentrated in California and Nevada. They sell shoes, apparel, athletic gear, and accessories. For investors in bigger cities, they offer the likes of The Sports Authority (Private) or Dick's Sporting Goods, but their stores are on a much smaller scale. The average Dick's is at least 30,000 square feet, whereas your typical Big 5 runs 11,000 square feet.
The market hates Big 5 right now...and rightfully so.
You could say Big 5 has struggled, but that's an understatement. While retail has been posting solid comps, Big 5, like other low-end retailers, hasn't fared well. Same store sales fell 0.9% in Q1, and 0.7% in Q4 of 2010.
Furthermore, net sales increased a paltry 0.2% in 2010, and we project revenues to grow an anemic 1.8% in 2011. High gas prices and disproportionate unemployment in the west have made it difficult for Big 5 to make much traction at all. Sales have remained between $800M and $900M for the last five years.
Additionally, the company forecasts poor earnings for the rest of the year. We think their wide guidance range (between $0.06-0.14 in Q2) reflects the same uncertainty consumers feel about the broader economy. We think earnings will even fall by about 25% for 2011.
Maybe

not

2011

,

but

2012

and

beyond

actually

look

good

for

Big

5

Though they've struggled mightily, Big 5 has carved out an interesting niche in its markets. The company often operates in areas that aren't profitable for big box retailers, and in poorer areas without the same education and computer literacy as more affluent communities.

In a town like Prescott, Arizona, Big 5 is the only game in town. Of course, that's unless you want to drive three hours and spend however much on gas to get down to the Phoenix metropolitan area.

Big 5 will also benefit from the continued interest and growth in Under Armour (NYSE:UA), Nike (NYSE:NKE) and Adidas (OTCQX:ADDYY). They offer a wide selection of all three brands, albeit often the lower price point products. This brings up another important part to the investment thesis: the low end.

The low-end is undoubtedly not en vogue right now. Saks (NYSE:SKS), Nordstrom (NYSE:JWN), and Macy's (NYSE:M) are posting wonderful comps, often 5%+. Luxury is on fire because only those who can afford luxury are spending.

The low-end is not so hot. We like to use Kohl's (NYSE:KSS), Collective Brands (NYSE:PSS) and JC Penney (NYSE:JCP) as our main gauges of the low-end, and all signs are negative, especially at Payless, which we see as a notch below Big 5.

However, Big 5 has an attractive business, low debt, and a juicy dividend yield of 3.7% that makes waiting a low risk proposition.

Under the scenario of what we would deem a return to normalcy, we forecast the 10-year CAGR on Big 5 at a modest 5.2%. With these assumptions, we think Big 5 is worth about $15 a share. We don't expect gross margins to return to their peak of 35.2% in 2007, but we do think the firm has room to grow profitability a few hundred basis points.

The firm is currently trading at about 10x our 2011 earnings estimate, but only 8.5x our 2012 estimates. With the firm trading down 33% over the last three months, we would be cautious in determining our entry point. The company reports earnings in August, and we might wait to see if another poor quarter can beat the shares down a bit more.

click to enlarge