Back on January 30, 2011, I posted an article on my research on Zagg Incorporated. I would like to provide an update. At the time, I noted an increase in inventory and wanted to see if Zagg (ZAGG) could continue its impressive revenue growth and convert that inventory to bottom line profits. The fourth quarter (the holiday selling season) showed a lot of potential.

Here are the results of the fourth quarter of FY2010 and the first quarter of FY2011.
(Click on any chart below to enlarge)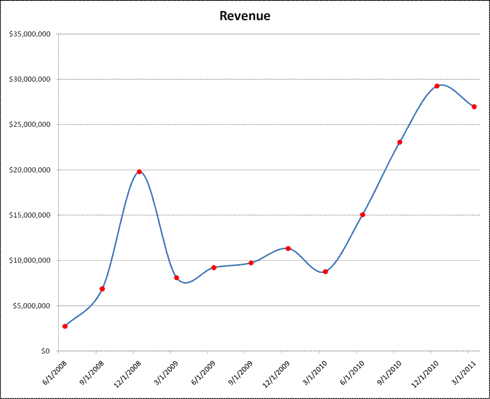 The holiday season was excellent for Zagg, with record high revenue of almost $30 million. The first quarter of FY2011 did not have the quarter over quarter growth we would have hope to see though. Regardless, revenues are still impressive, down only 7.7% from the fourth quarter.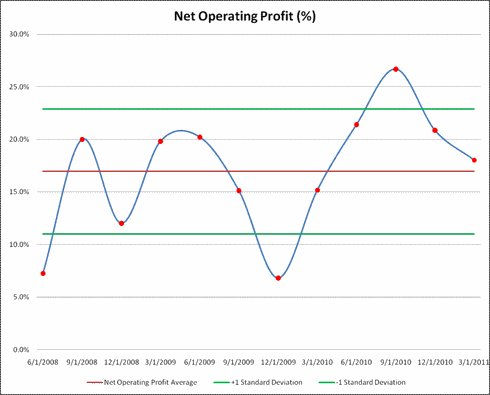 Zagg's net operating profit (net income from operations / revenue) has decreased from its high during third quarter FY2010. Net operating profits are still above their historical average.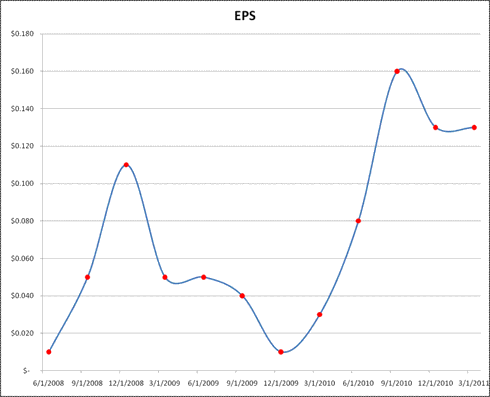 Zagg actually had lower EPS during the fourth quarter of FY2010. I would have hoped for a higher EPS during the holiday selling season than during Q3. The good news is that the EPS stayed flat (at $0.13/share) between Q4 FY2010 and Q1 FY2011. This is a good sign with the reduction in revenue found in Q1 FY2011.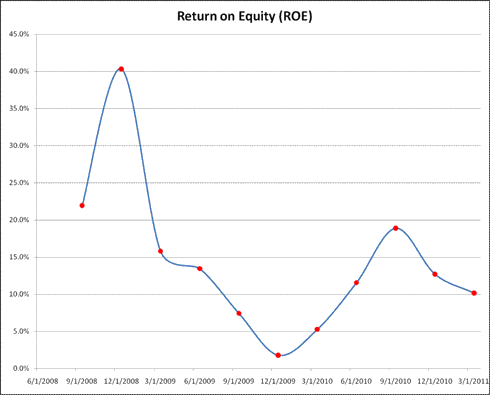 Return on equity has declined the last two quarters, averaging between 10% and 15%.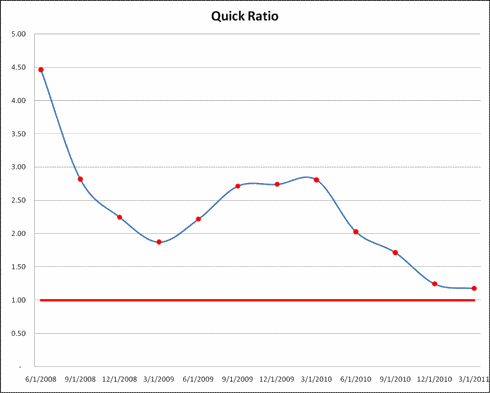 Zagg's quick ratio has been declining for several quarters. This is not a positive sign. In its Q1 FY2011 conference call, Zagg said that 54% of its inventory is raw materials. This should mean anticipation of sales. This is something to keep our eyes on though.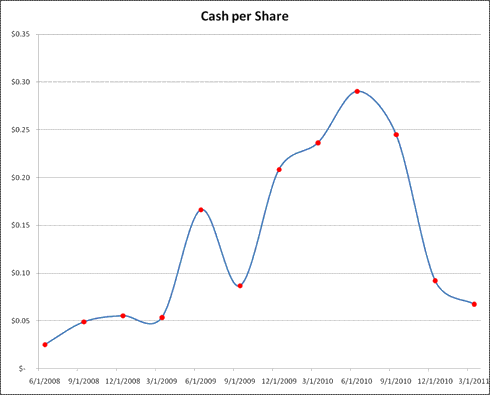 The cash per share metric is not looking very positive either. Some more analysis will be required to determine where the cash is being spent.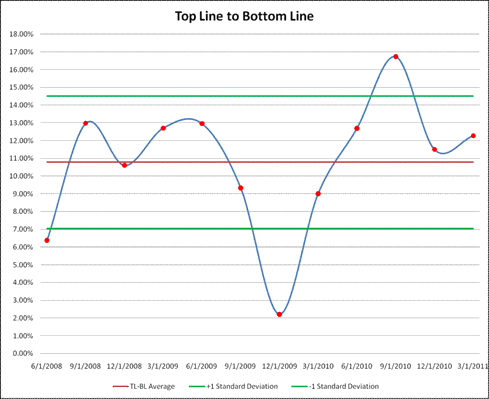 Here is a new metric that I did not include in my previous article. It is what I refer to as the top line to bottom line ratio (TL-BL). I like to see a repeatable pattern or an improving TL-BL ratio. The higher the better. For the last two quarters, Zagg's TL-BL ratio was still above its historical average.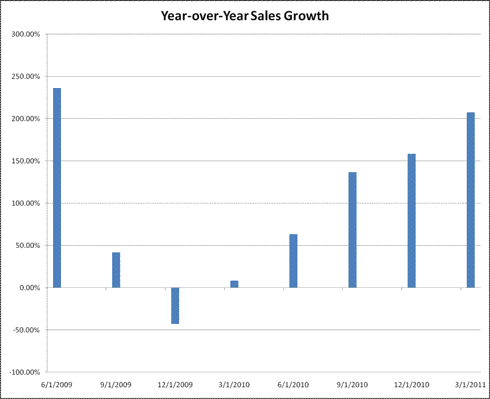 Year-over-year sales growth has been increasing for the past five quarters. Last quarter had an impressive 200% increase in revenue over the same quarter last year.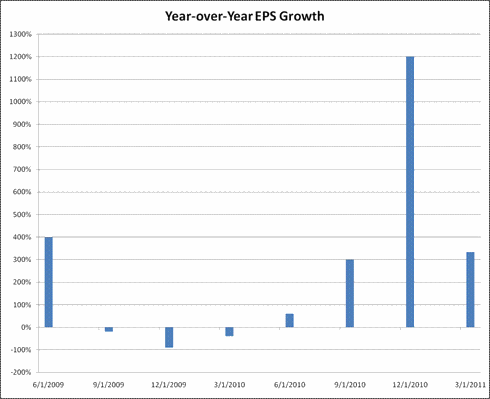 The fourth quarter of FY2010 had an awesome 1200% EPS growth over the same quarter last year. The first quarter of FY2011 also had an EPS growth of 300% over the same quarter last year.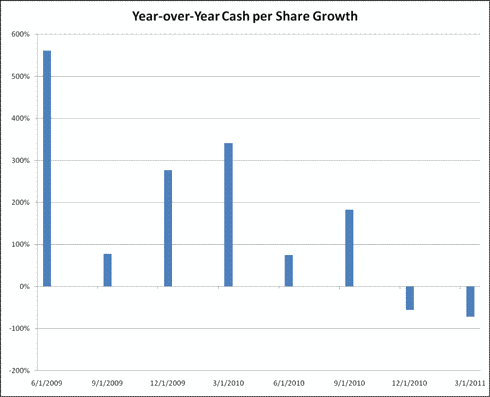 Finally, Zagg's cash per share has been decreasing over the last two quarters.

Zagg's cash flow statement for Q1 FY2011 reveals there is an additional $4,1134,834 in debt (showing up as positive cash flow). From the company's 31-Mar-2011 10-Q (bold added for emphasis):


NOTE 5 – LINE OF CREDIT

Effective May 13, 2010, the Company entered into a Loan Agreement (the "Loan Agreement") with U.S. Bank National Association ("US Bank"). The Loan Agreement provided for revolving loans and other financial accommodations to or for the benefit of the Company of up to $5 million, to be used for working capital and other corporate purposes. The Company's obligations under the Loan Agreement and all related agreements were secured by all or substantially all of the Company's assets. The obligation of U.S. Bank to make advances under the Loan Agreement was subject to the conditions set forth in the Loan Agreement. The Loan Agreement and the credit facility were to mature on May 13, 2011.

On March 8, 2011, the Company entered into an Amended and Restated Loan Agreement (the "Amended and Restated Loan Agreement") with U.S. Bank which provides for revolving loans and other financial accommodations to or for the benefit of the Company of a principal amount not to exceed $20 million. Advances under the Amended and Restated Loan Agreement bear interest at LIBOR plus 1.75%. The Amended and Restated Loan Agreement requires the Company to maintain a fixed charge coverage ratio of no less than 1.25 to 1.00 measured quarterly on a trailing twelve month basis and a leverage ratio of no greater than 2.5 to 1.0 measured quarterly on a trailing twelve month basis. As of March 31, 2011, the Company was in compliance with all covenants under the Loan Agreement and $4,120,334 had been drawn against the credit facility. The Amended and Restated Loan Agreement and the credit facility mature on March 15, 2012.
I liked the fact that Zagg was debt free; we will find out later why it took on its debt. If the company does not repay this debt by March of next year, it will have to take out a new line of credit, which will probably be at a higher rate. Assuming Zagg pays off the loan within the year, this may be a short-term (in the greater scheme of things) drag on cash-flow. The secret will be the return on investment from the activities used with these funds.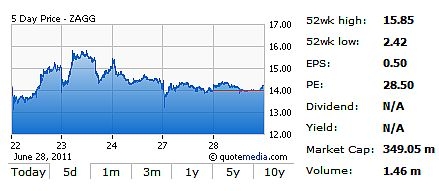 Zagg has had some very exciting events since my last article. I guessed the share price would trade in a range until Q4 FY2010 earnings. I was correct. At least, until Apple (NASDAQ:AAPL) introduced the iPad2 with its own protective cover. Zagg's stock sold off. Investors feared that with the cover customers would no longer need the invisibleSHIELD(tm) protection. Zagg stated on its conference call that its iPad2 inivisibleSHIELD sales are exceeding the company's expections.
In April, Zagg announced an exclusive master licensing and distribution agreement with Logitech (NASDAQ:LOGI) for the ZAGGmate. This allows Zagg to increase the distribution of ZAGGmate through Logitech's current channels. Logitech is taking over manufacturing and distribution. Zagg now receives royalties only. Zagg still sells its first generation keyboards on its website. This should help the quick ratio by moving some inventory to Logitech.

In June, Zagg was offically awarded its patent for invisibleSHIELD. On the company's Q1 FY2011 conference call, management stated that they plan on enforcing the company's intellectual property. This patent and Zagg's enforcement should protect sales in the near-term.

Russell Investments announced that Zagg will be added to the Russell 3000 Index when it rebalances on June 27, 2011. This is great news for Zagg and one of the two reasons why shares took off with high volume on the 22nd and 23th of June. Now, ETFs and mutual funds that index to Russell have to add Zagg to their holdings, which means a whole new set of buyers to the party. The Russell 3000 Index is indexed with the ETF IWV.
Click to enlarge:





Finally, on June 22, 2011, Zagg announced it will be acquiring iFrogz. From the 21-June-2011 press release:
Salt Lake City – June 21, 2011 – ZAGG, Inc. (NASDAQ: ZAGG) (ZAGG.com) announced today the acquisition of privately held iFrogz, Inc. (iFrogz.com), a leading mobile device accessories company specializing in lifestyle protective cases and audio products, for approximately $105 million.

"This transaction represents an exciting next step in ZAGG's evolution, and gives us scale within the rapidly growing protective cases and audio products markets by allowing us to immediately broaden our product line and drive the growth of our retail footprint," said Robert G. Pedersen II, co-founder, President and CEO of ZAGG. "iFrogz is highly complementary to ZAGG in terms of brand positioning, product lines and customer base. The acquisition is a natural extension of our strategy to build complementary brands and increase overall market share by growing product lines and expanding distribution."

iFrogz designs, manufactures and distributes protective cases, headphones and earbuds, and other accessories for smartphones, tablets and mobile devices under the iFrogz ™ and EarPollution ™ brands. The Company has built a reputation for selling high quality, fashionable products geared toward a youthful demographic at affordable price points. iFrogz products are sold worldwide through leading retailers such as Wal-Mart, Best Buy and AT&T. The Company is based in Logan, Utah.

Scott Huskinson, President and co-founder of iFrogz, said, "We are excited to become part of the ZAGG team. iFrogz and ZAGG share similar cultures and a passion for designing innovative and functional products that enhance the mobile device experience of millions of consumers worldwide. Together, we plan to leverage our combined resources to grow our market share."

Under the terms of the definitive agreement, ZAGG acquired all of the outstanding stock of iFrogz for $50 million of cash, 4.4 million restricted shares of ZAGG common stock, and assumed approximately $5.0 million of outstanding indebtedness. The cash portion of the purchase price, as well as certain closing fees and expenses, will be financed through a new senior credit facility led by Cerberus Business Finance and PNC Bank.

Going forward, iFrogz will operate as a wholly-owned subsidiary of ZAGG led by Mr. Huskinson and will continue to be based in Logan, Utah. In 2010, iFrogz generated $40.9 million of revenue, and is expected to generate over $60 million of revenues, with operating margins in-line with ZAGG's previously disclosed guidance. ZAGG expects the acquisition to be immediately accretive on an earnings per share basis, excluding one-time transaction related expenses. The ZAGG will provide updated consolidated guidance on its second quarter earnings call.
The line of credit Zagg has acquired (previous mentioned) is magically close to the debt of iFrogz. Zagg's line of credit is propbably at a better rate than iFrogz (speculation on my part) and Zagg will use its line of credit to pay off iFrogz's outstanding debt. If Zagg's line of credit is at a better rate, then this difference in interest payment should end up on iFrogz's bottom line.
(Click to enlarge)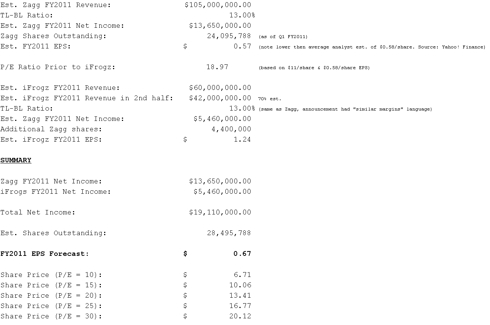 Above is my estimate for Zagg's FY2011 EPS. I appear to be a little more conservative than the average analyst estimate (by $0.01/share). Yahoo! Finance had the average analyst estimate at $0.58/share 7 days ago (June 21, 2011). Today it is at $0.67/share, which is perfectly in line with my estimate.
(Click to enlarge)



Source: Yahoo! Finance, dated 27-June-2011

At a P/E of 20x, that puts the share price around $13.41/share. Investors have been paying up for this stock in the past. A P/E of 25x gets the price above $16/share.
(Click to enlarge)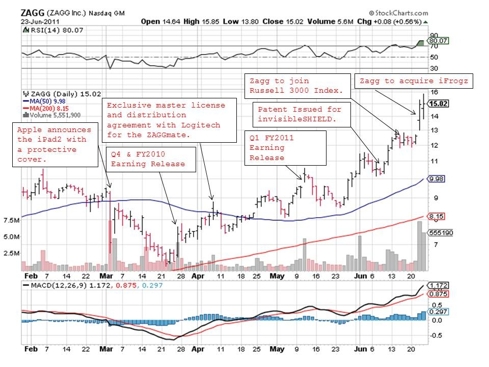 Since my analysis did not take into account any synergies between the two companies, my theory on improved financing, or adding iFrogz's product to Zagg's website, $0.67/share should be low and therefore, a strong multiple could be used. Zagg could easily be a $16-$20/share stock by the end of FY2011.

Even though some of Zagg's metrics are decreasing, I think they are decreasing as a result of growing pains. The agreement with Logitech and the acquisition of iFrogz shows that Zagg is in it for the long run and is not a fly-by-night company. Zagg has the potential for a very storng future.
Disclosure:
I am long
ZAGG
.