Last week, WSI Industries (NASDAQ CM: WSCI) reported strong revenue and earnings growth for its 2011 fiscal third quarter. WSCI is a contract manufacturing company based in Monticello, Minnesota and provides precision contract machining for various markets including recreational vehicles, energy, aerospace and defense, and biosciences. The company reported fiscal 2010 revenues of $18.8M and is on pace to well exceed that figure for fiscal 2011, having generated $17.7M of year-to-date sales through its fiscal 2011 third quarter.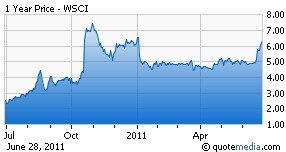 WSCI presents itself as an interesting investment opportunity based upon its revenue and earnings growth, strong balance sheet, dividend yield, solid customer base, ability to generate cash, growth prospects, and attractive valuation. These factors are discussed in greater detail in the discussion points below.
Revenue and Earnings Growth: As previously mentioned, WSCI had an excellent fiscal 2011 third quarter ending May 29, 2011. Sales grew by 40%, and earnings were up by 151% compared with its fiscal 2010 third quarter. Revenues were $6.5M, and earnings were $397K, or $0.14 per share on a basic and diluted earnings per share basis. Sales were up for each of its key 3 markets: recreational vehicles (up 27% compared to Q3 2010), energy (up 93%), and aerospace and defense (up 37%). The key factor in the company's earnings growth beyond increases in sales was margin expansion, with Q3 2011 gross margins increasing to 22.4%, up from 19.6% in Q3 2010.
As the company continues to grow its sales, manufacturing efficiencies are gained due to increases in volume which allows the company to enjoy higher gross margins as revenues increase. Fiscal 2011 YTD gross margins of 17.3% are somewhat lower than the level achieved in Q3 2011 primarily attributable to costs incurred from the start-up of new programs. Per the company's June 21 press release, "the start-up costs that we incurred in the first two quarters of fiscal 2011 are now behind us." This should bode well for continued strong gross margins looking ahead to Q4 2011 and beyond.
Strong Balance Sheet: WSCI has steadily improved its financial position with healthy balance sheet. It has a current ratio of 2.64 (current assets divided by current liabilities) as of the end of Q3 2011, compared with a current ratio of 1.97 in Q3 2010. Working capital is now $4.9M (current assets minus current liabilities), which even well exceeds the company's long-term debt of $3.9M. Book value is $10.2M, or $3.55 per diluted share, and tangible book value is $7.8M, or $2.72 per diluted share.
Dividend Yield: WSCI reinstated its ongoing dividend program after reporting Q4 2010 results, following the temporary suspension of the dividend for nearly 2 years due to lower sales resulting from the economic downturn. The dividend is paid quarterly at a rate of $0.04/share, which computes to a 2.8% yield based upon the June 24 closing price of $5.70 per share. As the company has continued to mention in its earnings press releases, "the Company believes that a consistent dividend program is a further sign of WSI's financial strength and improved business outlook."
Solid Customer Base: The company has the luxury of having a solid customer base, which was a factor of the company maintaining profitability during the recent economic downturn in all quarters except for Q2 2009. For fiscal 2010, 63% of the company's sales were made to Polaris Industries (NYSE:PII) relating to the recreational vehicle market (all-terrain vehicles and motorcycles), and 24% of WSCI's fiscal 2010 revenue was generated from National Oilwell Varco (NYSE:NOV) for sales relating to oil field drilling equipment. Both of these companies are healthy, multi-billion dollar enterprises, and thus WSCI is in a good position to have such quality customers comprise over 80% of its revenue.
Furthermore, General Dynamics (NYSE:GD) is a customer in the aerospace and defense segment, and the company announced in July 2010 that it secured a multi-year manufacturing program with an unnamed Fortune 100 company in this sector. Finally, the company recently secured another customer in the energy sector, as the company realized the benefits of this new customer during Q3 2011 when overall sales in the energy sector were up 93% versus the same quarter in the prior year.
Ability to Generate Cash: While Q3 2011 earnings were strong at $0.14/share, the company actually generated substantially more cash than these bottom line results would indicate. Adding back non-cash expenses like depreciation & amortization, stock-based compensation, and deferred taxes, while subtracting for capital expenditures during the period gives a quasi "cash-equivalent" earnings figure of $977K, or $0.34/share before taking into account long-term debt repayments or dividends. The company spent $1.2M of capital on machines and property, plant, and equipment in the first half of fiscal 2011 to support their new programs and customers, and cash generated during Q3 2011 clearly showed that already their investment yielded generous returns.
Growth Prospects: WSCI has a strong reputation in its industry and has continuously shown an ability to generate additional sales through deals with new customers while adding new programs with existing customers. In addition, they brought on a new Chief Operating Officer late in 2009, and he is set to take over as the company's Chief Executive Officer by the end of 2011. Benjamin Rashleger was President and Chief Financial Officer of privately-held Milltronics and helped grow the privately-held company until it was sold in 2007. It's likely that the 35-year-old COO has tapped into some of his industry contacts during his tenure at WSCI to help grow the company's sales into new sectors and with new customers.
Per last week's press release, Rashleger stated that:
We remain confident with our overall prospects going forward. The combination of our current base of business, as well as potential new opportunities bode well for our future success.
Finally, the company completed a plant expansion in 2008 (right before the economic downturn that shrunk sales the subsequent year) and thus has the capacity to support additional manufacturing and new programs without having to spend substantial sums on additional plant, property, and equipment.
Attractive Valuation: Based upon the June 24 closing price of $5.70/share, WSCI trades at a P/E ratio of 18 based upon its trailing twelve months of earnings($0.31/share). Note that this includes EPS of only $0.05/share during the first half of fiscal 2011, primarily attributed to start-up costs for new programs as previously discussed. Look for earnings in the first half of fiscal 2012 to be well above $0.05/share, thus lowering its price/earnings multiple substantially. In addition, the company trades at only 1.6 times its book value, and as previously mentioned offers a 2.8% dividend yield at present price levels.
During 2008, when the company reported similar revenues and earnings, the stock price spiked to over $17/share and was able to sustain price levels well above the current price until the general market fall during September 2008 and beyond sank the stock price and the company's sales for most of 2009. WSCI only has 2.9M shares outstanding, making it a quick-moving "low-floater" when daily trading volumes can consistently increase beyond recent daily average trading levels.
I believe that taking all of these factors into account, WSCI has excellent prospects going forward and that the current stock price makes for an attractive investment for the patient, value-oriented investor who is looking for growth opportunities while generating some modest income through the company's ongoing dividend program.
Disclosure: I am long WSCI.