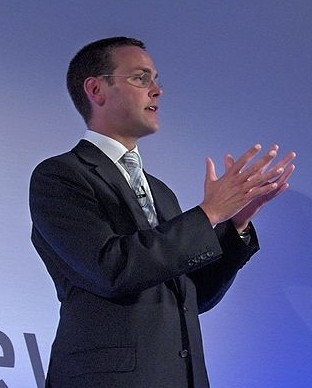 Forget the politics. Forget the controversy. Forget Myspace.
News Corp. (NASDAQ:NWS) is no longer mainly a content company, and shouldn't be compared with other content companies. It is a content delivery company. Less Disney (NYSE:DIS), more Comcast (NASDAQ:CMCSA).
Take a look at the performance of News Corp. stock against Disney over the last year. Now take a look at it against Comcast. Not only is the performance nearly identical, but so is the chart pattern.
With its coming acquisition of BskyB, regardless of the final price, this will become clearer to investors.
The newspapers, the TV shows, the movies, the cable yakkers, they're all the sideshow.
Delivery is the main event.
The "new" News Corp. is the creation of James Murdoch (above, from Wikipedia), now his father's heir apparent with a recent move to New York. The younger Murdoch has been very clear. He is far more concerned with pipelines than with the product pipeline. His view is that companies like Apple and Google are "killing us."
What James Murdoch appears to believe is that infrastructure matters more than content. This is different from his father's view. It's a less political and a more corporate view.
That doesn't mean that News Corp. is going to be selling the New York Post, or replacing Bill O'Reilly with something less politically polarizing. It means James Murdoch wants a company that can prosper whether the political environment is friendly or unfriendly.
Your clue may lie in what News Corp. does with Kidspot, which it acquired this week. Don't expect to see the Fox brand all over the new site. Don't expect to hear statements about "synergy." Expect to know no more about News Corp.'s ownership of Kidspot than techies know about TechCrunch being the property of AOL. (That wasn't the case with MySpace. Lesson learned.)
In fact, if present trends hold, News Corp. may, within a few years, be more like Comcast than Comcast. Comcast's purchase of the larger share of NBC-Universal, its growing control over the channels it broadcasts (not just the pipes), shows it to be going in a different direction from James Murdoch.
Time will tell whether that's the right decision, but investors should be clear on what the direction is.

Disclosure: I have no positions in any stocks mentioned, and no plans to initiate any positions within the next 72 hours.