According to a recent Reuters report, Japanese factory output soared higher than it has in 60 years in May as manufacturers reestablished supply chains impaired by the catastrophe in March, indicating the economy is headed for a "V-shaped" recovery from the disaster. Industrial output rose 5.7 percent in May, above the median market forecast for a 5.5 percent increase and a 1.6 percent gain in April, the Ministry of Economy, Trade and Industry said. It was the second-biggest increase on record after a 7.9 percent rise in March 1953. The rebound in output, coming after encouraging signs of improvement in exports and retail sales, lends further support to the Bank of Japan's view that the economy will recover by the end of this year, reducing the need for additional monetary easing.
"Forecasts for June are still high, but are not so high for July, suggesting a slight slowdown in the front loading of production," said Shunji Tonouchi, senior fixed income strategist at Mitsubishi UFJ Morgan Stanley Securities. "Still the trend is healthy. Things are moving in line with the BOJ's scenario. It may be necessary for the BOJ to do something more to support small firms in areas damaged by the quake, but the need for broad-based monetary easing doesn't seem that strong." Automakers led the overall increase with output of transport machinery up a hefty 36.4 percent as they quickly mend supply chains hit by the quake. But output of chip and other electronic parts fell 0.6 percent in a sign that the recovery was still patchy.
June auto sales are rebounding quickly enough, J.D. Power says, that the firm now sees a seasonally adjusted annual rate ((SAAR)) of 9.9M vehicles, up from May's 9.3M and tied to a retail sales recovery. Neither a parts shortage nor gas prices have turned out as bad as expected.
With the news of the improving conditions in Japan, rebounding auto sales and the drop in gas prices this may be an ideal time to start a position in a Japanese auto stock. Below is a brief review of Toyota (NYSE:TM) and Honda Motor Corp. (NYSE:HMC).
Company Reviews
Toyota Motor Corporation engages in the design, manufacture, and sale of sedans, minivans, compact cars, sport-utility vehicles, trucks, and related parts and accessories primarily in North America, Europe, and Asia.
Moody's cuts Toyota's credit rating one notch to Aa3, saying increased global competition, a strong yen, and high raw materials costs will pressure company profits next year. The move will raise borrowing costs for the firm as it has about $85B in paper to roll over in coming months.
Technical Analysis - (click charts to enlarge)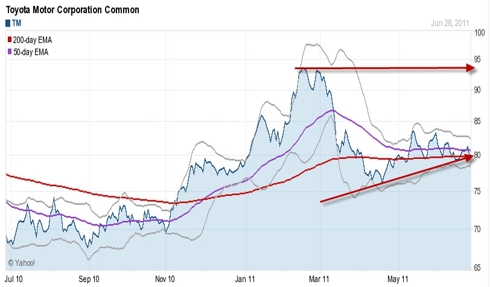 Toyota is down almost 20% since the start of the Japan's woes. The stock is trading at less than book value and a PEG ratio of one. The PEG ratio is a broadly used indicator of a stock's prospective worth. It is preferred by numerous analysts over the price/earnings ratio because it also accounts for growth. Similar to the P/E ratio, a lower PEG means that the stock is more undervalued. Many financiers use 1 as the cut-off point for PEG ratios. A PEG of 1 or less is believed to be favorable.
The company is trading significantly below analysts' estimates. TM has a median price target of $92 by 2 brokers and a high target of $92.40. The last up/downgrade activity was on Mar 9, 2010, when Standpoint Research downgraded the company from Buy to Hold. Please review the illustration for TM's summary and key statistics.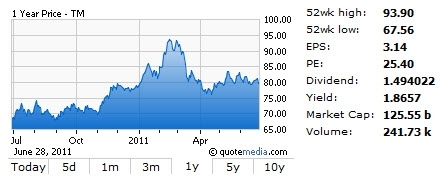 Honda Motor Co., Ltd. (HMC), together with its subsidiaries, engages in the development, manufacture, and distribution of motorcycles, automobiles, and power products primarily in North America, Europe, and Asia.
Honda forecasts a bigger-than-estimated 63 percent decline in full-year profit, citing production disruptions on parts shortages and the strong yen. Net income may fall to 195 billion yen ($2.4 billion) in the 12 months ending March 31, from 534.1 billion yen a year earlier, the Tokyo-based company said in a statement today. That compares with the 375 billion yen average of 10 analyst estimates compiled by Bloomberg in the past 28 days.
Honda predicted a larger decline in profit than Toyota Motor Corp., as both companies work to restore full operations after the temblor and tsunami on March 11, damaged parts factories and caused power shortages. Honda's global vehicle sales may decline 6 percent this year to 3.3 million, while Japan's strengthened currency will also erode profit, the company said recently.

Technical Analysis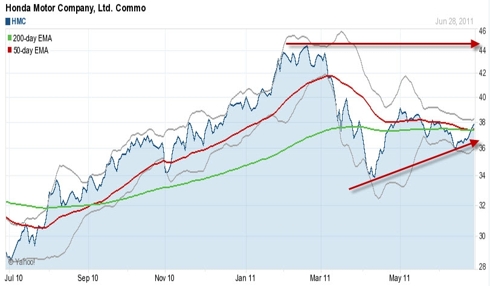 Honda is down more than 20% since the start of the Japan's woes. The stock is trading at less than book value but has a PEG ratio of greater than three. The PEG ratio indicates the stock is trading at a severe premium to fair value based on the revised growth estimates. Although Honda and Toyota's charts seem identical, Honda is actually a much more expensive stock and could be poised to drop.
The company is trading below current estimates. Estimates appear unadjusted for the recent news from Honda. HMC has a median price target of $46.20 by 1 broker. The last up/downgrade activity was on Jun 12, 2009, when Barclays Capital downgraded the company from Overweight to Equal Weight. Please review the illustration for HMC's summary and key statistics.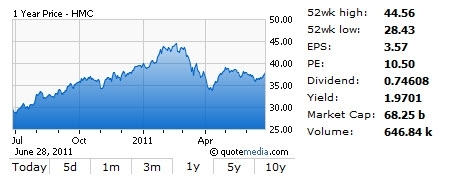 Conclusion
"The time to buy is when there is blood in the streets, even if the blood is your own. " This famous investing quote is credited to Baron Rothschild, a member of the Rothschild banking family who made a fortune buying during the chaos following the Battle of Waterloo. Times of market turmoil often present the best buying opportunities for savvy investors. The bear market of 1974 gave Warren Buffett the opportunity to purchase a stake in the Washington Post Company (WPO). This one investment subsequently provided Buffett with more than a hundred fold return. One of Buffett's famous quotes is "Look at market fluctuations as your friend rather than your enemy; profit from folly rather than participate in it."
Our innate instincts encourage us to depart a sinking ship. This survival tactic impacts the way we invest. When market conditions create opportunities to buy stock in solid companies with sound prospects at a discount price, hopefully you have powder dry and take advantage. The market is clearly at an inflection point. This may be an ideal time to scale into a position in Toyota.
Information was gathered from CNBC, Yahoo Finance and respective company websites. Based on the current market conditions I would suggest scaling in to any position to reduce risk. I believe Toyota has substantial upside potential and may provide a significant opportunity for long term investors. Please use this as a starting point for your own due diligence.
Disclosure: I have no positions in any stocks mentioned, but may initiate a long position in TM, HMC over the next 72 hours.