Today I would like to highlight one of the icons of American Industry and the only remaining member of the original Dow Jones Industrial Average (NYSEARCA:DIA), General Electric (NYSE:GE). Although GE only gets 36% of its revenue from its financial businesses, it has moved roughly in line with Financial Sector ETF XLF over the last six months. I think that presents an opportunity as its other divisions are doing well, and it is making good progress turning around its financing businesses.
General Electric Company operates as a technology, media, and financial services company worldwide. Its Energy Infrastructure segment produces gas, steam, and aero derivative turbines; generators; combined cycle systems; and renewable energy solutions, and provides water treatment services and equipment. This segment also sells surface and subsea drilling and production systems, floating production platform equipment, compressors, turbines, turboexpanders, and high pressure reactors to oil and gas companies. The company's Technology Infrastructure segment manufactures jet engines, turboprop and turbo shaft engines, and replacement parts for use in military and commercial aircraft, and provides repair and maintenance services. This segment also produces healthcare products, including diagnostic imaging systems; offers transportation products and maintenance services; provides enterprise solutions using sensors for temperature, pressure, moisture, gas and flow rate, as well as non-destructive testing inspection equipment.
10 reasons General Electric is significantly undervalued at around $18 a share
1.
General Electric is selling at 13.5 times this year's estimated earnings and just 11 times 2012's consensus EPS.
2.
General Electric provides a dividend yield of 3.3%. It has a AA+ rated balance sheet and is selling at the bottom quarter of its five year valuation ranged based on Price to Book. GE has raised its dividend 50% in the last two years and still has a long way to go to restore its payout to what it was before the crisis. I look for the company to do so over time as earnings continue to improve.
3.
Analysts have consistently underestimated GE's earning power over the last year. The company has handily beat quarterly consensus estimates over each of the last four quarters. The average beat in that time period has been over 10%.
4.
Earnings estimates for 2011 and 2012 have improved over the last sixty days, which bodes well for stock price appreciation if these estimates are exceeded as they have been recently.
5.
The Energy Infrastructure segment, which provides 28% of GE's revenue, has bright prospects as the world's energy demands continue to increase and new power plants, drilling platforms and solar installations will need to expand to meet that increasing demand.
6.
Aviation (13% of sales) should continue to do well as more airliners are built to meet the huge increased demand for air travel in the developing economies. GE engines scored several major wins at the recent Paris Air Show.
7.
Healthcare (13% of revenues) produces numerous high-end medical imaging products that should benefit greatly over time as the developed world economies age and the wealth being created in the developing countries brings greater demand for upgraded diagnostics.
8.
GE is making good progress in cleaning up the balance sheets of its various financing divisions. It should benefit in the future by the continued decline of credit losses, increasing demand as the world economy continues to recover from the crisis, and improving lending spreads.
(Click chart to expand)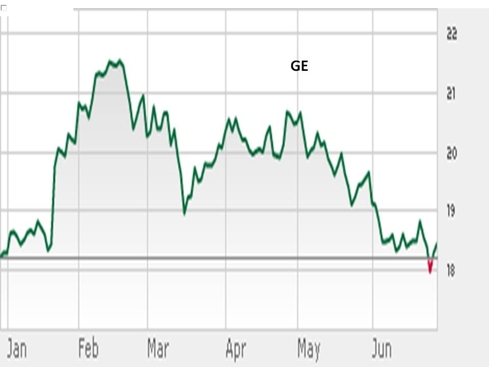 Click to enlarge
9.
The stock appears to have good technical support at this level (see chart)
10.
GE at $18.44 is selling significantly under analysts' price targets. Credit Suisse has a price target of $23 a share on GE, S&P is at $24 and Deutsche Bank is also at $23. My own price target range on GE is a more normalized 13-15 times 2012's estimated EPS of $1.67 or $22 to $25 a share. BUY
Disclosure: I have no positions in any stocks mentioned, but may initiate a long position in GE over the next 72 hours.