Today I noticed that the Vale ADR (NYSE:VALE) was one of the most popular stocks with individual investors and wondered how it fared on Barchart. All of the buy signals are strengthening and all of the sell signals are weakening.
Click to enlarge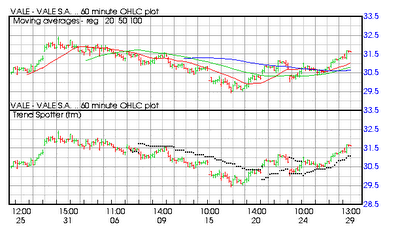 Vale S.A. engages in the exploration, production and sale of basic metals in Brazil. The company also is involved in fertilizers, logistics and steel businesses. The Bulk Material segment consist of iron ore mining and pellet production, as well as its Brazilian Northern and Southern transportation systems, including railroads, ports and terminals. This segment also includes manganese mining and ferroalloys. The Base Metals segment produces nonferrous minerals, including nickel, copper and aluminum consisting of aluminum trading activities, alumina refining, aluminum metal smelting, and bauxite mining. The Fertilizers segment provides potash, phosphates, and nitrogen. The Logistic Services segment consists of transportation systems, including ships, ports and railroads for third party cargos. This segment includes 10,179 kilometers of railroad infrastructure, eight seaport terminals, five general cargo ports, and two iron ore export terminals. In addition, it generates energy through hydroelectric power plants. The company was founded in 1942 and is based in Rio de Janeiro, Brazil. (Yahoo Finance)
Factors to Consider
Barchart Technical Indicators
40% Barchart over all buy signal - strengthening
Tread Spotter - presently a hold signal but the hold is almost ready to switch to a buy
Above its 20 and 50 day moving average
Four new highs and up 5.39% in the last five trading days
Relative Strength Index is 59.01% and getting stronger
Trading around 31.56 which is above its 50 day moving average
Wall Street brokerage analysts have not issued any negative recommendations on the stock and have published four strong buy, 14 buy and five hold recommendations to their clients.
Sales are projected to increase by 38.90% this year and another 4.40% next year.
Earnings are estimated to increase by 62.80% this year, decrease by 1.00% next year but increase annually by 6.51% over the next five years.
General Investor Sentiment
The readers on Motley Fool have expressed 6,564 opinions on this stock and 98% have been positive.
The more experienced All Stars also vote that 98% think the stock will out perform the market with a 1735 to 29 vote.
Summary: Vale has three countries buying its products: Brazil, the U.S. and China. The growing economies in these three nations will bid up the natural resource products this company mines and distributes. It's hard to see how this company can fail.
Disclosure: I have no positions in any stocks mentioned, and no plans to initiate any positions within the next 72 hours.