Roughly two-thirds of all Americans express a pessimistic outlook on the economy as well as its future. Perhaps ironically, CNBC recently reported that wealthier citizens are even more downbeat than the nation at large.
One might hope that the bleak view is "transitory." However, the middle class, upper-middle class and wealthiest among us are seriously skeptical about their prospects.
Need more proof? Olivier Ludwig of Index Universe described a fascinating trend on insider buying of company stock. While many corporations are buying back their own shares at an admirable clip, the executives of those very same corporations aren't following suit.
Share Buybacks Versus Executive Insider Purchasing
Total Buybacks
Insider Purchases
Ratio
($Bil)
($Bil)
2008
$ 373.0
$ 25.3
15
2009
$ 132.5
$ 6.7
20
2010
$ 357.0
$ 7.8
46
2011
(Projection)
$ 528.0
$ 6.6
80
Corporations have spent gobs of money on share buybacks. The fact that they have the money to do so, while still maintaining record levels of cash on their books, is a testament to the part of the economy that is expanding. In fact, companies are on target to far outpace the amount spent on buybacks in 2008.
In complete contrast, individual executives haven't recovered from the recession mindset. For three straight years, they've spent one-third the amount that they spent back in 2008.
What do these figures tell me? Companies may have recovered from economic contraction, but executives remain shell-shocked. They're willing to return cash on the corporate books to shareholders, perhaps to boost share prices and confidence, but they haven't used any cash to hire new employees. Worse yet, they'd rather forgo potential reward to avoid the risks associated with investing personal monies in a business-unfriendly environment.
At the same time, there's a little known fund that seeks investment results that generally correspond to an index of insider buying trends. It used to be called the Claymore Sabrient Insider Fund, but has since been changed to the Guggenheim Insider Sentiment ETF (NYSEARCA:NFO).
NFO tracks the Sabrient Insider Sentiment Index - an index that actively represents a group of 100 securities (e.g., stocks, ADRs, MLPs, etc.) from a pool of 6,000 securities. NFO hopes to capture the general movement of insiders via public filings.
Forgetting how much can be lost in a bear market for the time being, it is interesting to see how NFO is faring against other benchmarks in the current bull. Since it is classified as a mid-cap blend asset, it is appropriate to see how well it has performed against the S&P MidCap SPDR (NYSEARCA:MDY). For good measure, I checked out how NFO has performed against the grand-daddy, S&P 500 SPDR Trust (NYSEARCA:SPY).
Click to enlarge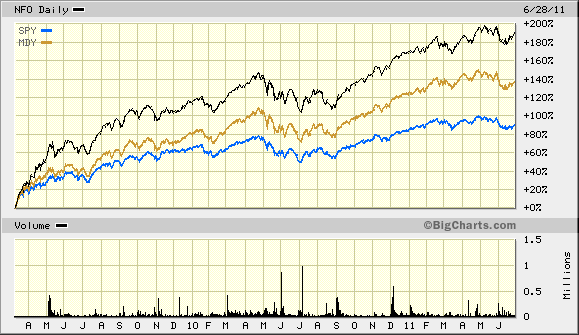 In this current bull market, the Guggenheim Insider Sentiment Fund hasn't been shabby! If execs weren't like the rest of us - petrified of the current environ - they might have committed more of their capital and profited more from share price appreciation.
Disclosure: Gary Gordon, MS, CFP is the president of Pacific Park Financial, Inc., a Registered Investment Adviser with the SEC. Gary Gordon, Pacific Park Financial, Inc, and/or its clients may hold positions in the ETFs, mutual funds, and/or any investment asset mentioned above. The commentary does not constitute individualized investment advice. The opinions offered herein are not personalized recommendations to buy, sell or hold securities. At times, issuers of exchange-traded products compensate Pacific Park Financial, Inc. or its subsidiaries for advertising at the ETF Expert web site. ETF Expert content is created independently of any advertising relationships.