Have a look at the Sirius XM (NASDAQ:SIRI) chart from Wednesday's close, courtesy of FreeStockCharts.com.

Click to enlarge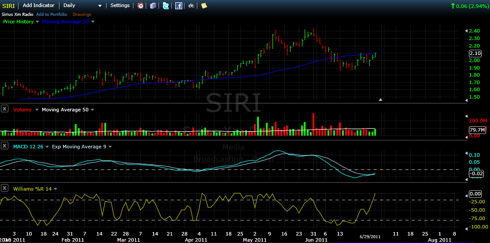 Click to enlarge

I use two primary technical indicators in my trading: MACD and Williams %R. I like them because they're relatively easy to read. Also, when one gives a signal, the other tends to confirm shortly thereafter, adding confidence to any long or short play you might have made or intend to make.

As I have noted in previous Seeking Alpha articles, I am long a fair number of SIRI September $2.50 calls. Over the course of the week, I have managed to bring my average cost per contract down to $0.11. I expect this to be an incredibly profitable position. The technical indicators I use point to an imminent breakout. Barring macro events or (unlikely) bad news from the Sirius XM camp, the stock could make the next meaningful move up as early as Thursday. On significant news or pre-earnings guidance, it will take off like a rocket.

The chart shows the MACD about to convincingly cross its signal line. At the same time, the Williams %R looks to establish itself in overbought territory. What it does once there will tip us off to the strength of the rally. Consider the following advice on how to read the Williams %R indicator from StockCharts.com:
...it is important to note that overbought readings are not necessarily bearish. Securities can become overbought and remain overbought during a strong uptrend. Closing levels that are consistently near the top of the range indicate sustained buying pressure.
Looking at SIRI's history you can see that during the stock's recent uptrends, particularly the last one to an intraday high of $2.42, the Williams %R remained in overbought territory. If SIRI remains, for the most part, in that 0 to -20 overbought range, it's in rally mode. I believe we are incredibly close to seeing that happen. In this case, history looks as if it will repeat itself.

Disclosure: I am long SIRI.