Last week, Fed Reserve Chairman Ben Bernanke reinforced his belief that interest rates should be kept at historically low levels for an extended period of time. For many fixed-income investors, this continuing stretch of meager returns is causing havoc. Withdrawal needs, growing inflation rates, and the lack of capital appreciation potential are eating away at their peace of mind and portfolios.
Despite this seemingly poor investing environment for most fixed-income investors, there are a number of income-producing options that investors should consider to improve their outcome. In this article, we'll take a look at two of them -- preferred securities and Emerging Market debt.
Preferred Securities
Preferred stocks have been around for over a century. They are a type of hybrid security with characteristics of both equities and bonds. Preferred securities represent a large and growing asset class of approximately $585 billion.
Currently, the average yield of preferred securities is nearly 7.4%. That's about 4.25% above the 10-year treasury yield. Beyond the benefit of this yield differential, these securities may actually enhance the diversification of a portfolio and lower portfolio risk due to their low correlation to both equities and bonds. Additionally, the overall preferred market has the same average credit quality as the broader bond market.
In the preferred security ETF space, we can mention three good options – iShares S&P U.S. Preferred Stock Index (NYSEARCA:PFF), PowerShares Financial Preferred (NYSEARCA:PGF), and PowerShares Preferred (NYSEARCA:PGX). All three currently clear our hurdles as viable investment choices, but we like PFF for its size and stability. It's less volatile than its smaller PowerShares brethren.
Emerging Market Debt
Emerging Market (EM) debt has evolved in recent years into a more mature, mainstream fixed-income asset class due to its size, liquidity, and availability of quality investment vehicles. Total outstanding EM corporate debt now stands at about $765 billion and accounts for approximately 10% of the total global bond market. In 2010, there was more than $200 billion of EM debt issued. As determined by the JPMorgan EMBI-Global Index, there are 41 emerging market countries that issue debt, compared with less than 15 a decade ago.
click to enlarge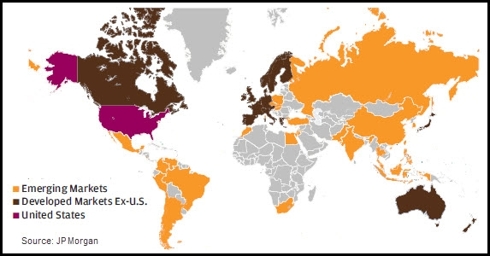 Click to enlarge
The fundamental case for EM debt is compelling. Emerging economies are healthier – they are growing faster and are less leveraged than developed countries. During the past several years, there's been a rapid increase in creditworthiness among issuers. The percentage of investment-grade EM debt stands at over 60%, up from less than 20% a decade ago. Default rates have dropped significantly. In addition, EM debt offers additional diversification to an investor's portfolio.
Institutional investors have taken notice of this investment opportunity as they seek higher yields at attractive risk levels. This high demand continues to narrow the yield spread between EM debt and the U.S. bond market. However, at a spread of about 3.4% and an average yield of about 6.1%, EM debt remains an appealing opportunity with positive longer-term prospects.
There are currently two Emerging Market debt ETFs we like for fixed-income portfolios – iShares JPMorgan USD Emerging Markets Bond (NYSEARCA:EMB), and WisdomTree Emerging Markets Local Debt (NYSEARCA:ELD). Both invest heavily in the sovereign debt of emerging market countries. However, EMB is denominated in U.S. dollars while ELD is in local currencies. So far this year, the local currency play has beaten the U.S. dollar. Also, EMB attempts to match an index (JPMorgan EMBI Global Core Index) as a performance benchmark while ELD does not. Since ELD is not tied to an index, it can be more actively managed. Despite this, its expense ratio is actually slightly less than EMB.
Disclosure: I am long EMB.