Montreal-based AbitibiBowater Inc. (ABH) is the 3rd largest pulp & paper company in North America formed by the 2007 merger of Bowater and Abitibi-Consolidated. The company filed for bankruptcy in 2009 and emerged post-reorganization in December 2010 to a lot of interest from Wall St. What's interesting, however, is to see who's still betting on ABH and who's sold out (as of the most recent 13F filings).
The top 4 investors as of Q4 2010 (all of which are hedge funds) actually increased their positions in ABH (with the exception of Contrarian Capital). However, a number of hedge funds that were investors right after ABH emerged from bankruptcy, have since sold out their positions during Q1 2011: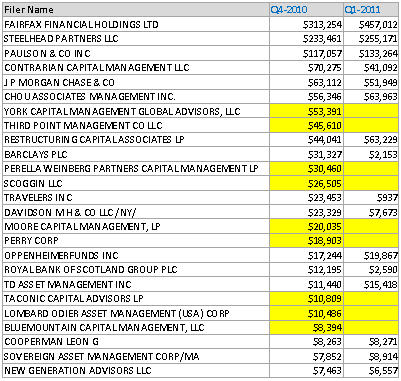 Given the stock's strong performance in January, it's not surprising that a number of hedge funds would want to lock in profits. In fact, of the top Q4-2010 filers, the
only ones
to completely sell out of their stake by Q1 2011, were all hedge funds.
Given the stock's weakness since the end of Q1 (especially this week), expect a lot of the hedge funds above to take a performance hit on this position. With a forward P/E of 5.70, a P/B of 0.53, and a bullish price target, there are plenty of reasons to hold this stock. But it'll be interesting to see which hedge funds held on to their positions and which ones didn't when these funds file their Q2 holdings.
[Click to enlarge]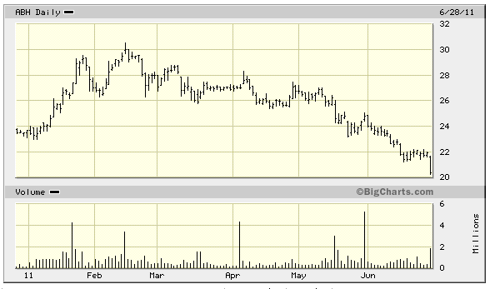 Click to enlarge
Disclosure: I have no positions in any stocks mentioned, and no plans to initiate any positions within the next 72 hours.