Proprietary research from several firms is indicating that the Apple (NASDAQ:AAPL) iPhone 3GS may soon be available for free with a two year contract. Such a move on the part of Apple would be a watershed event.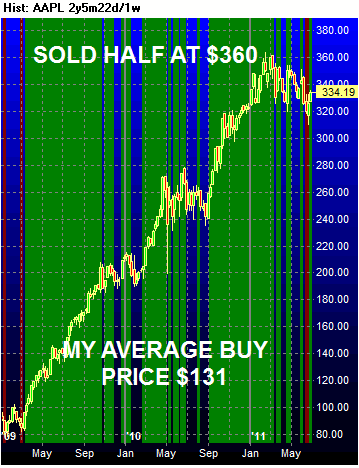 Estimates range from doubling to tripling Apple's marketing capability when it offers a free iPhone. This would mean $6 billion to $9 billion additional revenue for Apple. I am long on Apple from an average price of $131. I sold half of my position at $360.00. Taking into account the impact of a free iPhone the Qualitative Screen of the ZYX Change Method will increase fair value of Apple by $23.
Such a move would adversely affect three companies in particular: Motorola Mobility (MMI), Research In Motion (RIMM), and Nvidia (NVDA).
Although Research In Motion is passé in the United States, it is still very strong in emerging markets. A free iPhone will be particularly attractive in the emerging markets. Most of the market share in the emerging markets will be taken from Research In Motion.
Some emerging market carriers do not subsidize phones and users buy the phones separate from the service. Our analysis shows that in such markets, Research In Motion may lose over 50% of its market share for new activations if iPhone 3GS was made available for around $200.00. Due to the increased volume even with this low price, Apple may be able to maintain gross margins over 45%. The cost structure of Research In Motion simply will not allow it to compete, unless Research In Motion undergoes a massive restructuring.
Fair value of Research in Motion will depend upon which scenario eventually takes place, please see my article What Is the True Value of Research In Motion?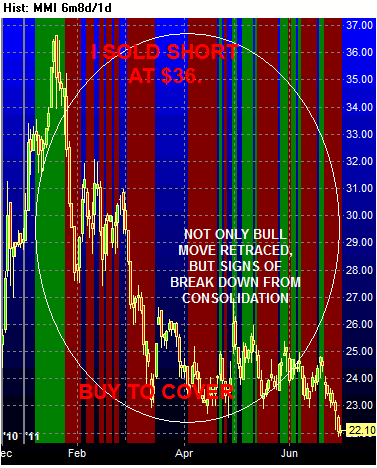 In the United States, Motorola Mobility will suffer the most. Motorola relies on Google's (NASDAQ:GOOG) Android operating system. Because of the intense competition in the Android segment, margins at Motorola are already expected to decline. With a free iPhone, lots of users will find no logic in getting a low end Motorola phone.
A proprietary survey indicates that in the consumer segment, 70% of the consumers will opt for iPhone over a Motorola phone if iPhone was available for free. The only way for Motorola to compete will be to offer higher end phones for free. Such a move will further compress Motorola shares. I sold Motorola shares short at $36.00 and scaled out of it in the low twenties, as I believe a fair value of Motorola, if a free iPhone is introduced, will be $18.00.
The third company that will be adversely affected is Nvidia. Nvidia chips are used in Motorola phones. As the chart shows, Nvidia ran up on smart phone and tablet hype and has now retraced its entire gain. I sold short Nvidia at an average price of $25.53 and then I covered the last tranche at $17.80.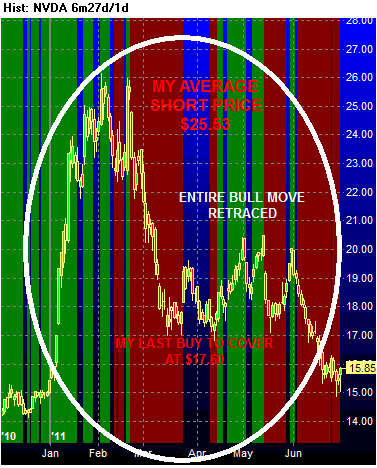 Now we are close to giving another short sell signal on Nvidia on any major bounce.
The relentless attack from Apple is likely to continue with no reprieve for Research In Motion, Motorola, and Nvidia.
Disclosure: I am long AAPL.

Additional disclosure: If and when all six screens of the my models are met, I intend to add to my long AAPL position, and short sell MMI and NVDA. For RIMM I may take a position, long or short based on the news flow. Subscribers to my alert services may have positions similar to mine and may receive actionable signals on these three stocks in real time.