We have covered the bearish case extensively in recent weeks. Today, we look at the bullish perspective. The recent improvement in the markets prompted us to re-evaluate the 220 exchanged traded funds (ETFs) included in the CCM Asset Allocation Model. On Tuesday, we reduced the list of 220 ETFs down to the top 46. The most attractive options center around retail (NYSEARCA:XRT), telecom (NYSEARCA:IYZ), biotech (NASDAQ:IBB), healthcare (NYSEARCA:XLV), mid-caps (NYSEARCA:MDY), and small caps (NYSEARCA:IJR).
We remain concerned about the lack of leadership in the markets. On June 29, we purchased some SPY (S&P 500 ETF) to gain some additional exposure to risk. We would like to see more from this rally before we broaden our horizons beyond the realm of the S&P 500 Index. If market interprets the outcomes in Greece favorably, we are well prepared to reinvest more cash. A close over 1,317 on the S&P 500 may prompt us to consider the sectors listed in the first paragraph.
The terms of any rollover proposal for Greek debt are very important. If the market believes bondholders are being given little, if any choice, then a "solution" may be interpreted as a default. Bloomberg reported on June 30:
Germany's biggest banks and insurers and the government have agreed on a draft proposal to roll over Greek debt holdings, people familiar with the plan said. The financial firms will commit to providing financing for a Greek aid package and an announcement is planned this afternoon, said the people, who declined to be identified because the talks are private.
In addition to the positive developments in Greece and some encouraging housing data on Wednesday, we have we seen numerous things recently that make us more encouraged about the stock market, including:
A set-up for a bullish change in the short-term trend.
A positive turn in market breadth.
Stocks held above key levels and their 200-day moving average.
An important weekly level has been retaken this week.
Stocks are trying to firm up at a logical level dating back to 2006.
Our three primary market models are producing favorable risk-reward readings.
Looking at the S&P 500 from a very short-term perspective, the June 28 close of 1,296 exceeded the level below, which completed step three of three in terms of what is needed for a probable change in the short-term trend.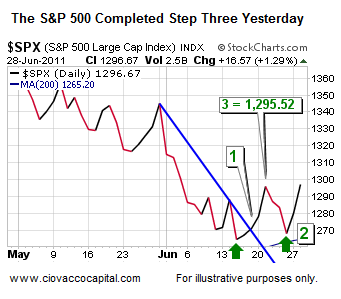 As we mentioned on June 28, our approach will be somewhat measured as long as the S&P 500 stays below 1,315 to 1,317. The weekly moving averages shown below and the 50-day moving average may act as significant resistance. A convincing move above 1,317 would have us consider a sizable reduction to our cash position. A failure to break 1,317 would reaffirm our current defensive stance.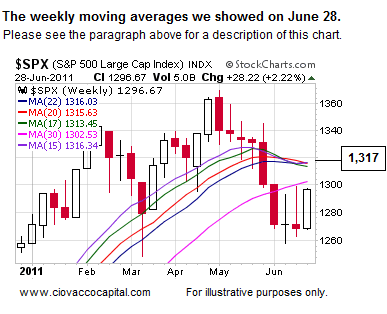 We have been patient looking for market breadth to improve from an intermediate-term perspective. We wanted to see a turn in the Summation Index; we got the turn after the close on June 27. Any rally that does not see a positive turn in intermediate-term market breadth is ripe for failure.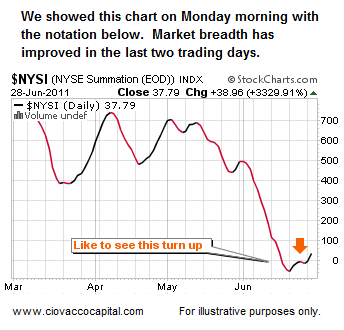 On June 24, we mentioned that from a tactical and defensive perspective some patience is in order as long as the S&P 500 can remain above 1,258.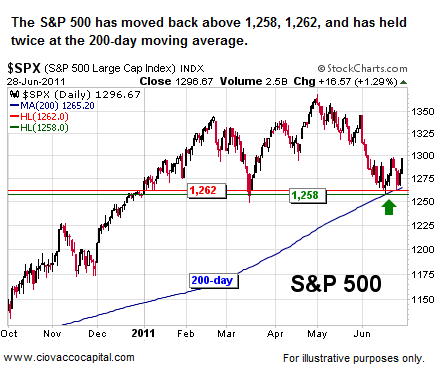 We have presented the chart below on several occasions noting 1,275 is an important level on a weekly chart. We dipped below 1,275 recently, but stocks have retaken that level. A close above 1,275 on weekly basis makes the move more relevant from a bullish perspective.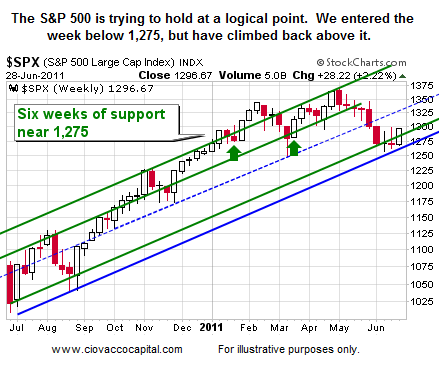 Taking a long-term view the S&P 500 has found some traction at a logical level based on trendlines dating back several years.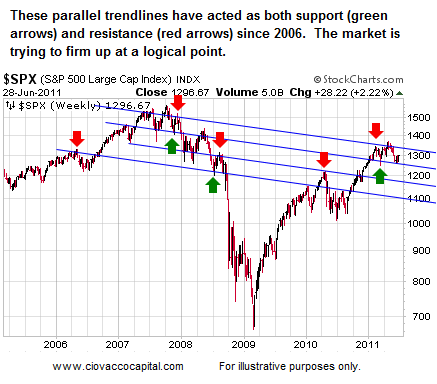 The CCM Bull Market Sustainability Index (BMSI) has stabilized over the past few trading sessions. The CCM BMSI remains in bull market territory. The risk of a bear market comes into play when the BMSI flirts with negative territory. The current level of 3,280 tells us the odds still favor the bulls, especially over the next one to twelve months. As we have said in the past, BMSI readings mean little during a correction until the market begins to show some signs of stabilization. As noted in the charts above, we now have some signs of a possible change in the market's tone. In the table below, higher numbers represent more favorable investment conditions.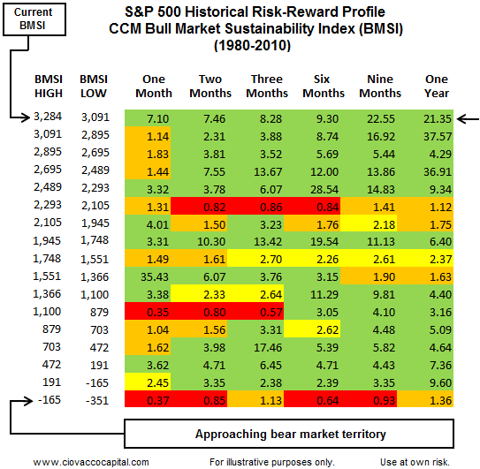 Click to enlarge
The CCM 80-20 Correction Index also remains in bull market territory. The risk-reward profile of the stock market is currently well above average for a bull market looking out three to twelve months.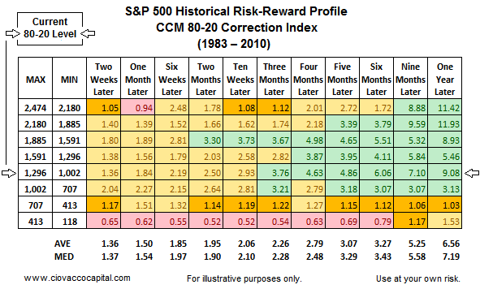 Click to enlarge
The CCM End of a Correction Model has now checked off 88% of the things we would expect to see at the onset of a new rally. These conditions obviously do not guarantee anything, but they do tell us that the risk-reward ratio associated with redeploying some of our cash has become more favorable.