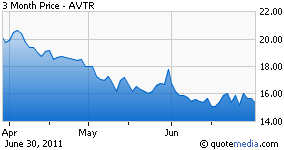 Avatar Holdings Inc. (NASDAQ: AVTR) is engaged in the development of active adult and primary residential communities in Florida and Arizona. The company is (as of 5/16) at a 52 week low, and it trades for less than half its book value, which appears to be just slightly more than its cash on hand. Further, the company's main asset – homes – is likely at or close to a cyclical trough, so a long term investor could expect that the downside is somewhat limited relative to the potential upside as the housing market stabilizes over coming years.
Keep in mind, since the company appears to trade for only slightly above cash, an investor would be getting the business and the houses for free.
Unfortunately, there's more to the story.
First, the cash on the balance sheet is illusory. The balance sheet in the most current 10-Q is dated March 31, however the very next day, on April 1, holders of $41.6M of the company's convertible notes exercised their right to have the company repurchase the notes. This puts the current market cap at a higher premium to cash than would first appear to be the case. The details of this aren't on the balance sheet yet, but they are in the notes to the financials (another reason it is important to read the notes!)
Second, the company is hemorrhaging, which provides a good reason for the company to be trading below book value. Investors cannot be sure that they'll see the company liquidated anytime soon, and so in the meantime the book value will continue to be reduced. Right now, Mr. Market's bet seems to be that half of the book value will be destroyed before investors recover their investment. This isn't exactly a vote of confidence, and given how much of the company's success depends on the macro climate, it may be beyond management's capacity to right this ship. Which brings us to…
(Third) The company's CEO just resigned. This alone is not necessarily a negative thing (at some companies it would be a positive development – I'm looking at Microsoft (NASDAQ: MSFT) and RIM (NASDAQ: RIMM)) and time will tell how it plays out. The new CEO is a managing director at JEN Partners which sold properties to AVTR in October 2010 and currently owns 8% of AVTR's stock. The high ownership interest is indicative of a shared interest in getting AVTR back on track, so this is probably a good thing, however we'll have to see if the new CEO is willing to change course with the old CEO's policies, including…
(Fourth) Chasing bad money with good. While not exactly an explicit policy, what other conclusions can investors draw when (old) management did things like this (from the company's 10-Q, with emphasis added):
In December 2006, we entered into agreements with Osceola County, Florida and Polk County, Florida for us to develop and construct at our cost a 9.66 mile four-lane road (including a 4.15 mile private toll section) in Osceola and Polk Counties to be known as the Poinciana Parkway (the "Parkway"). Such agreements have been amended so that we are required to obtain financing and commence construction of the Parkway by February 14, 2012 and complete such construction by May 7, 2014, subject to extension for force majeure. We have acquired all of the rights of way necessary to construct the Parkway. We also have all material permits for construction of the Parkway and such permits do not expire until February 14, 2018.

If funding and commencement of construction of the Parkway is not achieved by February 14, 2012, the Counties have no right to obtain damages or seek specific performance against Avatar; however, (i) a portion of Avatar's land in Osceola County will become subject to Osceola traffic concurrency requirements applicable generally to other home builders in the County and (ii) Avatar will be required to contribute approximately $1,900 towards the construction cost of certain traffic improvements in Osceola County that we otherwise might have been obligated to build or fund if we had not agreed to construct the Poinciana Parkway.

…

Our estimate of the right-of-way acquisition, development and construction costs for the Poinciana Parkway approximates $175,000 to $200,000. However, no assurance of the ultimate costs can be given at this stage. As of March 31, 2011, approximately $47,466 has been expended. During fiscal years 2009 and 2008, we recorded impairment charges of $8,108 and $30,228, respectively, associated with the Poinciana Parkway.
So, rather than taking a $1.9M penalty, the company is going to chase $47.466M of money already spent (known as a "sunk cost") by tripling or quadrupling down (at least in Blackjack you max out at doubling down!).
For the patient long-term investor, there may be value in AVTR. Unfortunately, with the vastly reduced cash balance. the company is far less attractive than it appears at first glance. The upside of a new CEO who may be willing to jettison the sacred cows of the previous management might provide the catalyst this company needs. We shall see!
Author Disclosure: No position.