By Shiraz Lakhi
Many investors who follow my articles and alerts here on Seeking Alpha will know I look primarily for strong free-cash-flow-yield metrics as a starting point for further analysis, on a potential stock trade, within a sector that has become technically oversold.
By focusing on a cyclically oversold sector (continually tracking technology, consumer goods, services and basic materials sectors) based on simple technical trend indicators, then drilling down to the specific stock(s) which represent the strongest fundamentals based on the free-cash-flow-yield starting point, investors can establish a solid basis for strong potential upside in the selected stock, which combines both technicals and fundamentals.
One such company which appears on my radar is Dynamics Research Corporation (NASDAQ:DRCO). This business software and services company currently generates free-cash-flow of $20.63 million on a trailing 12 month basis. Last night's close valued the business (Enterprise Value) at $133.81 million, hence returning a robust free-cash-flow-yield (FCF/EV) of 15.4%.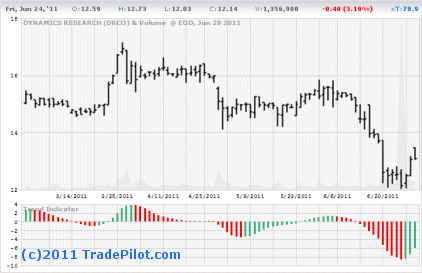 Additional metrics in favor of DRCO include: a low PEG ratio of 0.93 and consensus analyst mean target price of $19.83 (significantly above the current price). DRCO currently trades at $13.11 per share, around 34% below analyst estimates and around 51% above its 52 week low.
Note the emphasis on the free-cash-flow-yield. This simple to calculate metric measures the Free-Cash-Flow (or FCF) generated by a business, divided by the enterprise value (or EV) of the company. The FCF is a superior, more accurate reflection of a company's ability to generate profits than the basic, out-dated earnings or EBITDA figure, which is often prone to tactical/questionable accounting. Similarly, the EV is a superior, more authentic reflection of the worth of a company, than the commonly used market-cap figure, which most investors take at face value. The EV, in simple terms, takes into account the company's debts and cash holdings, effectively revaluing the business based on what a potential acquirer would theoretically pay, in other words, the true value of a business.
Hence, by dividing FCF by EV, we arrive at the free-cash-flow-yield. It is the percentage of true net income a company generates relative to its true overall value.
Investors can quickly measure and identify potential undervalued plays as an excellent starting point for further analysis/diligence (looking at additional fundamentals such as PEG ratio, analyst estimates, long and short term debt, management competence, entrepreneurialism, innovation in product/service, whether the business operates within a growth or shrinking market and so forth), when selecting and short-listing potential plays.
It is also valuable to seek out fundamentally superior stocks, at a time when the overall sector, or the general market as a whole (S&P index) becomes cyclically undervalued. There are numerous technical trend indicators which provides a basis to determining the overall market sentiment in any specific sector (such as technology), or the market (S&P), using readily available, free-to-use trend and oversold/overbought indicators. The key is to select an oversold sector, then drill down to the most fundamentally robust stock(s) within that sector.
Enterprise Value/Free-Cash-Flow Data Sourced From Yahoo Finance. Stock Data & Performance Analytics Sourced From TradePilot.com.
Disclosure: I have no positions in any stocks mentioned, but may initiate a long position in DRCO over the next 72 hours.