These securities have been constantly losing price value within the past 90 trading days but are now showing signs of an uptrend. While the S&P 500 index lost 2.46%, these securities lost in between 30.72% & 19.07% during the last 90 trading days.
Click to enlarge: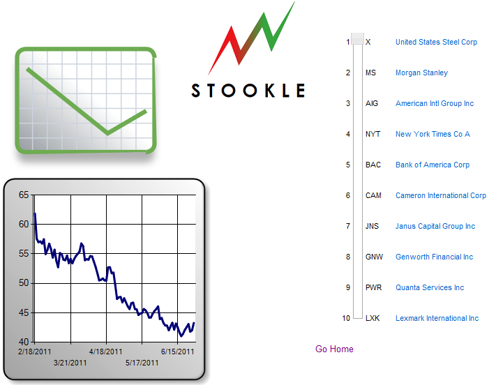 Click to enlarge
United States Steel Corp. (NYSE:X) is a steel producer with majority of operations in Europe and North America. The company primarily manufactures value-added steel sheet and tubular products for various industries such as automotive, appliance, construction and oil & gas. The steel industry has been operating at (on average) 70% of its capacity due to recent economic downturn. The stock closed at $45.85 on Wednesday, falling $17.79 or 27.95% in the last 90 trading days.
Morgan Stanley (NYSE:MS) provides financial services to corporations, governments and individual investors around the world. With increased M&A activities and stronger net flows in its Global Wealth Management division, the company reported $7.6 B in net revenues in Q1 earlier this year. Through continued disciplined execution of its repositioning efforts, Morgan Stanley is aiming at reducing its balance sheet risk. The stock closed at $23.39 on Wednesday, falling $7.30 or 23.79% in the last 90 trading days.
American Intl Group Inc. (NYSE:AIG), the New York-based corporation provides insurance and other financial services in over 130 countries worldwide. Its SunAmerica Financial Group reported strong sales and pre-tax income growth in the first quarter of 2011. The stock closed at $29.14 on Wednesday, falling $12.92 or 30.72% in the last 90 trading days.
The New York Times Company (NYSE:NYT) is a diversified media company primarily known for its premiere journalism. With a shift in how readers access information or news, the company is diversifying its content delivery by making it multiplatform. The company has applications on major mobile operating systems such as iOS and BlackBerry. Twenty eight percent (28%) of its advertising revenues in the Q1 of 2011 came from its digital products, showcasing the diversified revenue streams. The stock closed at $8.57 on Wednesday, falling $2.02 or 19.07% in the last 90 trading days.
Bank of America Corp (NYSE:BAC) is a global financial institution that offers commercial banking, wealth management and other financial services. The company is repositioning and financially strengthening itself since the financial crisis. Bank of America is focusing on globalizing the company further and bettering the BAC franchise under new management. The stock closed at $11.14 on Wednesday, falling $3.67 or 24.78% in the last 90 trading days.

Disclosure: I have no positions in any stocks mentioned, and no plans to initiate any positions within the next 72 hours.

Disclaimer: Algorithm Cabinet LLC and/or STOOKLE, is not a registered investment advisor and does not provide investment advice. The information contained in this website/blog is for general information purposes only.