Monsanto (NYSE:MON) recently beat its earnings estimate with $1.26 vs. an expected $1.10. Considering MON has been in the doldrums for what seems years, this was an exciting result. Just prior to that, Agrium had increased its earnings guidance on June 19, 2011. The Ag companies outlooks definitely are looking up.
Following those events, Wednesday Canpotex signed a new contract for second-half of this year (2H 2011) to deliver at least 500,000 tonnes of potash to China with options for another 200,000 tonnes at $470/tonne on a "cost and freight basis." The amount of potash covered by the agreement was at the lower end of expectations. Experts say this indicates tight supplies of potash. The $470/tonne is much higher than the $370/tonne (FOB Vancouver) price Canpotex got in 1H 2011. Since it costs about $35/tonne to ship the Potash from Vancouver to China, the actual gain in price is about +$65/tonne for the 2H 2011 contract. This is about 17.5% more than the previous contract with China's Sinofert Holdings. Plus the expected price had been $450/tonne CFR. The $470/tonne CFR price agreed to is a little more than +5% more than expected price. This should translate into considerably more than a 5% increase in estimated earnings from sales to China in 2H 2011.
Talk on the street says that Russia's BPC (a counterpart to Canpotex) is close to signing a contract with India for Potash in 2H 2011 for $500+/tonne. This price increase will be an even greater percentage increase than that with China. The worst that is likely to happen is that India will agree to the price China got. Remember that even the $470/tonne was more than 5%+ higher than analysts expectations for China. It would be higher than recent expectations for India too. The recent estimates for Indian prices were $410-$420 CFR. Even the $470/tonne price for India would be almost 15% higher than the analysts' former estimates. This means analysts upgrades are coming. It means the stock prices will get a boost, when those upgrades come.
This will mean more profits for the potash companies negotiating through Canpotex: Mosaic (NYSE:MOS), Potash (NYSE:POT), and Agrium (NYSE:AGU). This will lift other the fertilizer makers: Syngenta AG (NYSE:SYT), Intrepid Potash (NYSE:IPI), CF Industries (NYSE:CF), Terra Nitrogen (NYSE:TNH), KMG Chemicals (KMGB),Compass Minerals (NYSE:CMP), etc. This will likely lead to further fertilizer price increases soon in Europe, the Americas, Australia, and even Africa. There will be more upgrades from analysts, who will have new EPS growth estimates for 2H 2011 based on these still better fertilizer price numbers. MOS may be the biggest beneficiary of this with the 1,000,000 newly available tonnes of potash for sale after it notified POT that it had concluded its contract to supply it with the potash.
The drought conditions in the U.S. eased slightly last week. However, the drought is so severe that the small amount of rain in hard-hit areas such as Texas, did not change conditions appreciably. Drought conditions in the West worsened slightly. Overall there was perhaps a very minor positive change. There are still flood conditions in Iowa, Montana, North Dakota, etc. These are forecast to persist into September. So far the crop damage has not been extensive, but that could change with one storm.
The 5 year chart of MOS gives a good idea of the likely direction of MOS' stock price given the upward pressure on potash and other fertilizer prices.
The 5 year chat of Mosaic - (click to enlarge) :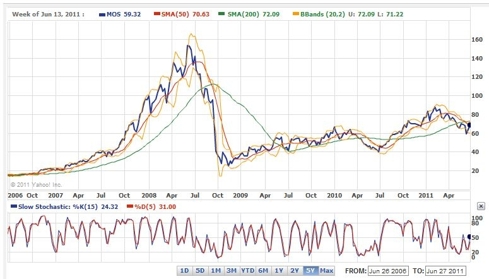 At its top in 2008, the price of MOS shares went over $150. Mosaic's high in 2011 is $89.24. The current price is $66.14. With the latest fertilizer price increases (and more likely to come) the price of MOS is likely headed quickly back to $89.24 and higher. The price of potash to China is now 17.5% higher. The price to India may soon be more than 25% higher. MOS's profits (and analysts estimates for revenue and earnings) seemingly have to go up. MOS has pulled back today, but I expected analysts will up their target prices, earnings estimates, and revenue estimates for MOS, POT, and AGU in the very near future. After the recent fall in commodities, this seems the perfect time for a rally in potash selling companies (and fertilizer companies in general).
If you look at the above chart, you see a very strong long-term up trend since Oct. 2008. It seems inconceivable that this trend would fail after the latest price increases. It seems more likely that MOS, POT, AGU, etc. are in for strong rallies upward. This should be a good stock to own. People still need food regardless of what else is going on in the world. There are 45 Asian countries that are forecast to grow at 7.8% or better in 2011 and 2012. The citizens of those countries who are benefiting from that growth will want more food. Next week may be a down week for stocks after this week's strong rally, but it is time to think about legging into long-term positions in these stocks. The upward trajectory of potash prices (the price to the Chinese went up $50/tonne in 1H/2011 from 2H/2010) is something you should not ignore.
Disclosure: I have no positions in any stocks mentioned, but may initiate a long position in MOS over the next 72 hours.