A New York Times/CBS poll released yesterday found that "Nearly nine in 10 Americans say homeownership is an important part of the American dream," according to the Times article summarizing the poll results. While 45% of respondents said buying a house was "risky", when asked about long-term savings, more people said they'd put their money into a house than chose the stock market (outside of subsidized retirement plans) as a good way to save.
This irrepressible American bias toward home-ownership is beginning to show up in housing-market trends. The latest Case-Schiller Home Price Index showed that seasonally adjusted home prices in major U.S. metropolitan areas, on average, continued to improve in April, with the year-over-year change down less than in March. In a Seeking Alpha post the other day, Scott Grannis noted that the RadarLogic Home Price Index shows similar indications of a turnaround, and the Pending Home Sales Index for May was equally encouraging.
Homies Still Struggling--Mostly
Homebuilders' financials paint a much bleaker picture, but financial reports are backward-looking. Would I suggest betting on housing-bubble high-flyers--such as Pultegroup (NYSE:PHM), Hovanian (NYSE:HOV) or KB Home (NYSE:KBH)--that are still shunned by the market? No. But there are a few companies in the homebuilding industry that appear to be stabilizing.
The one I'm focusing on today is Toll Brothers (NYSE:TOL). The stock has traded solidly in the $19-$22 range since the beginning of 2011. Despite a $0.08 earnings miss last quarter, the company halved its loss year-over-year, and the stock continues its trend of outperforming the construction-services industry average since the end of 2008.
click to enlarge images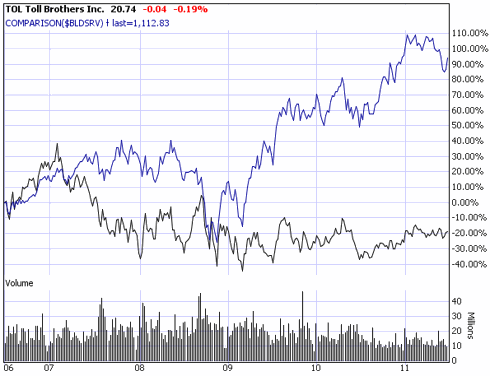 The consensus among 11 construction-industry analysts is that the company's earnings will grow steadily in the second half of 2011 and pick up substantially by the end of 2012. Revenue was weak last quarter as well, but again, the analyst community expects it to grow more than 37% in the second half of the year. Standard & Poor's rates the stock a "Buy", with a 12-month target price of $24.
The Trade
By no means am I an expert on homebuilders, but there's enough evidence to suggest that a neutral-to-bullish options trade on TOL is worth looking at. For investors with confidence in the company's strength, the August 19/20 put spread might be attractive: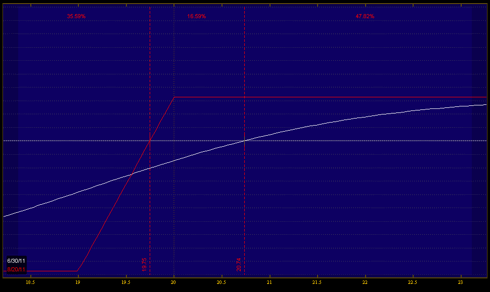 At a net credit of about $0.24, this trade has a profit potential in excess of 30%. In order to keep losses in line with anticipated gains, I would stop out--or adjust the trade--if the share price drops below $19.50 (which also happens to be a key level of technical support).
More conservative/neutral traders might prefer a 2:1 18/20 put ratio spread. For about the same credit, one could buy two TOL August 18 puts for every one putsold at the 20 strike and have the risk profile shown below: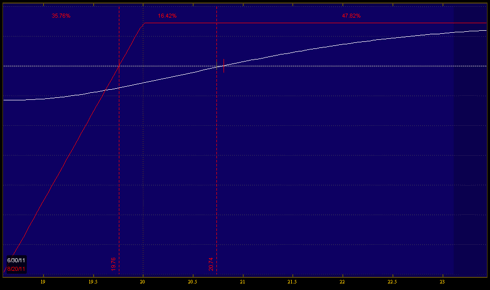 Assuming a net credit of $0.24, the potential return in this case is "only" 13.6%, but there's a lot more downside protection. If TOL were to drop below $19 today, we'd lose significantly less than we stand to gain. And, if some unexpected news sends the stock crashing to, say, $16 in the next week, our profit would more than double. But unless the stock looks like it's continuing to drop precipitously, a good stop-loss level to consider for this trade would be about $18.50.
I welcome any comments on the homebuilders and Toll Brothers in particular--but as I noted above, I don't claim to be an expert real-estate-industry analyst and I'd appreciate it of those whose opinions differ would contribute in a constructive manner. Looking forward to your feedback.
Disclosure: I have no positions in any stocks mentioned, but may initiate a long position in TOL over the next 72 hours.