This post is the latest in a series that follows the criteria first introduced in the article "4 Characteristics of Outperforming Stocks in a Post QE2 Market."
The end of QE2 is now upon us. And with the arrival of a new Post QE phase for the markets, it's worthwhile to take a closer look at the only stock sector that managed to post a gain during the Post QE1 experience from April 2010, to August 2010. This sector is utilities, and many names in the sector are setting up to perform well once again Post QE2.
The utilities sector offers great appeal in the current environment for a variety of reasons.First, the decelerating economy bodes well for utilities stocks. While firms from many other sectors are facing the prospect of softening demand in the coming months, utilities revenue is much more stable and predictable, as people are still going to turn on their lights regardless of how the economy is doing.Second, utilities deliver attractive income to investors that remain starved for yield in a market where short-term interest rates are virtually zero. For example, many high quality utilities stocks offer dividend yields that are in excess of 30-Year U.S. Treasury yields.
Third, investors may be seeking an alternative from income oriented asset classes that may be perceived at greater risk going forward. For example, High Yield Bonds (HYG, JNK), would be negatively impacted from a slowing economy and have shown early signs of breaking down in recent weeks. In addition, the threat of another debt crisis continues to loom large, particularly from Europe despite the recent events in Greece. If such a crisis event were to occur, investors would likely be seeking to shift away from exposures to Investment Grade Corporate Bonds (NYSEARCA:LQD) where financials make up a meaningful percentage of the asset class. Utilities stocks provide an attractive high income alternative for investors to reallocate in both instances.
Fourth, recent economic weakening has been accompanied by signs of disinflation if not outright deflation. This is positive for utilities, as their well-protected dividends will be valued even more by investors in such an environment.
Finally, the utilities sector is in the midst of a mergers and acquisition phase. Several major deals have been announced over the last few months, and further consolidation is likely in the months ahead. As a result, selected names in the sector also present the potential to realize a takeout premium.
The utilities sector is abundant with names that posted strong performance in the Post QE1 market last year. Given the wide range of choices, I sought to be particularly rigorous in my screening criteria of focusing on high quality utilities trading at attractive valuations that were performing well both fundamentally and technically. This included targeting utilities with a rising dividend yield already in excess of 4%, a well supported dividend with a relatively low payout ratio, a reasonable debt-to-capital ratio, operations located in stable and growing geographic areas, positive regulatory relationships, and strong revenue and earnings growth potential. In addition, I sought to avoid utilities that are currently in special situations (i.e. already engaged in a merger, etc.) or that have specific risks that may lead to unexpected short-term volatility (i.e. major nuclear exposure given events over the past few months). The following is a review of the six utilities that ranked among the best based on this criteria.
Alliant (NYSE:LNT)
Market Cap: $4.5 billion
S&P Credit Rating: BBB+
P/E Ratio: 13.3
Dividend Yield: 4.2%
Allliant is an electric utility with operations in Iowa, Wisconsin, and Minnesota. A large percentage of its power generation is sourced from low cost coal and natural gas. Alliant's operations have been stable for the last several years following a restructuring phase during the middle of last decade. The utility is financially healthy with an investment grade credit rating, an admirable debt-to-capital ratio of 47% and a dividend payout ratio at just 56%. Alliant has also rewarded shareholders with robust dividend growth nearing a double-digit annualized rate in recent years. Looking ahead, the utility has attractive growth prospects driven by solid customer growth, infrastructure expansion and specialized non-regulated operations. Lastly, Alliant typically gets on well with its regulators.
(Click charts to enlarge)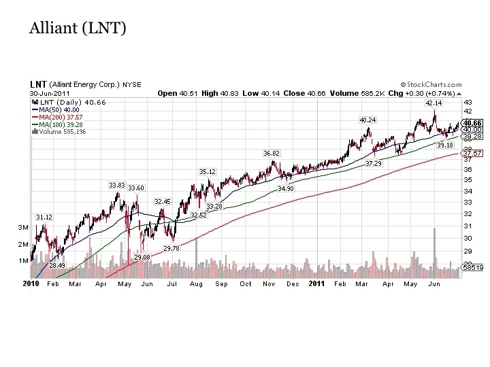 Trading Strategy: Alliant has been a consistent performer over the last few years. The stock price has steadily risen in the last 18 months with relatively low volatility along the way. Alliant shares have found strong support at its 50-day moving average, as it has effectively ridden this level higher since last summer with any spikes higher quickly regressing back to the 50-day. Any breaks below this level have quickly found support at both the 100-day and 200-day moving averages. Thus, an entry point at any of these levels is sensible and provides well-defined support.
Westar (NYSE:WR)
Market Cap: $3.1 billion
S&P Credit Rating: BBB
P/E Ratio: 14.8
Dividend Yield: 4.8%
Westar is the largest electric utility provider in Kansas. The company has enjoyed financial success and has posted a strong track record of growth since emerging from what was a difficult period at the beginning of last decade. Today, the company boasts a debt-to-capital ratio of 53% and a sustainable dividend that has increased at a 6% annualized rate over the last five years. In terms of power generation, the utility generates nearly 90% of capacity from coal and natural gas with the remainder from nuclear and wind. Looking ahead, Westar has strong growth prospects with a major capital investment plan that is broadly supported by local regulators.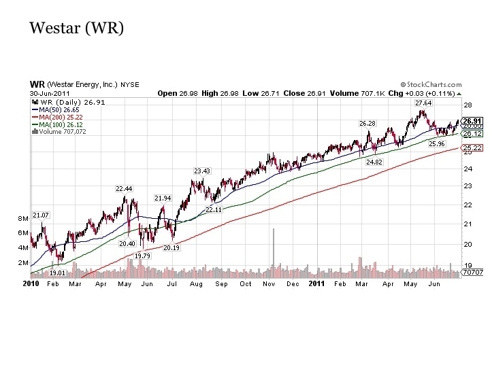 Trading Strategy: Westar has a great deal in common with Alliant in terms of price performance. The stock price has been a steady riser in recent years with low volatility. It has found strong support at its 50-day moving average, although more recently it has been deriving support from its 100-day moving average. And during the Post QE1 period from last summer, the stock quickly found strong support at its 200-day moving average. As a result, an entry point at any of these levels could be justified and has support underneath.
Consolidated Edison (NYSE:ED)
Market Cap: $15.6 billion
S&P Credit Rating: A-
P/E Ratio: 14.1
Dividend Yield: 4.5%
Consolidated Edison is among the oldest and most established utilities. Its primary service area is New York City, so its customer growth potential is limited and its regulatory hurdles a bit more complex. However, future growth potential exists through much needed infrastructure improvement projects in the coming years. Con Ed has delivered solid revenue and earnings growth over the last decade and is financially healthy with a debt-to-capital ratio below 50%. Although its been incremental along the way, the utility has increased its dividend each year going back to the Nixon administration.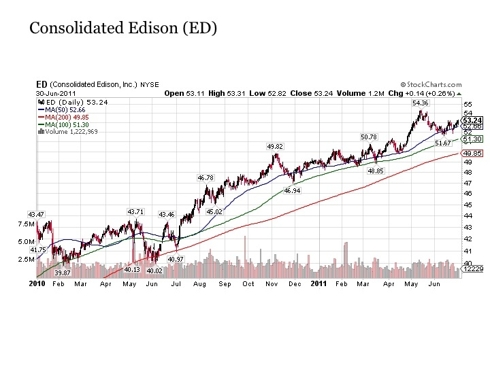 Trading Strategy: The setup for Con Ed has been fairly straightforward over the past 18 months. The stock has found consistent support at its 50-day, 100-day and 200-day moving averages. While the stock is currently riding just above its 50-day moving average, it may be worth waiting until the stock tests its 200-day moving average, as this was the level tested three times during the Post QE1 period from last year.
American Electric Power (NYSE:AEP)
Market Cap: $18.2 billion
S&P Credit Rating: BBB
P/E Ratio: 14.6
Dividend Yield: 4.9%
AEP ranks among the largest electric utilities in the country with service that stretches across 11 states including Ohio, Virginia, West Virginia, Texas, and Oklahoma. The utility is a low cost provider with 82% of its power generation from coal and another 9% from nuclear. In addition, nearly all of its revenues come from regulated operations. AEP is also financially healthy with a debt-to-capital ratio of 53% and a dividend payout ratio that is typically below 60%. The utility has also increased its dividend by nearly 4% annualized over the last five years.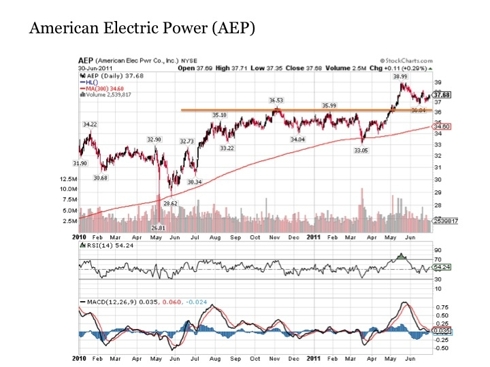 Trading Strategy: AEP has several well-defined support levels that may be worth considering for a potential entry point. First, the utility spent most of the QE2 period working to break above the $36 to $36.50 range. It finally succeeded in breaking out in May 2011, so this range now serves as support. An even better entry point exists at the 300-day moving average. A pullback in AEP shares to this level with an RSI around 30 and an MACD reading between -0.25 and -0.50 would be particularly attractive, as such conditions have indicated a bottom before a sharp rally twice since early 2010.
WGL Holdings (NYSE:WGL)
Market Cap: $2.0 billion
S&P Credit Rating: A+
P/E Ratio: 15.2
Dividend Yield: 4.1%
WGL Holdings is the parent company of Washington Gas Light Company, which provides natural gas services to the Washington D.C. metro area including the District of Columbia and the surrounding areas in Maryland, and Virginia. This coverage area is particularly attractive given that it offers growth potential from a generally affluent customer base. Nearly all of WGL's operations are regulated, and the underlying financial performance has been remarkably consistent regardless of the economic environment. Notably, WGL was one of the extremely rare common stocks that made its way through the 2008 financial crisis largely unscathed along the way. The utility is also about as healthy as they get in the sector including a debt-to-capital ratio of just 32%. The utility also has a long track record of increasing its dividend.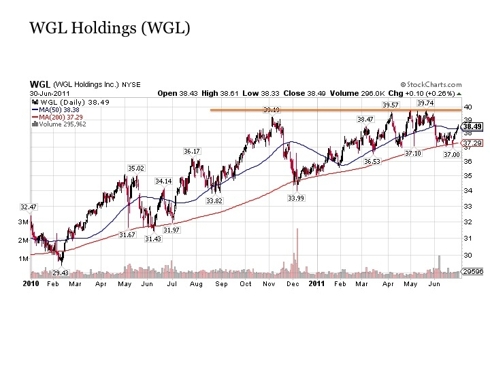 Trading Strategy: WGL Holdings has found support at two key levels. On a short-term basis, the 50-day moving average has provided consistent support for the stock price. However, the stock has shown the tendency to periodically make a sharp break to the 200-day moving average. This has proven to be a particularly attractive entry point. WGL stock currently faces upside resistance in the $39.20 to $39.75 range. Any breakout above this level would be bullish going forward.
Vectren (NYSE:VVC)
Market Cap: $2.3 billion
S&P Credit Rating: A-
P/E Ratio: 14.7
Dividend Yield: 5.0%
Vectren is an electric and natural gas utility serving Ohio and Indiana. While its coverage area generally offers lower growth potential, Vectren has a positive relationship with regulators and has favorable rate structure agreements. The utility is also a low cost operator with roughly three-quarters of power generation coming from coal. Vectren also has several interesting non-regulated businesses including coal mining, energy marketing and energy infrastructure. The utility is financially healthy including a debt-to-capital ratio of 52% and has an impressive dividend track record, having raised it each year dating back to the Truman administration.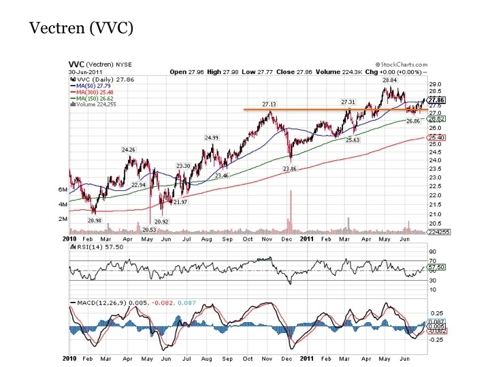 Trading Strategy: Vectren continues to set up well from a technical perspective. First, the stock has found support at its 50-day, 150-day and 300-day moving averages at various points along the way. In addition, the stock also now has support in the $27 to $27.30 range after breaking out above this level in April 2011. The stock is currently working to fight its way back above its 50-day moving average, but any pullbacks to these support levels may provide a suitable entry point. A particularly attractive set up would be a pullback to either the 150-day or 300-day moving average with an RSI at 30 or below and an MACD between -0.25 to -0.50. This has set the bottom in Vectren's stock and served as the basis for a rally on several occasions in the past 18 months.
Also see:
10 Food and Beverage Stocks for a Post QE2 Market
4 Household Product Giants for a Post QE2 Portfolio
5 Sin Stocks to Watch for Summer
Disclosure: I am long LNT, WR, LQD.
Disclaimer: This post is for information purposes only. There are risks involved with investing including loss of principal. Gerring Wealth Management (GWM) makes no explicit or implicit guarantee with respect to performance or the outcome of any investment or projections made by GWM. There is no guarantee that the goals of the strategies discussed by GWM will be met.