Sprint is a typical case of a company turning things around. The company has been losing value since 2008 when it experienced a decline in total postpaid subscribers (the industry's most valuable metric), while Verizon (NYSE:VZ) and AT&T (NYSE:T) were increasing them. In Q1 2009 alone Sprint lost more than one million postpaid clients. Sprint has lost contract customers in 14 of the past 15 quarters.
Sprint lost customers for three main reasons:
Horrible customer service. I used to be a Sprint client for several years, but every time I ran into a problem they could not solve it. For instance, sometimes I went over my minutes, never received an alert, and was charged a ridiculous amount of money.
Lack of an innovative phone lineup and ecosystem capable of competing with the Apple iPhone.
Outdated technology in its network.
However, it now seems that Sprint is addressing these three problems, and positive things have started to happen.
Customer service
Sprint joined the "Customer Experience Professionals Association" as a Founding Corporate Member. This is a good sign that Sprint is heading in the right direction,. The following quote is from Sprint's news release on June 8, 2011:
Sprint has become a Founding Corporate Member of the Customer Experience Professionals Association. As the first wireless carrier to become a member of the global industry trade group, Sprint joins more than 30 other Founding Corporate Members of CPS, whose responsibility is to create and maintain an overall positive customer experience.

"The establishment of the Customer Experience Professionals Association reflects the growing importance for companies to deliver on their promise of providing a superb experience to customers," said Jerry Adriano, Sprint vice president, Customer Experience. "We want our customer experience to be the reason why customers choose to come to and stay with Sprint."
As one of its ongoing top priorities, Sprint recognizes the importance of improving the overall experience for its customers. The company recently announced its 13th consecutive quarter of improvement in customer satisfaction and first-call resolution. Last month the American Customer Satisfaction Index recognized Sprint for becoming the number one most-improved company in customer satisfaction across all industries during the last three years.
Lack of an innovative phone lineup and ecosystem
Back in 2004, Sprint was selling the PALM Treo, probably the first smartphone in history. At the time, Palm used to have the best smart phone ecosystem with great applications like Vindigo and many others. Unfortunately, PALM's OS never upgraded, and Vindigo and many other developers went bankrupt, especially when Apple (NASDAQ:AAPL) released the iPhone.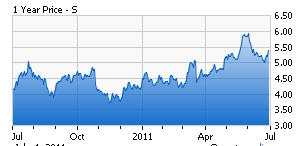 After that, everything was a disappointment. Sales of Palm devices plummeted and most of the developers abandoned the platform. Palm almost went bankrupt, only to be saved by HP (NYSE:HPQ) that bought the company for $1.2B in cash. Everyone that used to like Palm (including me) moved to AT&T as soon as the 2 year contract with Sprint expired. Sales on Sprint sank, and everything went red.
Now things looks different. Google (NASDAQ:GOOG), in partnership with several phone manufacturers, has introduced a very attractive lineup of products in Sprint, especially those manufactured by HTC and Samsung. The new Evo 3D is perhaps the most beautiful and inspiring phone I have even seen; I'm actually considering moving back to Sprint just to get this beautiful phone that allows users to take and see pictures in 3D without glasses. In some areas I consider this phone a much better bet than the iPhone. These are some of the features where the new Evo beat the iPhone:
Bigger Screen (4.3", compared with 3.5" for the iPhone)
1,2 GHZ processor compared with 1 GHZ for the iPhone
Availability to take and see pictures in 3D
SD Card slot
Better video and pic resolution 1,280p (20 fps) compared with 720p (20 fps) for the iPhone.
As an industry insider, I have seen Sprint's growth over the past few months. Sales are picking up and customer retention is getting better. I'm sure on the next quarterly report Sprint will be announcing a net addition on postpaid clients - which would be the first one in years. This is going to be the first clear sign that the company is actually turning around and it should be a clear wake-up call for investors.
Sprint lost 114,000 net postpaid subscribers during the three-month period ending March 31, 2011 as compared to 578,000 during the same period in 2010. This is a net improvement of 464,000.
Things look even better for prepaid customers. Sprint added 846,000 net prepaid subscribers during the three-month period ending March 31, 2011, as compared to adding 348,000 during the same period in 2010. Sprint's prepaid brands are: Boost Mobile and Virgin Mobile.
Given the current macroeconomic conditions, my guess is that the price of Sprint shares may continue to decrease, at least for 3 to 6 months, reaching $3-4 by December. But after that I see incredible growth for the next 2 years. My guess is that in 2012 and 2013, shares will be around $20.
The new Evo 3D is simply an impressive phone ,and given the $199 price that matches the iPhone 4, this phone will be a hit and a great boost to Sprint's net sales.
Network improvement
Sprint made one of the biggest mistakes when it acquired Nextel back in 2005 for 36 billion. This was a disastrous decision, and Sprint probably lost around $30B of its value of this operation. Sprint wrote down the value of Nextel just three years later to $6 billion, and is still in the process of closing Nextel's iDen network and merging those subscribers into its chief network. Analysts estimate savings of around $2 billion a year when it's completed in 2015. The only manufacturer who is still producing phones for Nextel's old technology is Motorola (MOT), and most likely they will stop soon due to the low demand of these devices.
In order to improve its network, Sprint has taken three different approaches:
It is partnering with Clearwire (CLWR) to offer 4G to its customers. Spectrum is becoming a scarce resource for carriers as more consumers use data-hogging phones and devices that consume more bandwidth, especially in crowded urban areas. The more spectrum you have, the more data you can handle. And Sprint has more than three times the spectrum for 4G than Verizon or AT&T, which could be a huge advantage going forward. Sprint is a part-owner of Clearwire.
Sprint is partnering with LightSquared to share and expand a 4G network based on the LTE technology, which is different than the technology used by Clearwire - WiMax. The LTE technology has become the preferred technology for partners and manufacturers. Sprint is not putting all their eggs in the same basket. Billionaire Philip Falcone's LightSquared Inc. reached a 15-year deal with Sprint to share network expansion costs and equipment, and to provide high-speed wireless service to the phone company. Sprint has pledged $5 billion to upgrade its network over the next three to five years; Falcone has initially committed 60% of the capital from his hedge fund to the project, but the total joint venture is estimated at $20 billion. The plan for the network is to cover 260 million people by 2015.
Network Vision, which is a multi-year network infrastructure initiative intended to provide customers with an enhanced network experience. This was done by improving voice quality, coverage and data speeds, while enhancing network flexibility, reducing operating costs, and improving environmental sustainability by enabling the aggregation of multiple spectrum bands onto a single multi-mode base station. The first stages of equipment testing began in the first quarter of 2011 and, if successful, deployment is expected in the latter half of 2011 with an expected completion time of anywhere from three to five years. As Network Vision is implemented, the size and power required to operate the network is expected to be reduced.
There's no doubt Sprint is turning around, and it is a great investment today. Asset utilization is improving - 0.64 compared with its peers Verizon and AT&T currently at 0.47. Price per book value is also more attractive: 1.09 compared with Verizon at 1.15 and AT&T at 1.62.
Disclosure: I am long S.