Shortly after we released our analysis of the fleets of the largest legacy carriers, The Wall Street Journal reported that AMR Corp. (AMR) is interested in ordering as many as 250 planes from either Boeing (NYSE:BA) or Airbus (OTCPK:EADSY). Our analysis, the summary graph of which we provide below, indicated that AMR is roughly on par with Delta (NYSE:DAL) for having the oldest fleet (read fuel-inefficient) among the Big 4 domestic majors, so we view this move as inevitable.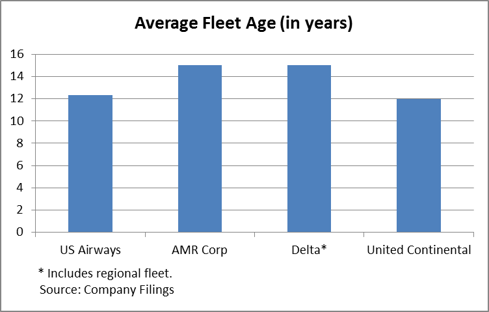 (Click chart to expand)
The Wall Street Journal also indicated that the order value could be as high as $15 billion (comprising about 250 planes), and we suspect the new aircraft being evaluated will replace AMR's roughly 220 MD-80s, which are roughly 20 years old. Verbatim from our June 9 report: "AMR is still flying over 220 MD-80 aircraft that are roughly 20 years of age (ouch!), on average." As we had outlined in Is AMR's Equity Practically Worthless, we believe it very difficult for AMR to achieve the necessary annual mid-cycle free cash flow stream for its equity to have any practical value at all (only option value). And this replacement order will only further pressure its cash-flow stream (while adding further leverage), albeit with tangible benefits with respect to fuel-efficiency in subsequent years following initial delivery (perhaps in 2015).
Reading further into this news, Boeing is in a rather precarious position. Airbus has claimed all along that it will capture customers currently flying the 737 with its A320neo (new engine option), an upgrade to its A320 that has the option to sport more fuel-efficient engines. The Paris Air Show confirmed our analysis that the A320neo was the best plane for the 150-200 seat segment, and we would not be surprised to see AMR opting for the Airbus re-engined aircraft. As many airline executives have indicated, they want replacement planes sooner than later and may not have the patience for Boeing to build a brand new narrowbody by 2019-2020. This would be a huge shift if AMR ties the knot with Airbus (even for a portion of the deal pie), as the carrier currently flies all Boeing aircraft (Source: AMR 10-K).

Importantly, however, we don't think that AMR may be the only all-Boeing carrier to switch to another commercial aircraft maker -- read our case as to why Ryanair (NASDAQ:RYAAY) and Southwest (NYSE:LUV) may switch here. And despite the huge number of orders Airbus raked in during the Paris Air Show for its A320neo, Boeing continues to be content with inaction at this time -- it still hasn't decided what to do next with its 737 (a re-engining by 2016 or a brand new build by 2019-2020). We suspect that AMR is asking Boeing to re-engine the 737 and threatening to make the transition to Airbus, if the domestic jet maker does not cave in.
After all, if fuel prices spike considerably and the economy heads south during the next few years (and AMR does nothing with its fleet), the firm's liquidity position will wane. And if AMR does do something, why not go with the best plane that's currently being offered in the 150-200 seat range, the A320neo? We don't buy Boeing's argument that its soon-to-be legacy 737NG is on par cost-wise with the A320neo -- airline customers at the Paris Air Show have voted, and they tend to agree with us.
This potential order also reinforces our bullish thesis on the aerospace industry during the next few years. Although we see upside for Boeing, we think better plays are within the aerospace supply chain. As for airlines, we maintain our view that long-term investors should steer clear of the space.
Disclosure: I have no positions in any stocks mentioned, and no plans to initiate any positions within the next 72 hours.