I receive at least five e-mails daily from very concerned investors asking me the same recurring question in different forms. "Should I hold onto my Apple (NASDAQ:AAPL) 2012 Call Options?" This seems to be the central theme these days especially in light of the recent weakness on Wall Street. With these very popular options set to expire in just a little over 6 months, 2012 call holders are faced with very difficult decisions to make. Decisions that are neither without their monumental risks nor without their major drawbacks.

In fact, nearly every choice January call holders have to rectify the negative consequences resulting from the recent destruction of leap premium over the past two months is equally as difficult as the next. Moreover, those 2012 call holders who are down more than 50% are immediately put in a position of immeasurable risk regardless of the course of action, if any, they decide to take.

There are several different strategies available to 2012 call holders that can be used to potentially restore lost value from the recent option premium deterioration. Given the nature of the content, the best way to approach this material is through the use of a thought experiment.

Yet, before getting into these different strategies, which will be the topic of Ch. 2 of this series, it is prudent to first lay out the 6-month outlook for Apple including where the stock could be headed in the short and intermediate term. Understanding the directional outlook for Apple is key to making an overall decision on what if anything to do with a depressed 2012 Apple call position.



Looking at Apple's Stock Seasonality
Just like with any other sector, it is important to realize that Apple's stock price trades in a very distinct and consistent seasonal trend. Apple tends to perform much better in the second half of the year than it does in the first half. This has been the case for nearly 10 years now.

What we usually see with Apple is the start of a major rally, which generally begins sometime between the months of July and August, and which ends sometime in months of January or early February. We've seen this happen on so many occasions.

Believe it or not, every single year for the past eight years, Apple has seen at least a 10% correction, which all started sometime in early January or February. In fact, six of these major corrections begin January and two — including this year — began in February. Even more interesting is the fact that these corrections tend to end in either March or July.

So the seasonal pattern we tend to see with Apple is a huge second-half rally, which begins sometime between May and July, and which almost always ends in January.

The chart below lays out all of the second-half rallies that we've seen over the past 8 years. With the exception of the financial crisis, Apple has seen at least a 48% move off of the lows set sometime between the months of May and August. All of these rallies are considered as ending in January. 2011 is a Bullish Cross estimate for the second half of the year.

Now compare this chart above to the one below. Notice that Apple hasn't gone a solitary year without having a major correction — greater than 10% — that began in January or February. 2011: February; 2010: January; 2009: January; 2008: January; 2007: January; 2006: January; 2005 Feb; 2005 January.
This recent weakness in Apple shouldn't surprise anyone. Apple generally tends to struggle in the first half of the year. In 2006, Apple saw a brutal 41.94% first-half correction that brought the stock down from a high of $86 to a low of $50 in July before it saw a near 100% move in the second-half of the year. In 2005, we saw the same thing. After a huge second-half 2004 rally, the stock topped in February before undergoing a 27.13% correction that ended in May.
This recent correction in Apple should actually be viewed as good news to investors. Apple saw two of its biggest rallies off of the heels of two deep and protracted corrections. In 2005, after moving down 27.13% between the months of February and July, Apple saw a 160.95% second-half rally, which brought it to the 2006 $86 highs. After correcting for 6-months for the first half of 2006 (-41.94%), Apple saw a 94.98% second-half rally, which ended in January 2007.
This year seems to be one of those 2005/2006 type years. Though Apple's fundamentals are impeccable and growing stronger by the day, and though Apple continues to trade at a very cheaper valuation raising doubts in even the biggest bulls, the stock has basically undergone a similar 6-month correction. A case can be made that Apple is headed for one big rally in the second half of the year.
That is if the general seasonal trend continues to hold as it has in the past. This should also teach every investor a very important lesson about January. Though January tends to be the crescendo of Apple's bullishness, it is also the most deadly month of the year for its stock price. In fact, there should be a new saying in town: "Sell in January and Stay Rich." The table below lends credence to this new platitude: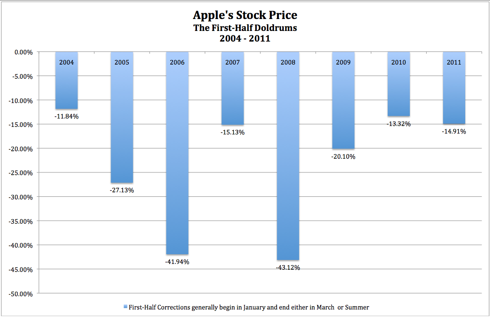 Even without looking at where corrections or rallies begin and end, there is still a very interesting asymmetry in the seasonality. The chart below outlines how Apple has tended to perform between certain periods of time. Notice, that with the exception of the financial crisis and its corresponding recovery year, Apple tends to far outperform between the days of July 1 and December 31, than it does between January 1 and June 30.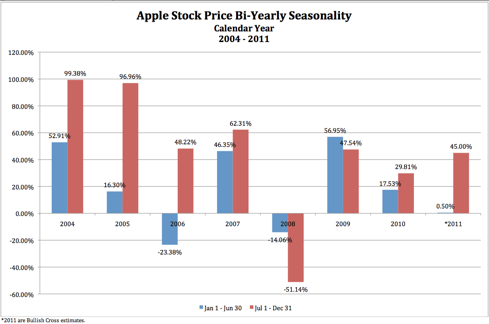 These next two charts break down Apple's quarterly seasonality, and a peak to trough analysis. As indicated in the first of these two charts, Apple's third and fourth calendar quarters tend to be very favorable for its stock price. With the solitary exception coming in 2008, calendar Q3 — which starts next week — has produced gains of at least 15%. Seasonally speaking, calendar Q3 tends to be the strongest quarter of the year for Apple followed closely by calendar Q4 (Oct – Dec).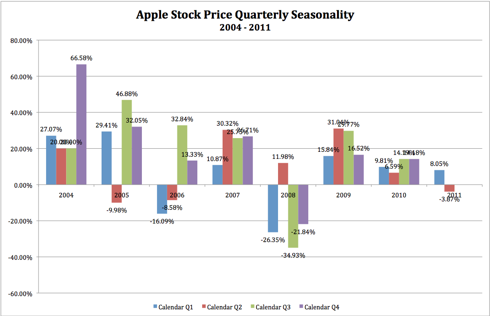 The second of these two charts outline every peak to trough of the last 6 years. What is very important to notice here is that Apple tends to eventually see some sort of major correction ahead of a big move up in its stock price. The stock isn't always going to move in a straight vertical line to $1,000 a share. It will move up significantly, and then see a major correction. These corrections tend to happen in January. If Apple is up 50% off of its $310 lows set last week, you can expect to see some major weakness to follow come January 2012.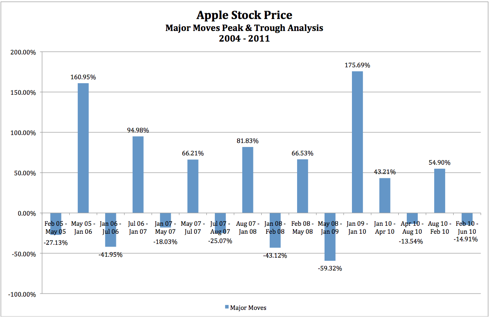 So what if anything can we conclude from Apple's seasonality regarding where the stock could be headed over the next 6-month period (second-half)? How does this impact the decision making process with respect to January 2012 call holders? First, as everyone already probably knows, past history doesn't guarantee future performance.

Those betting that Apple would see fresh all-time highs in the second half of 2008 were sorely disappointed when the stock lost 60% of its value in what was supposed to be the seasonally strongest period in the company's history. Even as late as August 2008, there were no obvious signs of a potential stock market crash even to seasoned financial analysts.

Ironically, on August 20, 2008 — just 1 month before Apple lost 50% of its value — Senior analyst Gene Munster at Piper Jaffray made the very same arguments I'm making above to CNBC's Fast Money. He argued that technology stocks generally tend to outperform in the fall and winter months, and that Apple's cheap valuation meant that it was time to buy the stock. You can see the video of Munster arguing seasonality a month before the peak of the financial crisis here.

Now I point this out for the simple reason that if the macro-economic environment continues to deteriorate in the second-half of the year despite the Federal Reserve's outlook, seasonality isn't going to matter. All that seasonality can tell us is that if we're in a stable market environment where this recent brutal 8-week correction ends and if the economic outlook improves, that Apple will probably see a major rally in the second half.

Yet, I think it should be noted that the S&P 500 has never fallen for 5 straight weeks outside of a bear market. Generally, the maximum number of consecutive down weeks for the S&P 500 during bull market has been capped at 4. Even during last summer's 20% correction off of the European debt crisis and the flash crash, we never had more than four consecutive down weeks. In this correction, we had 6 consecutive down weeks, a flat week followed by another down week. That is a very bearish 8-weeks of trading on the S&P.

Double-Dip & the Lack of Stimulus Risk
Now just because we're down just about 8 weeks in a row doesn't necessarily mean we're in a bear market. But it does mean we have very weak tape that can turn into something far more sinister. It should be a major worry for short and intermediate-term Apple bulls. The market's perception of the macro environment is far more important to Apple's 6-month outlook than is Apple's fundamentals, earnings or valuation. Even if Apple grows its earnings by 200% next quarter, it will make not one bit of difference if the broader market perceives significant risks in holding stocks for the second half of the year.

Apple's best quarter in the last six years — from an earnings growth perspective — came in its fiscal Q1 2009 (October – December 2008) where it recorded 155% year-over-year (YoY) growth. Too bad it happened during the financial crisis, which lead to a 70% drop in its stock price overnight. It's very important that investors understand that the market perception of the macro economic environment is the single most important factor in the determination of short and intermediate-term stock prices. Long-term direction is a different story altogether.

Right now the market perceives at least three major risks heading into the summer months and second half of the year. First we have the ongoing European Sovereign debt crisis, which doesn't seem to want to go away. The market sees Greece as being the center of the universe and if the country collapses, then it means the world collapses.

Obviously Greece is a very small country, but the potential counter-partiy implications could be quite significant. There is also the risk that these credit woes can spread to other European countries and result in a massive-scale sovereign default. Whether this is the case or not is irrelevant. The fact the market views it this way is all that matters. Market perception is far more important than economic reality.

Fears of a double dip recession are far more damaging and far more contagious than are the consequences of a double-dip. In fact, the economy can grow 6.3% in Q3 and 7.5% in Q4, and it makes absolutely no difference whatsoever if the market believes we're headed for a double-dip. By the time evidence to the contrary is revealed, the damage would have already been done. Market perception is far more important than economic reality.

Finally, even if the market gets over these contagion fears of the ongoing sovereign credit crisis in the European Union or the fact that the U.S. might be headed for a double-dip recession as a result of the obvious lack of improvement in the jobs picture, there is this underlying fear that this market cannot rally higher without the full support and backing of the Federal Reserve.

In fact, I can't remember the last time the stock market has been able to rally on its own two feet. Since August 2007, every single rally we've had in the stock market has taken place within the context of Fed support. First we had a major injection of Fed capital in August 2007, which lead to a strong fourth-quarter rally. Then just after the financial crisis when the whole world has gone sour, the federal reserve came in and instituted its policy of easy money with its first bout of quantitative easing.

The minute the Fed decides to pull the plug on its QE1, the stock market undergoes the flash crash and a massive 20% summer correction between April and August 2010. In fact, the market looked so bad heading into the fall that the Fed had pretty much no choice but to announce QE2. The only thing holding the market above water heading into the fall of 2010 was the several POMO injections the Fed sprayed into the financial system from mid-August until it officially announced QE2 in late November.

Finally, we get to May and the market begins to see significant selling ahead of the end of QE2, which is scheduled to end this week. This will be a major test for the financial markets. Can the stock market function without the aid of the federal reserve? That is yet another major risk for short and intermediate-term Apple investors.

If this entire stock market rally from the March 2009 lows is entirely the result of Fed policy, that will not bode well for stocks, the financial system, trade or the United States' existence for that matter. It is very possible that these last 8 weeks of selling pressure could all be the result of hedge-fund redemptions ahead of the real sell-off scheduled to take place this summer and fall.

Now is this likely? Probability not. Is it possible? Definitely. Should this be a major concern for 2012 call holders? Yes it should. I think the risk that the market can't rally without fed support is a very real possibility. It could also just be a mere coincidence that every rally has been done within the context of easy money and that every correction has occurred whenever the fed has pulled its support from the markets. We'll find out this summer.

Apple's Earnings & Valuation in the Second Half
Now supposing the market is able to get past these macro issues, here's where the earnings picture and Apple's short-term valuation seems to indicate that the stock is headed. I'm expecting Apple to report about $27.00 in earnings this year — which ends in October. The stock currently trades at about 15.5 times its TTM (trailing twelve-months) of $20.99 in EPS or $325.35 a share.

Assuming Apple is able to hold its current valuation and 15.5 multiple after it reports earnings in October, the stock would trade at $418.50, which would represent a 34.78% gain form the June $310.50 correction lows. According to the "second-half rally" chart above, that would be the lowest second-half rally over the last 8 years if you count the financial crisis as an outlier year.

On the other hand, if the stock continues to trade at these poor levels after reporting earnings in July and October, the stock would be trading under a 12 P/E ratio. While it's not unfathomable that this could happen — see the financial crisis — it's probably less likely than a second-half rally.

Another factor January 2012 call holder must consider is how the iPhone 5 launch in the fall will affect the stock price. If Apple unveils a block-buster smash hit and generates all types of buzz, there's going to be a lot of momentum in the stock price. Especially since the release of the iPhone 5 will coincide with fiscal Q4 earnings. So there will be a lot catalysts that can drive the stock higher heading into the winter.

The next article is going to cover the different strategies that 2012 call holders can employ to reduce or increase risk in such a way to potentially restore significant lost value as a result of this recent brutal correction. This article focused on the major risks and potential headwinds heading into the second half of the year. Notice none of those headwinds actually pertain to Apple. From a fundamental and valuation perspective, Apple is dirt cheap and firing on all cylinders. It's pretty much the best all around company out there from a purely fundamental perspective.

Yet, the biggest risks are all macro-related. I'm not saying that all 2012 call holders are automatically dead in the water due to these macro issues. In fact, I believe the market could see a significant July relief rally on the heels of this 8-week beating. It is not uncommon for this to happen — see last year's correction.

What I am saying however, is that none of the choices in front of 2012 call holders is going to be easy to make. Apple's 6-month direction is not 100% obvious. If the market bottoms however, it may become far more obvious. We're not there yet.

At the same time, we also have to ask ourselves, if the market does bottom, how far can Apple actually go heading into 2012? Last year, the stock rose 48% form its August $235 lows to its January $348 highs. If we got the same move this year off the $310.50 June bottom, that would suggest a move to $460.00 a share.

This is very possible. In fact, at $460 a share, Apple would only be trading at 17.02 times last year's earnings. And believe it or not, Apple traded well above that P/E ratio for pretty much all of last year and up until this past May.

Moreover, that 17.02 P/E ratio would be very temporary in nature. When Apple reports earnings in January, the stock will have more than $31 in trailing earnings under its belt. At $460 a share, that would put the stock at a 14.84 P/E ratio. So from a valuation perspective, it's not crazy to think Apple could rally as high as $450 by January.

Yet, that would probably only happen in the best case scenario. Look at the trading environment Apple was in last fall when it made its 48% move. The stock market was rallying every single day. In fact, the S&P 500 broke multiple records for the number of days without a single 1% pullback. Apple was trading in the most optimal environment possible.

Instead, I think that it's more likely that Apple will probably briefly break $400 a share before falling back and closing close to that number near expiration. That of course presupposes that the market's perception of the macro-economic environment improves, and we get some sort of a firm bottom this July. I think in that set of circumstances, $400 a share is very likely and $450 is a solid possibility.

I think what is the most likely scenario, however, is a solid break above $400 to a high of $420 a share, then a manipulated pull-back to $400 at expiration to wipe out $400 call holders. That scenario wouldn't surprise me at all.

We'll get into the different strategies one can employ to maximize his or her chances of restoring significant lost value as a result of the first-half woes. You can read the second part of this series here.

Disclosure: I am long AAPL.