New Credit Spread Options Strategy – Beta
The window dressing that typically occurs during the end of quarters is in full effect.
The Russell 2000 (NYSEARCA:IWM) has charged higher over the past four trading days and yet the 86/88 IWM put vertical that I sold is still well-positioned. At $82.90, IWM is still roughly 3.6 percent away from the short strike.
I like this scenario. IWM has moved into an extreme overbought state and as a result I will most likely place a trade in the High-Probability, Mean-Reversion strategy tomorrow. IWM or another high-beta ETF will be the underlying of choice, if indeed a trade occurs. This should bring the IWM credit spread back to break-even with the potential of making some nice gains if a trade occurs and IWM moves lower into a neutral state.
Again, I like this scenario because now both of the options strategies are working in unison. I am able to collect premium in the Credit Spread strategy while patiently allowing time decay to work its magic. And, while I allow the time decay to eat away at my credit spread I am able to play short-term extremes in the ETFs I follow in the High-Probability, Mean-Reversion strategy. Intermediate and short-term options strategies at work.
Just like diversifying a portfolio of stocks, you should do the same when investing with options – diversify your options strategies.
Here it is: the first trade in my new Credit Spread Options Strategy, officially named Crowder's Credit Spreads. I will continue to go over the trade in full detail in the Free Weekly Options Report.
Market Mumbo Jumbo
Summary
Same message: Not much has changed over the past few weeks - range-bound trading persists. I appears we could see the markets move sideways for a few more months. Are the summer doldrums already upon us? How long can the S&P 500 (NYSEARCA:SPY) stay in this range of roughly $126 to $137? The question is, while I continue trading extremes in the HPMR strategy , how can I take advantage of the range-bound movement at the same time. You guessed it – a credit spread! I will discuss this further in Weekly Options Report.
Options Strategy Indicator – Overbought / Oversold Extremes
(click chart to enlarge)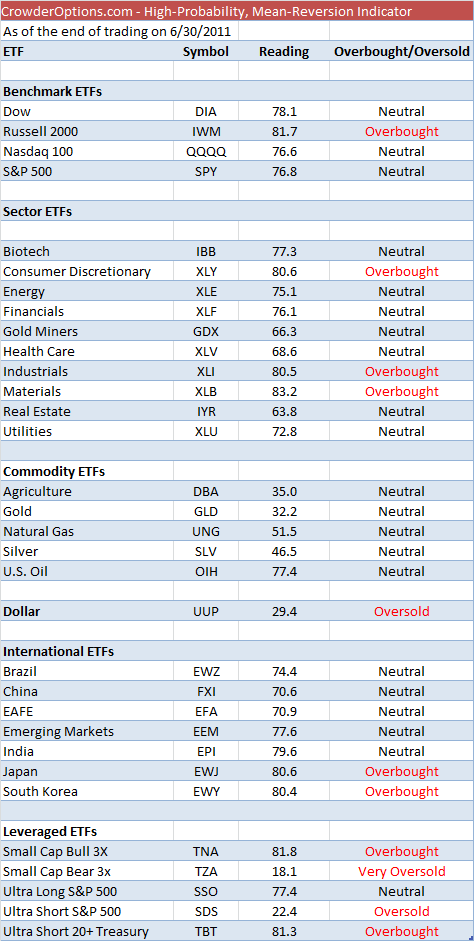 Disclosure: I have no positions in any stocks mentioned, but may initiate a short position in IWM over the next 72 hours.