From Trader's Narrative comes an interesting piece on Citigroup's (NYSE:C) Economic Surprise Index:
The Citigroup Economic Surprise Indexes are a clever concoction that measures the variations in the gap between the expectations and the real economic data. The input consists of the actual econometric data that moves foreign exchange markets – the bigger the data moves forex markets, the more significant its weight in the index.
For a visual, the index is below:
[Click to enlarge]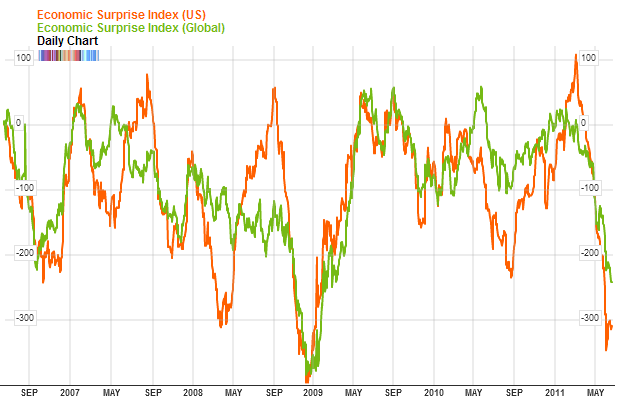 Source: Citigroup, Trader's Narrative
Everyone hates the economy right now — and that often means we are close to a bottom. Our own sentiment survey indicates that investors remain deeply concerned about the market. I don't know whether the indicator will pan out this time around, but it's interesting and certainly non-consensus. Trader's Narrative points out:
The important take away point here is when economic data is absolutely horrendous – as it is getting to be now – important lows are close at hand. When everything is sunshine and lollipops, you better run and find a good bombshelter!
Surprise, surprise, surprise! Gomer Pyle couldn't have said it any better.