We're half way through 2011, with the Dow up 7.23%, and the S&P (NYSEARCA:SPY) up 5.01% so far. Not bad, especially when you compare it to the first half of 2010, in which the Dow fell -6.3%, and the S&P was down -7.9%. Of course, the second half of 2011 most likely won't have the benefit of a massive QE2 $ injection, like 2010 had. So, what do you do to lock in some gains on some undervalued dividend paying stocks?
Selling covered calls is one proven way to more than double your dividends, and also lower your downside risk. This week, we found 5 Dow dividend stocks with low Price/Earnings Growth ratios, (PEG), and double-digit covered call option yields.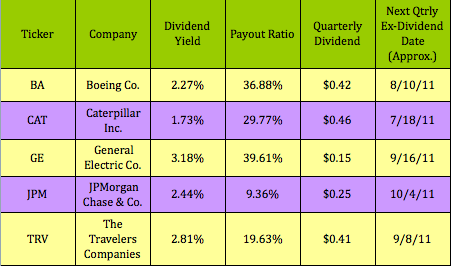 Although they don't qualify for our High Dividend Stocks By Sectors Table, a majority of these firms' dividend yields are above the current 2.39% S&P average, and they all have a conservative dividend payout ratio. JP Morgan (NYSE:JPM) has also indicated that it's hoping to increase its dividend in the near future.
Valuations: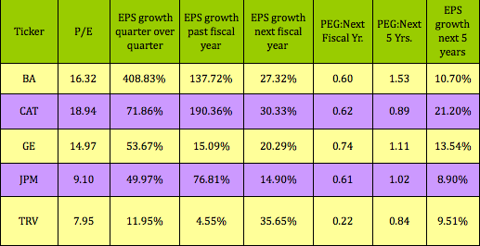 All 5 firms achieved EPS growth in the past fiscal year and quarter-over-quarter. They also all look undervalued on a PEG basis for their next fiscal year. The Travelers Companies (NYSE:TRV) lags behind the other firms' big EPS growth figures, mainly because its Business Insurance segment's underwriting results in 2010 deteriorated, largely due to a sharp increase in catastrophe losses. The combined loss and expense ratio increased to 91.3% in 2010, vs. 86.1% in 2009.
Share Performance/Technical Data: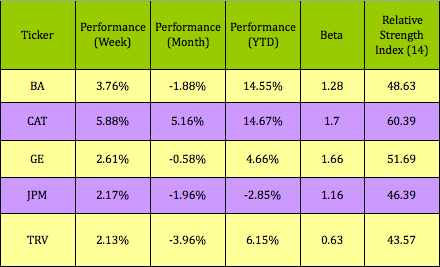 TRV has outperformed the S&P year-to-date, but Caterpillar (NYSE:CAT) and Boeing (NYSE:BA) trounced it by nearly 3 times. General Electric (NYSE:GE), still re-focusing its many segments, was just below the S&P's performance, while JPM, as a part of the still-dreaded Financials sector, is actually negative through June 30, 2011.
JPM, TRV, and CAT are approaching the oversold, sub-40 Relative Strength Index threshold, whereas GE's 51.69 RSI is neutral, and CAT's 60.39 RSI is on the cusp of Overbought territory. All 5 stocks had good gains this week, and CAT has made 40% of its YTD gains this week.
Covered Calls - (Jan. 2012 Expiration):
Look at the disparity between the call option yields and the dividend yields for this 8-month term.
The call options pay over 3 to 7 times the amount of the dividends. There are also some additional potential price gains with these covered call trades, most notably with CAT, BA and TRV.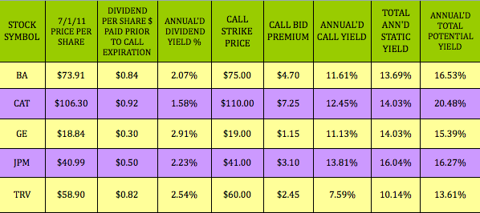 Cash Secured Puts - (Jan. 2012 Expiration):
If you're less bullish, you can take a more conservative stance, and still earn attractive options yields, via selling cash secured put options at a lower strike price than the current underlying stock price.
This will give you the added protection of a lower break-even price. (Note: The dividends are listed on this table for comparison only - put sellers don't collect dividends.)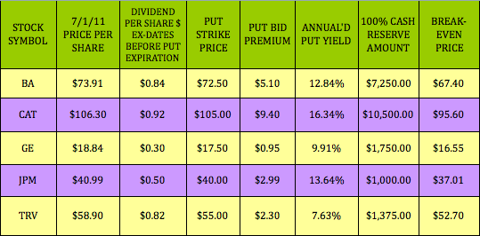 Financial Metrics: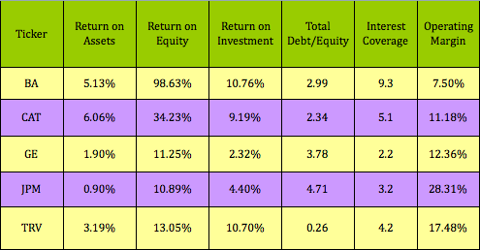 The Financial metrics are a mixed bag for this group, ranging from stellar management efficiency ROE figures for BA and CAT to low ROI figures for GE and JPM, 2 firms still recovering from the impact of the recession. Except for TRV, all these firms are leveraged, with high Debt/Equity ratios, but also appear to have reasonable interest coverage. (For what it's worth, the aggregate Debt/Equity ratio for the S&P is only .69, but, of course, debt/equity varies by industry.)
Disclosure: Author is long GE, and short CAT puts & JPM puts.
Disclaimer: This article is written for informational purposes only.