By David Silver
Auto sales for the month of June have been released today, and for the most part it was a ho-hum month. Chrysler and Nissan (OTCPK:NSANF) delivered surprisingly strong months. It was surprising for Chrysler as truck sales remained strong (Jeep sales were 74% higher year over year) despite fuel prices. Nissan, which is in the heart of the problems stemming from Japan, saw sales increase 7%. Volkswagen (OTCPK:VLKAF), Kia (OTC:KIMTF), and Hyundai (OTC:HYMLF) were again strong performers as fuel efficiency continues to top the charts as one of the most important reasons for purchasing a car.
Crossovers performed extremely well, as Americans still like their big cars, but are more susceptible to higher fuel costs. Consumers are also concerned about the production of the smaller cars from Toyota (NYSE:TM), Nissan, and Honda (NYSE:HMC). Industrial production in Japan last month showed a big jump so there is some hope for consumers who are really looking for that Prius or Honda Fit. Other automakers are being affected by the parts shortages, but not nearly to the degree that many feared immediately after the earthquake and tsunami. I expect that by the end of the summer, production for Toyota, Nissan and Honda will be close to 100%.
General Motors (NYSE:GM) U.S. sales chief Don Johnson estimated June's seasonally adjusted annualized rate of sales (SAAR) would be 11.9 million vehicles, compared with 11.8 million in May, when auto sales suffered their first significant drop in 18 months. We had forecasted slightly better sales, with the industry SAAR coming in just above 12 million vehicles (our forecast was for a SAAR of 12.1 million). GM and Ford were roughly in line with our forecasts, but Toyota, which saw sales decline 24.1% year over year, was much worse than we had modeled for. Honda also was below our forecast.
(Click charts to expand)

Click to enlarge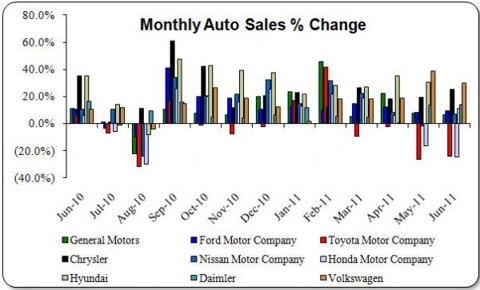 Click to enlarge
For the second straight month, auto sales were weak. There has been some weak economic data of late as well (minus Friday's ISM report), which is showing that the economy could be weakening. GM said its sales at dealerships, an important measure of the industry's health because it excludes fleet sales, fell to a 9.4 million annualized rate in June, compared with 9.7 million in May. Trucks and SUVs were slightly stronger than the month before, but have been volatile so any deductions we could make about the economy become almost a moot point.
Japanese automakers were weak during the month (save for Nissan), however, I do expect most of the production and therefore sales to return to "normal" by the end of the summer. The automakers should boast about taking market share while they can.